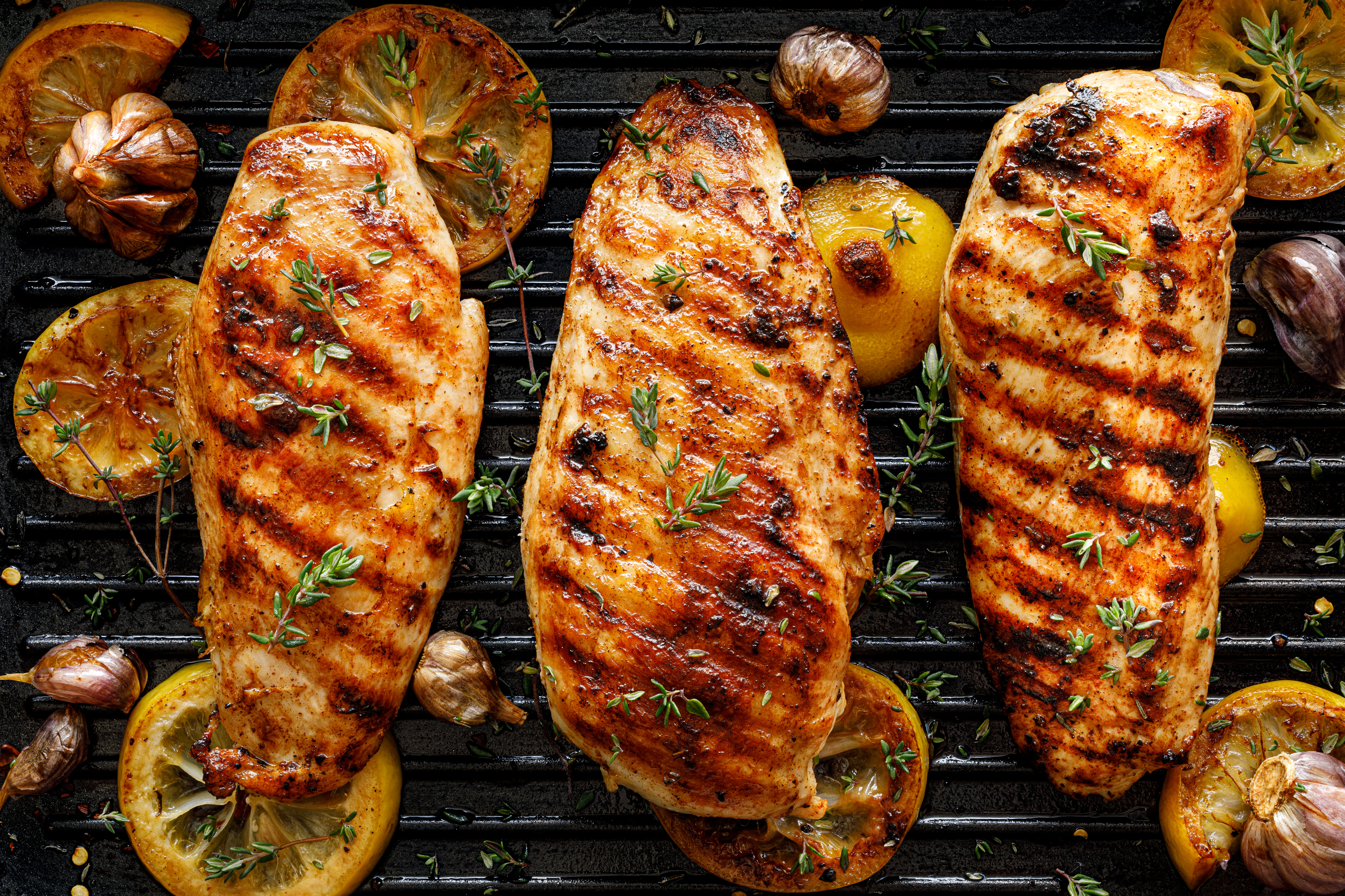 Cooking chicken breasts on the grill—whether you use an outdoor grill, an indoor grill or a grill pan—is a simple way to prep this tasty lean protein. All it takes is a small amount of olive oil and maybe some spices to make some tasty chicken. And you can cook a bunch at once, saving time later (refrigerate and use within 3 or 4 days).
While simple grilled chicken is a classic, you may get tired of eating it regularly. By adding just a few ingredients, you can add excitement and intrigue to grilled chicken. Here are five tantalizing ways to enjoy grilled chicken breasts:
Greek Salad With Grilled Chicken
Cube grilled chicken breast. Place it on top of a crunchy salad of chopped romaine hearts, cherry tomatoes, sliced olives, diced cucumbers and crumbled feta cheese. Toss with a simple vinaigrette of red wine vinegar, olive oil, garlic and oregano.

Grilled Chicken With Peaches
Cube grilled chicken breast, and a ripe peach. Place on top of a bowl of arugula. Drizzle balsamic vinaigrette over the salad. Crumble goat cheese on top. Serve with your favorite cooked whole grain, like quinoa or barley.
Grilled Chicken Fajitas
Sauté bell pepper and onion slices in a pan. Remove peppers and onions and place aside. Warm whole wheat flour tortillas in the pan. Slice the grilled chicken into strips. Serve on a platter with sautéed peppers, onion and heated tortillas.
Open-Faced Grilled Chicken Sandwich
Warm a whole grain bun on the grill, in a pan or in the microwave. Break into two separate halves. Slice a grilled chicken breast in half. Spread buns with mayo or mustard. Next, layer with slices of lettuce, tomato and pickles. Finish each with the halved grilled chicken breasts.
Grilled Barbecue Chicken
Baste the grilled chicken with barbecue sauce as it's cooking, or brush cooked chicken with warmed sauce. Barbecue sauce can be high in sugar, but you don't need to use much to get a lot of flavor! Balance out the meal with garlicky kale or collard greens and grilled corn on the cob.