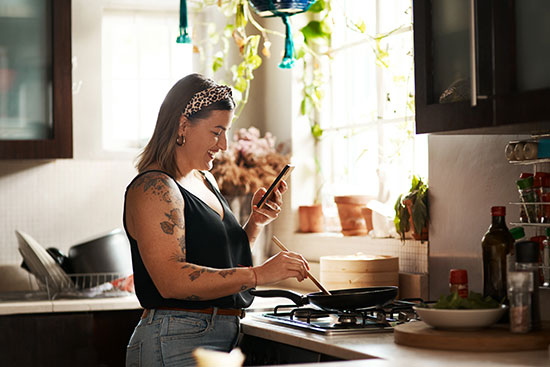 Where can I track food?
You can track food with our iOS and Android apps, or your online account. If you're using more than one device, your account and info should sync.
How do I track my food?
For details on how to track, check out this article with a short step-by-step video.
Why is it important to track?
Keeping track of what you eat raises your awareness of your eating patterns. It can help you learn from the choices you make. You can also better monitor your progress toward a goal. And if you're working with a coach, you'll get more personalized tips during your sessions.
What key features will help me track food?
These features make it easier for you to track what you eat. They allow for greater accuracy and detailed food entries.
Food database: You can select common and branded foods from a database.
Autocomplete searches: When you search for a food, you'll see suggestions appear as you type. If the right one appears before you finish typing, tap it to save time.
Recently logged foods: If you often eat the same foods, you'll be relieved to find anything you tracked recently listed at the start of a new search. This makes it easier to track that food again.
Past and future meals: If you forget to track something you ate, you can add food as far back as a year in the past. You can also add foods up to two weeks in advance.
Serving sizes: The new food database provides typical serving sizes for each food you track.
Can I delete a food that's already been tracked?
Yes, this can be easily fixed. Select the food entry and then:
iOS: Tap "Delete" on the top left of the screen.
Android: Tap "Delete" on the top right of the screen.
Web: Click "Delete" below the food details.
I made a mistake when adding a food. Can I make changes?
Yes! To edit the details of a food you added, select that food entry. You can edit the number of servings, serving size, time, date, meal and notes. You can't change the image.
If you picked the wrong food item, you can change it anytime.
iOS and Android: Tap the food entry. Then select "Change" in the upper right of the screen. Now you can start a new search for the correct food.
Web: Tap the food entry. Then select "Change," which can be found under the name of the food. Now you can start a new search for the correct food.
I forgot to track a meal. Can I still add it?
Yes! You can add food as far back as one year in the past. Just add a food and then change the date on the details screen before saving. Check out this article if you need more info on how to track a food.
Can I add foods in advance?
You can add food items up to two weeks in advance. This is a great feature if you like to plan your meals ahead of time.
What's the difference between common and branded foods?
Common foods are generic foods, like an apple, potato or brown rice. A branded food is just that, a food with a brand name like Heinz, Chobani and General Mills. An example is 1 cup cooked oatmeal (common food) versus 1 cup cooked Quaker Oats oatmeal (branded food).
Should I track beverages?
Beverages, even water, are important to track. Often drinks will add calories and, in some cases, sugar to your diet. Even though water doesn't have calories, tracking helps ensure you'll drink enough.
Why is adding notes and photos important?
Notes and photos are great tools for learning. Notes remind you of how you felt after eating, how much you enjoyed a food, or if you made or prepared it a certain way. Note anything you think would be helpful in the future. Photos are great if you're tracking meals while on-the-go. If you don't have time to note all the details, a picture can help capture that for you.