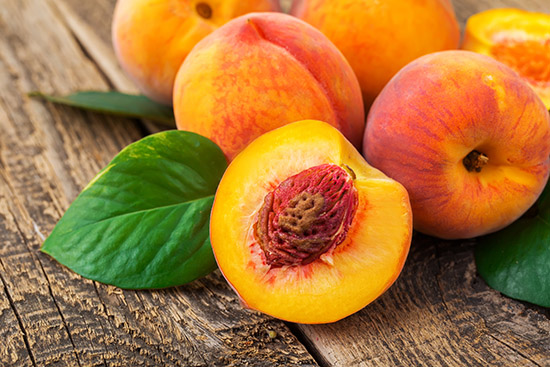 Peaches are a delicious summer treat. And because you can also buy them frozen, they're really a fruit that can be enjoyed all year round. That's a good thing because they're nutrient-packed. Peaches provide vitamins A and C as well as potassium.
They're delicious on their own as a snack or even dessert. Peaches are also tasty when added to recipes. They bring a balance of sweetness and tartness to every dish. Check out these recipes if you're looking for ways to eat more peaches.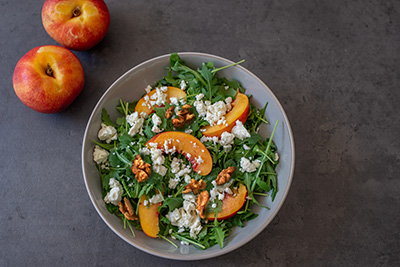 Arugula Salad With Peaches & Goat Cheese
Makes 1 serving
Prep: 10 min
Ingredients
3 cups arugula
½ cup fresh peaches, chopped
1 oz crumbled goat cheese
2 Tbsp balsamic vinegar
½ cup canned Great Northern beans, rinsed and drained
2 Tbsp chopped walnuts
Preparation
Toss all ingredients and serve.
Nutrition Information
Serving size: About 4 ½ cups
Per serving
Calories: 334; Total fat: 14 g; Saturated fat: 7 g; Sodium: 166 mg; Cholesterol: 30 mg; Total carbs: 38 g; Fiber: 9 g; Sugars: 10 g; Protein: 21 g; Potassium: 994 mg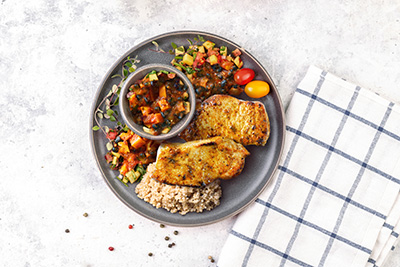 Chili-Spiced Pork With Black Bean & Peach Salsa
Makes 1 serving
Prep: 10 min Cook: 35 min

Ingredients
3 oz uncooked boneless pork chop
Cooking spray
2 tsp chili powder
¼ cup prepared salsa or pico de gallo
2 Tbsp canned black beans, rinsed and drained
½ peach, peeled and finely diced
¼ cup dry quinoa
½ cup water

Preparation
Heat skillet over medium heat. Mist pork chop with cooking spray and pat chili powder on each side. Cook for 4 to 5 minutes per side, until internal temperature reaches 145°F. Toss salsa, black beans and peach together. Cook quinoa in water according to package directions, about 25 minutes. Serve pork chop on quinoa topped with salsa mixture.

Nutrition Information
Serving size: About 1 ½ cups + 1 pork chop
Per serving
Calories: 429; Total fat: 8 g; Saturated fat: 2 g; Sodium: 494 mg; Cholesterol: 62 mg; Total carbs: 56 g; Fiber: 11 g; Sugars: 10 g; Protein: 36 g; Potassium: 1,391 mg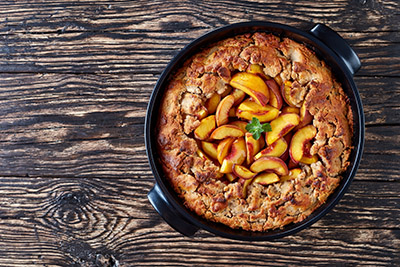 Peachy Cobbler
Makes 8 servings
Prep: 15 min Cook: 40 min
Ingredients
Nonstick cooking spray
¾ cup whole wheat flour
¼ cup sugar + 1 Tbsp
1 tsp baking powder
¼ tsp salt
½ cup applesauce, unsweetened
¾ milk, 1%
3 cups peeled and sliced peaches
¼ tsp ground cinnamon


Preparation
Preheat oven to 350°F. Spray a 9-inch round baking pan with nonstick cooking spray and set aside.
In large mixing bowl, stir together flour, ¼ cup sugar, baking powder and salt. Add applesauce and milk and stir until just combined. Pour batter into pan. Spoon peaches on top of batter, distributing evenly.
In a small bowl, stir together the remaining 1 tablespoon of sugar and cinnamon. Sprinkle evenly on top of the cobbler. Bake for 40 to 45 minutes, until top is browned. Let cool and slice into eight pieces. Serve warm.
Nutrition Information
Serving size: 1 slice
Per serving
Calories: 90; Total fat: 1 g; Saturated fat: 0 g; Sodium: 84 mg; Cholesterol: 1 mg; Total carbs: 20 g; Fiber: 2 g; Sugars: 11 g; Protein: 3 g; Potassium: 260 mg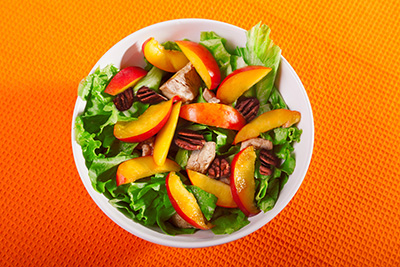 Peach & Chicken Salad
Makes 1 serving
Prep: 10 min

Ingredients
2 Tbsp 100% orange juice
2 tsp olive oil
1 tsp Dijon mustard
Salt and pepper, to taste
3 oz cooked skinless chicken breast, diced
2 cups chopped romaine lettuce
1 cup fresh baby spinach
½ cup chopped peach
2 Tbsp chopped raw pecans

Preparation
Whisk orange juice, olive oil, mustard, salt and pepper. Toss dressing with remaining ingredients.

Nutrition Information
Serving size: About 4 cups
Per serving
Calories: 310; Total fat: 18 g; Saturated fat: 3 g; Sodium: 160 mg; Cholesterol: 76 mg; Total carbs: 12 g; Fiber: 3 g; Sugars: 8 g; Protein: 27 g; Potassium: 689 mg