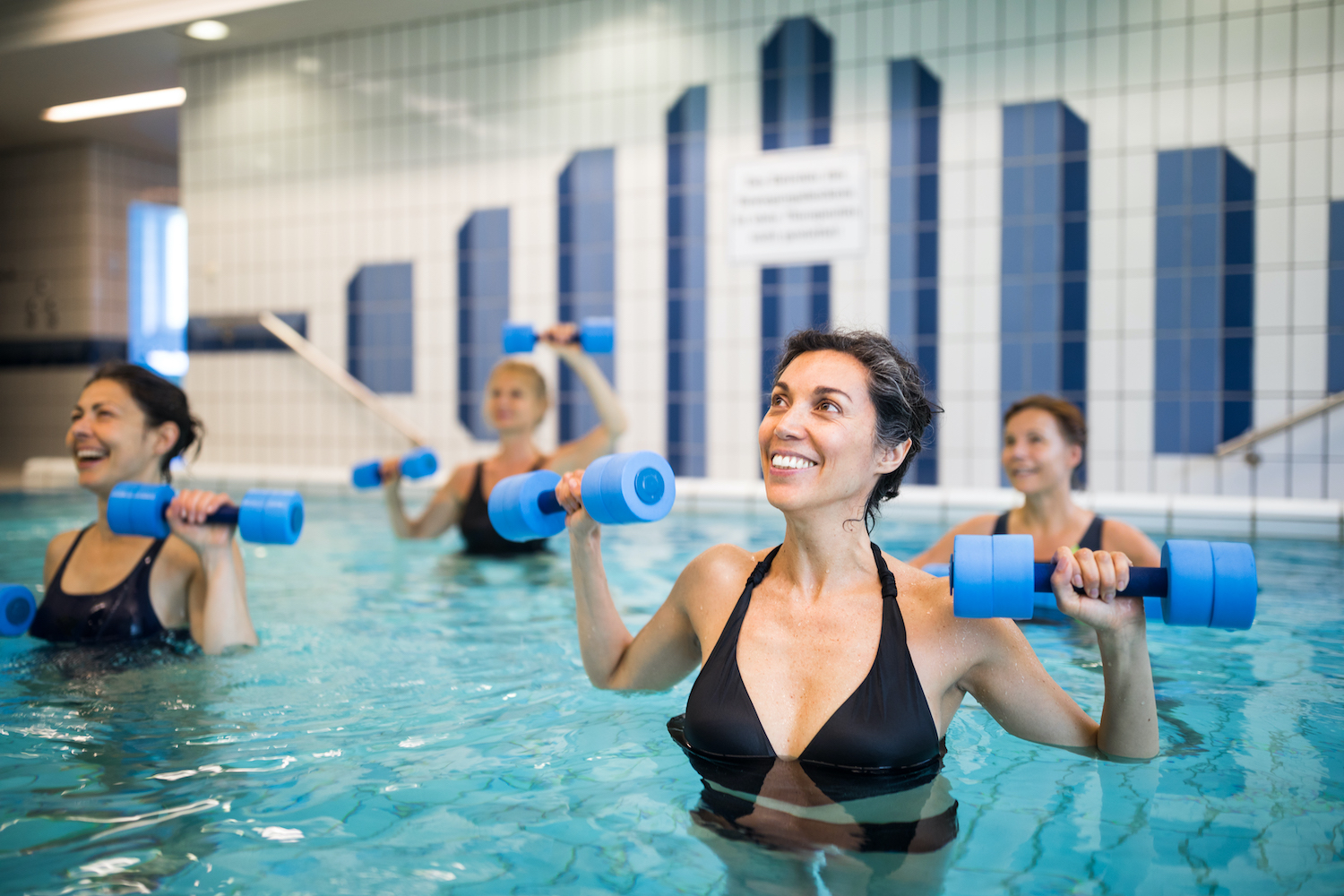 Water-based exercise is a fun way to move your body—and stay cool in warmer weather. Whether you're just starting out or you've done it before, pool exercises can be tailored to any fitness level. There are plenty of ways to make it work for you. And you don't even need equipment!
Why try pool exercise?
Exercise has many great perks. Regular activity can help you manage blood sugar and cholesterol. But pool exercise is special for a few reasons:
Resistance training can help build strength and bone density. Water adds resistance to your movement without any need for weights or bands. So you can boost your muscles and bones with nothing but water and motion!

Pool fitness is great for folks who have injuries or strained joints. Pool water gives you some extra support and puts less stress on your joints.

Keeping yourself afloat in a pool takes work. And that work burns calories. If you have a goal to lose weight or maintain a healthy weight, you can give yourself a full-body workout with a short time in the pool.

And of course, pool play is fun! And when you have fun exercising, it goes by faster. It's also more likely to boost your mood!
How would I get started?
If you have a pool at home, you're already ahead of the game. But you don't need to have a pool of your own to enjoy pool fitness!
You can also look up local public pools or aquatic centers in your area. Many of these centers offer fitness classes for different levels.
Safety first
Be sure to speak with your doctor before you start any fitness program. They can help you make sure you're ready to begin.

Warm up before you exercise. Try stretching and walking to get your blood pumping.

Take breaks as needed and drink plenty of water.

Stick to the shallow end of the pool.

Don't swim alone. Swim while lifeguards are on duty if you're in a public place. If you swim at home, make sure someone can see and hear you. You could even try some pool exercises with a fitness buddy!

Stop exercising right away if you experience:

nausea

dizziness

tightness in your chest/upper body

any type of pain

or if you can't catch your breath
Where do I begin?
Here are a few easy exercise ideas you might try.
Walking
The water needs to be waist to chest high. Stand tall and take some steps. Focus on the heel strike with each step. Slowly walk forward to get used to the resistance of the water. Move your arms like you're walking normally. Squeeze your abs tight while you walk. Start at a comfortable pace and try to work up to 5 to 10 minutes of walking from side to side of the pool.
Marching
Start with both feet on the ground and your back firmly against the wall. Raise one knee and the opposite arm. Lower them down and then raise the other arm and knee. Work up to eventually marching for 5 to 10 minutes. This exercise can build up your lower body and core muscles, which can help prevent falls.
Lateral arm raises
This exercise will target your shoulders. Stand deep enough where your shoulders are just underwater. Start with both arms at your sides, keeping your elbows slightly bent and your shoulders down. Slowly move your arms up to the water's surface. Your arms and body will make a T. Then slowly go back to the starting pose with your arms at your sides. Over time, aim for a target of 10 repetitions per set.
Bicycle
This exercise is a little more advanced. It will target the legs and give you some cardio benefits, too. You will need to head to deeper water for this exercise. You'll also want a kickboard or a floating noodle for some extra support. Holding the kickboard or wrapping the pool noodle around your body, start to pump your legs as if you are riding a bicycle. Once you're comfortable, try working up to 3 to 5 minutes of continuous biking.
Give these exercises a try and see which ones you like! Eventually the goal will be to work up to doing this a few times a week, with rest days in between. You'll be amazed how fun it is and how quickly you adapt!
If you are looking for more tips or info like this, a personalized coaching session can help you get to where you want to be.