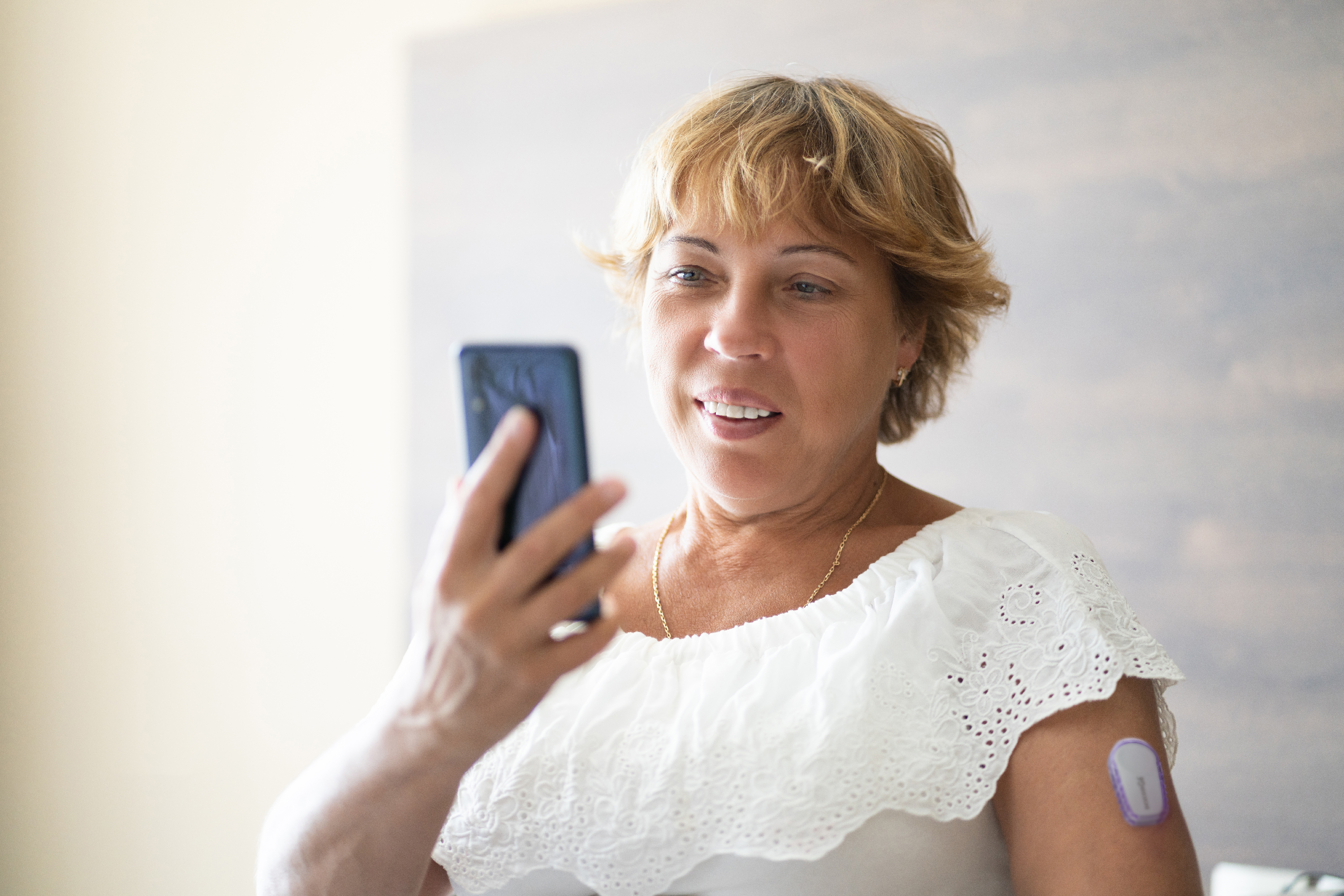 Using a continuous glucose monitor (CGM) for the first time can feel like a lot. Any new tool takes time to learn. And chances are, you're not used to getting constant feedback on how you're managing your blood sugar.
Knowing what to expect and making a plan will empower you to use your CGM. Rather than feeling overwhelmed, you'll feel ready to turn the data it provides into meaningful action. Here are a few tips our doctors share with their patients when they're just getting started with a CGM.
Find your focus
CGMs give you lots of information. Remember that you don't need to worry about every data point you get. The trends are what's important. Talk to your healthcare provider about what, specifically, you should focus on and what you can ignore. They can help you decide when to check your data, and who you want to share it with.
Reframe "good" vs. "bad" thinking
Perhaps your blood sugar tends to be higher than you expected. That's okay! Your CGM is not judging you. Don't feel bad; remember the big picture. A short period of hyperglycemia isn't necessarily a problem. Stay focused on the time-in-range goals set with your doctor. And use the information from your CGM to make changes that can help you stay in range.
Adjust the alerts
CGM alerts let you know when it's time to take action to prevent highs or lows. You can customize the alert settings in your CGM app so you don't hear them more often than is helpful. Ask your provider or coach to guide you through choosing the right settings for you. Ideally, you'll find the sweet spot that gets you the information you want without disrupting your life.
Plan out your next steps
When an alert sounds, knowing what to do next will help you feel in control, instead of defeated. Your coach can help you come up with strategies so you're ready to tackle highs and lows if they happen. Exercise is one way to rein in a high. A small bout of activity like a 10-minute walk or a climb up a flight of stairs can help. For a low, having a snack on hand can bring up your numbers as needed. Planning will make you feel prepared for anything.
Get to know your food
Your CGM can help you dig deep into how food impacts your blood sugar. While wearing it, try making simple swaps and watch your data to see what happens.
Notice what your numbers are when you drink juice. Next, observe what they are when you drink water. Chances are your blood sugar is lower when you drink water.
Compare a smaller portion size of rice to the amount you eat normally. Does it make a difference?

Choose plain instead of sugar-sweetened oats. Take note of how your blood sugar reacts, and how you feel after.
Stay curious and keep experimenting! As you see the effects of different food choices, you can create habits that help keep your blood sugar in range.
Make sure the technology fits your life
If your job or lifestyle takes you far from your Bluetooth-enabled smartphone, your CGM may not work as expected. The CGM needs to connect to your phone every five minutes. Before you start to rely on your CGM, make sure it makes sense for your routines. If you're not able to get the benefits of using a CGM, it may not be the best choice for you right now.
Remember, you don't have to use your CGM on your own. Your care team can answer any questions you have about your CGM and help make sense of your data. Talk with your provider or coach at the start to set yourself up for success.