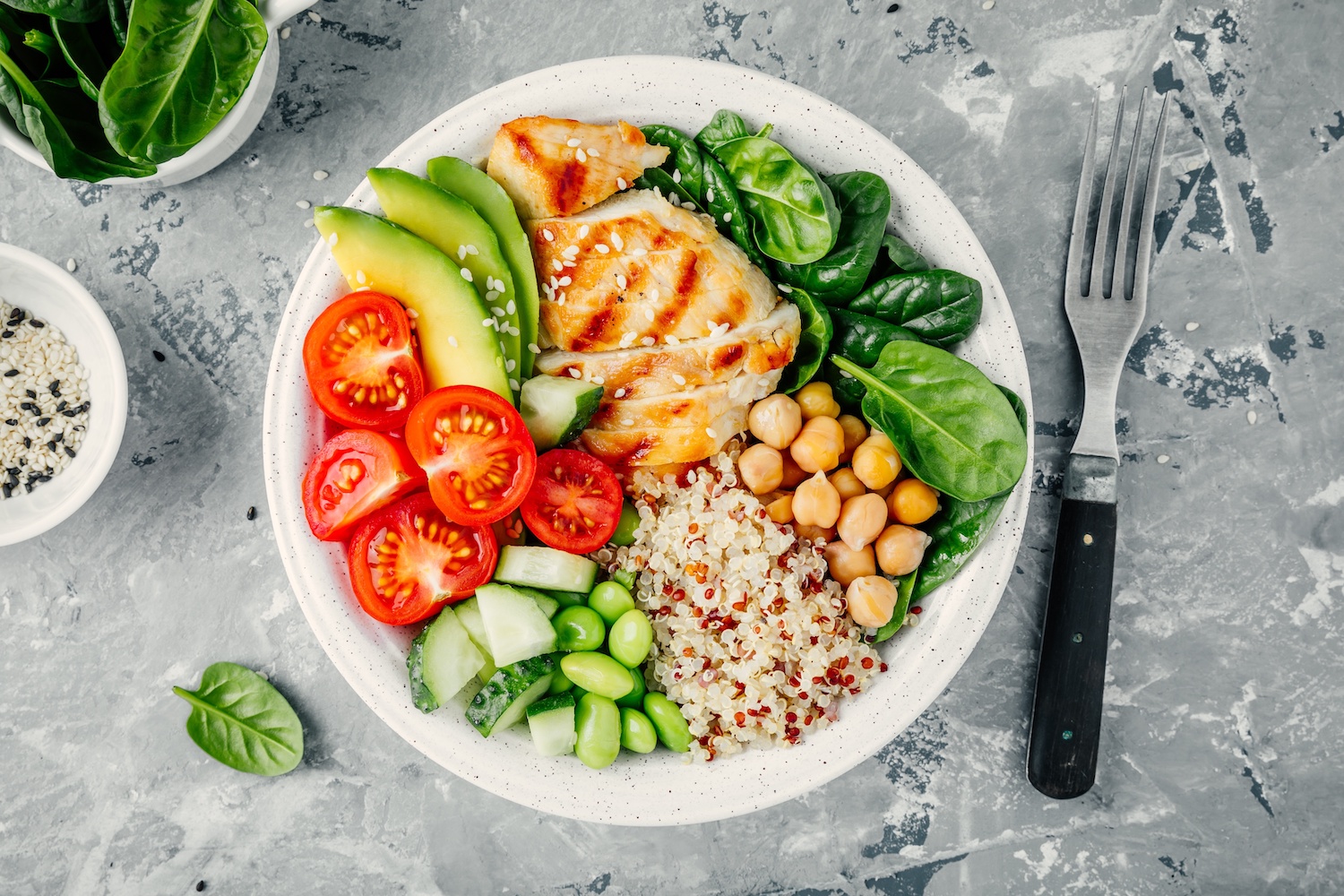 Buddha bowls are an excellent way to enjoy balanced nutrition in a simple dish. They are convenient and can easily be prepared in advance. You can enjoy them for breakfast, lunch, or dinner!
What's in a buddha bowl?
Buddha bowls get their name from the way the food mounds in the large round bowl, resembling buddha's belly. When you build your own buddha bowl, be sure to include these basic components:
Whole grain base (whole grain rice, whole wheat pasta, quinoa, barley, etc.)

Vegetables

Lean protein

Dressing or sauce
You may choose to add additional "sprinkled" toppings like crushed nuts or chopped cilantro. Here are three savory buddha bowls to try!
Vietnamese Avocado Zoodle Salad Bowl
Makes 4 servings
Ingredients
3 Tbsp of low sodium soy sauce
2 cloves of garlic
1 finely chopped green onion
¼ Tbsp of red pepper flakes
1 Tbsp of sesame oil
8 ounces of cubed extra firm tofu
12 ounces of prepared zucchini noodles
3 cups of shredded lettuce
1 cup of mung bean sprouts
¾ cup of julienne-cut carrots
1 avocado
1 tsp fresh lime juice
Cilantro leaves
Preparation
Combine the soy sauce, garlic, green onions, red pepper flakes and the sesame oil. In a separate bowl, add the tofu to this mixture and let it stand for 10 minutes.
Heat one teaspoon of the sesame oil in a large skillet over medium heat. Remove the tofu from the mixture, saving the remaining mixture, and pat it dry. Add the tofu to the skillet and cook until each side is golden brown.
Remove the tofu from the skillet and set it aside. Add the zucchini noodles to the skillet and cook over medium heat for 5 minutes. When the noodles are hot and softened, remove them from the heat and add them to serving bowls.
Add the lettuce, sprouts, and carrots to the bowl. Add the tofu and avocado to the bowls. Mix the lime juice into the saved soy mixture and use it as dressing. Enjoy!
Nutrition Information
Serving size: 1 cup
Per serving
Calories: 225; Total fat: 15 g; Saturated fat: 2 g; Sodium: 465 mg; Cholesterol: 0 mg; Total carbs: 15 g; Fiber: 7 g; Sugars: 5 g; Protein: 10 g.
Chipotle Chicken Bowls with Cilantro-Lime Quinoa
Makes 4 servings
Ingredients
For the Chicken
3 Tbsp of canola oil
1 chipotle pepper, minced
3 Tbsp of adobo sauce
1 Tbsp of honey
1/8 tsp salt
1/8 tsp ground black pepper
1 pound of boneless, skinless chicken breasts
2 Tbsp of red wine vinegar
5-ounce package of spinach, spring mix, or arugula
1 pint of cherry tomatoes
1 avocado
1 cup of shredded carrots
1 cup of sliced radishes
2 finely chopped green onions
For the Quinoa
1 ½ cups of water
¾ cup of quinoa
1/8 tsp of salt
2 limes (to squeeze for juicing)
1 ½ cups of chopped cilantro
Preparation
Create a marinade by adding 2 Tbsp of canola oil, chipotle pepper, adobo sauce, honey, salt, and black pepper to a large, sealable plastic bag. Add the chicken to the bag, seal it, and coat the chicken by pushing it around in the mixture. Let the chicken sit in the bag for at least 10 minutes. Prepare the quinoa while the chicken marinates.
Add the quinoa to a medium pot with water and salt. Bring the water to a boil and then reduce the heat to low. Cover, and cook until the quinoa has absorbed all the water (about 15 minutes). When the quinoa is finished, remove from heat, and squeeze the limes over the quinoa, stirring.
Heat the remaining tablespoon of canola oil in a skillet on medium high, coating the bottom of the skillet. Add the chicken to skillet and cook for 4 to 6 minutes, or until the chicken is cooked all the way through. Remove the chicken from the heat and let it cool. Chop the chicken into small pieces. Pour any remaining liquid from the skillet into a small bowl and add the vinegar to create a dressing.
Add the spinach, spring mix, or arugula to 4 separate serving bowls. Add the quinoa and the chicken. Lastly, add the remaining vegetables and drizzle the dressing on top.
Nutrition Information
Serving size: 1 bowl
Per serving
Calories: 480; Total fat: 21 g; Saturated fat: 3 g; Sodium: 559 mg; Cholesterol: 73 mg; Total carbs: 44 g; Fiber: 10 g; Sugars: 13 g; Protein: 32 g.
Harvest Bowl Salad with Avocado Balsamic Vinaigrette
Makes: 8 servings
Ingredients
Salad Dressing
½ avocado
1 Tbsp avocado oil
2 Tbsp of minced shallots
1 Tbsp of Dijon mustard
3 Tbsp of white balsamic vinegar
1 Tbsp of honey
3 Tbsp water
Salad
2 diced avocados
2 roasted and diced sweet potatoes
2 cups of cooked quinoa
2 cups of arugula
2 cups of kale
1 cup of roasted Brussels sprout pedals
2 diced Honey crisp apples
2 Tbsp of roasted, unsalted pumpkin seeds
2 Tbsp dried cranberries
Preparation
Create the salad dressing by adding all dressing ingredients to a food processor and pulse/process to desired smoothness. Add the remaining salad ingredients to a large bowl and toss. Pour the dressing over the salad and toss to get an even coating. Refrigerate until you are ready to enjoy it!
Nutrition Information
Serving size: 1 cup
Per serving
Calories: 390; Total fat: 16 g; Saturated fat: 2 g; Sodium: 115 mg; Cholesterol: 0 mg; Total carbs: 55 g; Fiber: 11 g; Sugars: 12 g; Protein: 8 g;
Proprietary content and tools licensed from the American Heart Association. The information in the content and tools is not intended as medical diagnosis or treatment, or as a substitute for professional medical advice from your healthcare provider. Powered by American Heart Association®
CLC016140.A