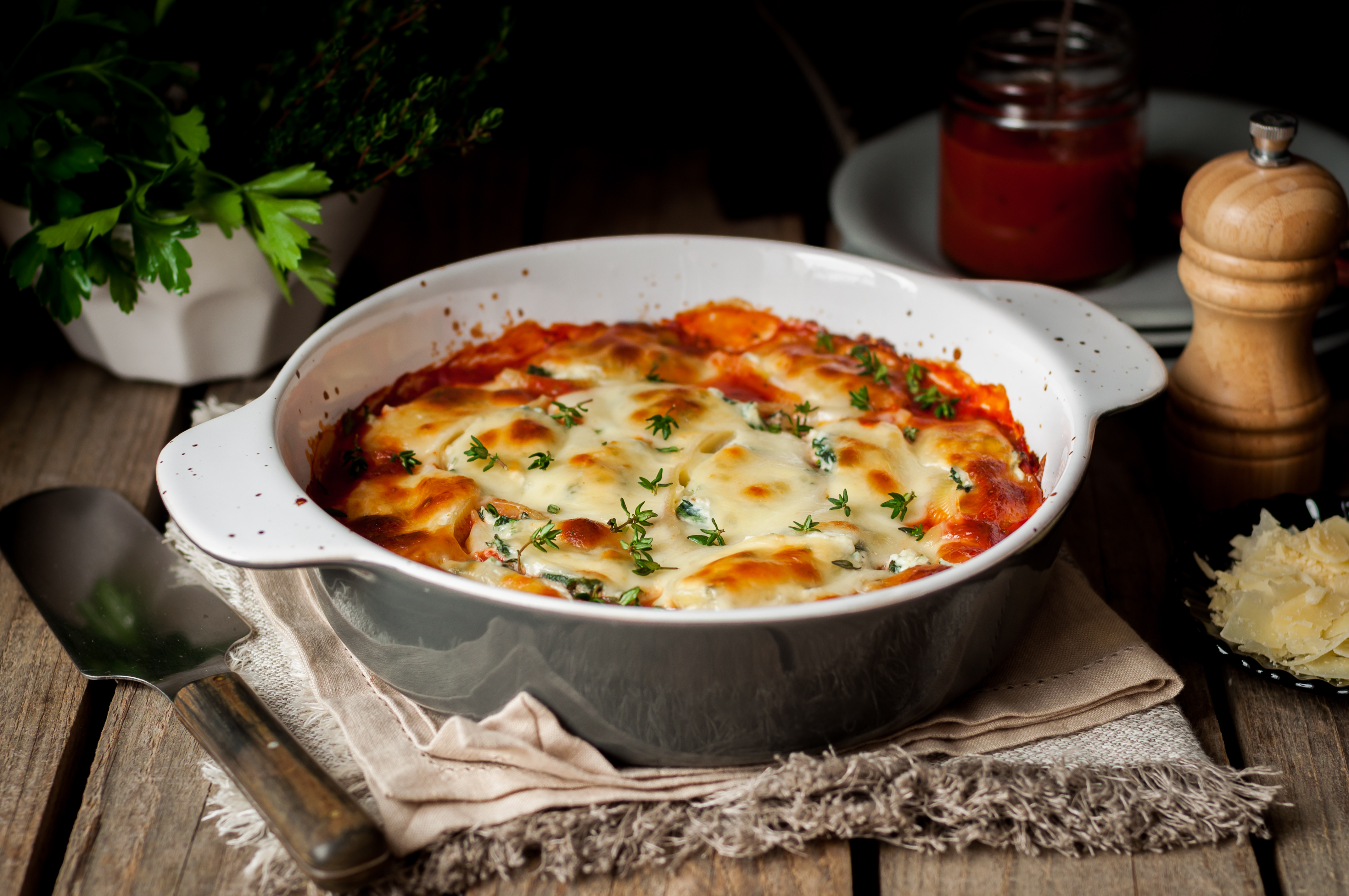 With a little creativity, you can enjoy the flavors you crave with fewer carbs. Here are a few lower-carb spins on some well-loved comfort food meals:
Instead of: Deep-Dish Pizza
Try:
Cauliflower Pizza Casserole
Makes 4 servings
Prep: 10 min Cook: 40 min
Ingredients
2 heads cauliflower, sliced into 1-inch planks
2 Tbsp + 2 tsp extra virgin olive oil
14.5 oz can crushed tomatoes
1 tsp dried oregano
1 tsp garlic powder
1 cup low-fat ricotta cheese
1 cup shredded part-skim mozzarella cheese
Preparation
Preheat oven to 425ºF. Lay out cauliflower onto two baking sheets and drizzle with 2 tablespoons olive oil. Place in oven and cook until browned on the bottom, around 15 minutes. Flip and cook until both sides are browned, another 10 minutes or so.
While the cauliflower cooks, use a saucepan over a medium flame to heat 2 teaspoons olive oil. Add crushed tomatoes, oregano and garlic powder, and simmer for about 5 minutes. Mix in ricotta.
Remove cauliflower from oven and reduce heat to 350ºF. In a large baking dish, spread one layer of cauliflower. Spread tomato and ricotta mixture over the cauliflower. Top with another layer of cauliflower.
Sprinkle mozzarella cheese over the second layer of cauliflower. Bake until cheese is melted and starting to brown, around 15 minutes.
Nutrition Information
Serving size: ¼ of baking dish
Per serving:
Calories: 296; Total fat: 16 g; Saturated fat: 5 g; Sodium: 391 mg; Cholesterol: 24 mg; Total carbs: 27 g; Fiber: 10 g; Sugars: 16 g; Protein: 17 g; Potassium: 963 mg
Instead of: Chinese Takeout
Try:
Egg Roll Bowl
Makes 4 servings
Prep: 5 min Cook: 16 min
Ingredients
1 lb ground chicken
1 medium onion, diced
1 Tbsp sesame oil
1 Tbsp rice wine vinegar
2 cloves garlic, chopped
1 tsp ground ginger
¼ cup reduced-sodium soy sauce
1 16-oz bag shredded green cabbage
½ cup shredded carrots
1 cup sliced mushrooms
2 scallions, chopped
Preparation
In a large skillet over high heat, cook ground chicken. Stir until no longer pink. Drain the juices from the skillet.
Add diced onion, sesame oil and vinegar to the skillet. Stir into the chicken and cook for a few more minutes, until onion is soft. Add garlic, ginger, soy sauce, cabbage, carrots and mushrooms. Stir and cook until mushrooms and cabbage are cooked, around 5-8 minutes.
Remove from heat and place into bowls. Top with chopped scallions.
Nutrition Information
Serving size: ¼ of baking dish
Per serving:
Calories: 311; Total fat: 12 g; Saturated fat: 3 g; Sodium: 662 mg; Cholesterol: 100 mg; Total carbs: 14 g; Fiber: 4 g; Sugars: 6 g; Protein: 36 g; Potassium: 670 mg
Instead of: Burgers and Fries
Try…
Burger Salad With Sweet Potato "Fries"
Makes 4 servings
Prep: 15 min Cook: 20 min
Ingredients
Sweet Potato "Fries":
2 medium sweet potatoes, scrubbed and trimmed
1 Tbsp extra virgin olive oil
½ tsp garlic powder
Burger Salad:
½ Tbsp extra virgin olive oil
1 large onion, diced
1 lb ground turkey
1 Tbsp yellow mustard
2 heads romaine lettuce, cleaned and chopped (around 8 cups)
2 cups grape tomatoes, halved
½ cup sliced pickles
½ cup chopped red onion
1 large avocado, sliced
Salad dressing:
¼ cup low-fat mayonnaise
1 Tbsp tomato paste
1 tsp yellow mustard
½ tsp lemon juice
¼ tsp garlic powder
Preparation
Slice the sweet potatoes into ¼-inch-thick sticks. Toss with oil. Place sticks in the tray of an air fryer, careful not to overcrowd (cook in batches if you need to). Air fry at 400°F until cooked and crispy, around 10-12 minutes. If you don't have an air fryer, you can oven-roast at 400°F for around 30 minutes instead. When they are done, sprinkle with garlic powder.
In the meantime, prepare the "burger" meat. Over a medium flame, heat a large skillet. Add the oil. When the oil is hot, add the diced onion. Sauté until browned, around 5 minutes. Add ground turkey. Stir while cooking. After about 4 minutes, add mustard. Cook until no pink remains and meat is thoroughly cooked, around 7 minutes total.
While the turkey and sweet potatoes cook, mix up the dressing. Add mayo, tomato paste, lemon juice and garlic powder to a bowl. Whisk together to combine; thin with water as needed.
Distribute the lettuce, tomatoes, pickles, onion and avocado between four bowls. Add an equal amount of cooked turkey to each bowl. Top each bowl with ¼ of the dressing mixture. Serve each salad with a small side of sweet potato "fries."
Nutrition Information
Serving size: 2½ cups salad and around 1/3 cup fries
Per serving:
Calories: 561; Total fat: 35 g; Saturated fat: 6 g; Sodium: 560 mg; Cholesterol: 119 mg; Total carbs: 36 g; Fiber: 9 g; Sugars: 10 g; Protein: 35 g; Potassium: 1,075 mg
CLC016119.A