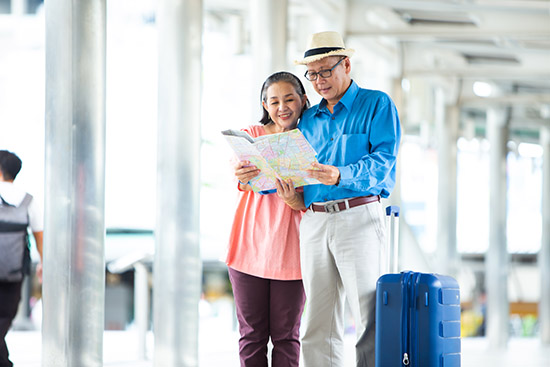 Travel can be exciting and fun, but there is usually some planning involved. You have to figure out what (and how much) to pack, along with how you are going to get to where you're going.
When you have heart failure, you may need to take a few extra steps to ensure you stay healthy while away from home. Following a routine, taking your meds and tracking your weight and blood pressure are important when you have heart failure. Staying on top of this while traveling can be a little tricky. Here are some steps you can take before, during and after traveling to stay safe.
Before travel
Pack extra meds in case there are any delays with your travel. Keep them with you in your carry-on if you're flying.

Pack food to bring with you. Fruit, nuts, veggies and hummus, whole grain crackers, yogurt and low-salt snack bars are all great options. Having a snack on hand helps keep your blood sugar stable. Low-salt snacks are also great if you need to take any meds with food while traveling.

If you're flying, ask for an aisle seat. This makes it easier to go to the bathroom and to walk around as needed.

Wear compression socks, especially if you're on a long flight. They can help with the circulation in your legs when sitting or standing. Talk to your doctor if you have any concerns before flying.

If you need any supplemental oxygen or liquid medications, ask your doctor to provide a note stating that you need these items on the plane with you.

Pack at least your blood pressure monitor. This will allow you to monitor your blood pressure to support your heart when you are traveling. The bathroom scale can be too heavy to travel with, so ask the hotel or people you are staying with if you can use their scale.

Stay hydrated. Follow your doctor's orders for your daily fluid intake needs. Consider buying bottled water at the airport, or bring a water bottle with you and fill up at a drinking fountain. If you're traveling by car or other means, always have water on hand.
During travel
Wear a mask. People with heart failure are at a higher risk of having complications with COVID-19. Practice social distancing as much as you can.

Bring low-salt snacks. This can keep your energy level up during the trip. Follow your doctor's or dietitian's recommendations in terms of fluid and water intake.

Move around as much as you can. In the air? Walk down the aisle from time to time when it's safe. On the road? Get out of the car at stops and take a short walk or do some light stretching.

Stick to your routine as much as possible. Get exercise and follow a heart-healthy diet. Take your meds as prescribed. Check your weight and blood pressure daily.
After travel
Once you're home, get back on track as soon as you can. This means getting enough sleep and exercise and the right amount of nutritious foods.

Continue to check your weight and blood pressure every day.
CLC016094.A