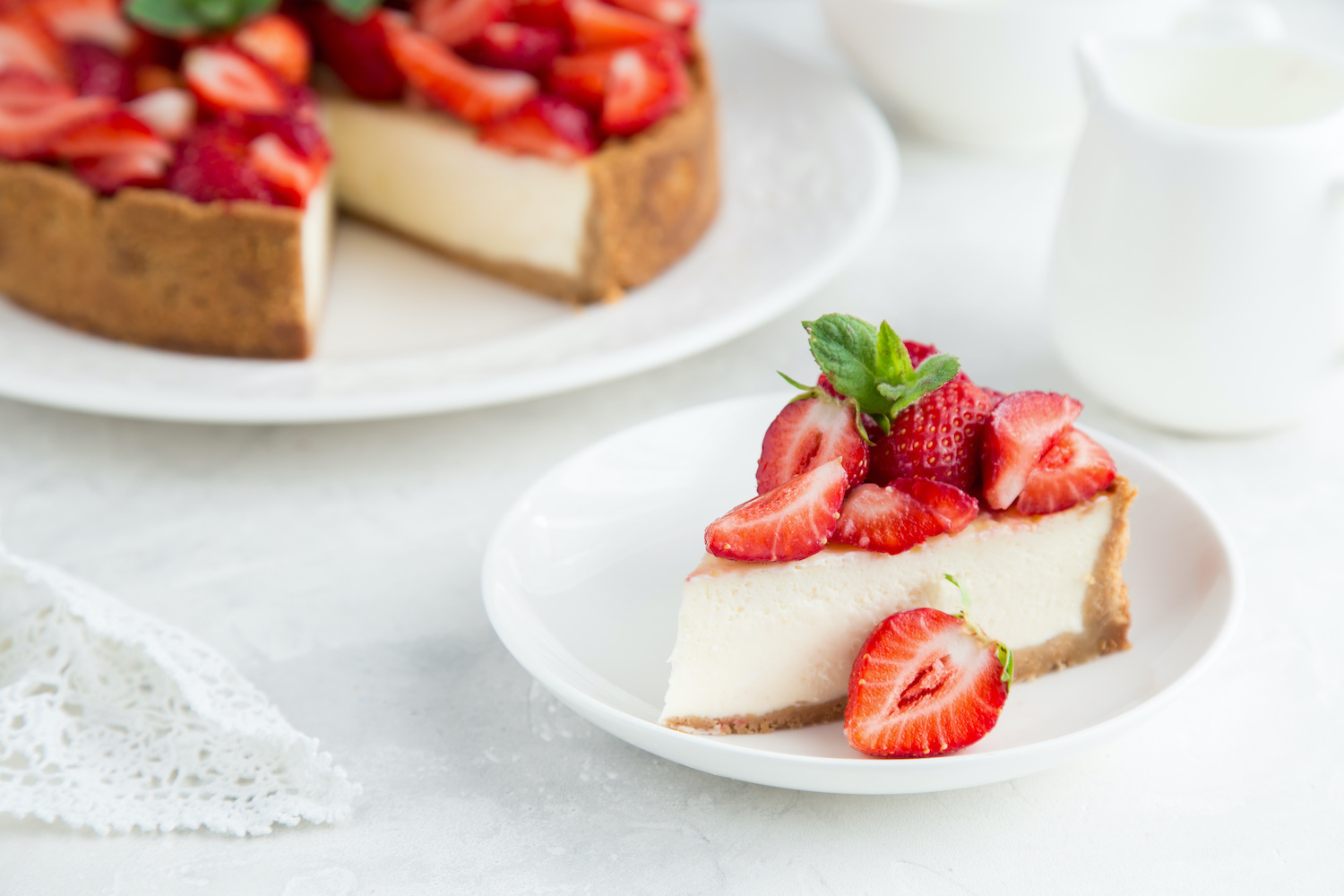 It's important to eat what you love! You can enjoy your favorites and still stay on track with your health goals.
This recipe can give you the slice of delicious cheesecake you've been craving and keep your nutrition goals and blood sugar in range.
Makes 12 servings
Prep: 25 min + 3-4 hours to chill Cook: 1 hour, 10 min
Ingredients
Crust:
¾ cup low-fat graham cracker crumbs (premade or about 7 sheets, crushed)
1 Tbsp butter, unsalted, melted
Nonstick cooking spray
Filling:
4 (8-oz) packages low-fat cream cheese, at room temperature
1½ tsp Stevia (or desired sugar substitute)
1 cup nonfat vanilla yogurt
½ tsp salt
1 Tbsp vanilla extract
1/3 cup cake flour
1 tsp grated lemon zest
1 Tbsp fresh lemon juice
1 cup liquid egg substitute
Topping:
1½ cups fresh strawberries, sliced



Preparation
Preheat oven to 350°F. Spray the bottom of a 10-inch springform pan with nonstick cooking spray and set aside.
To make the crust: In a bowl, stir together the graham cracker crumbs and butter. Make sure all of the crumbs are moistened. Press the crumb mixture firmly and evenly over the bottom of the prepared springform pan. Bake the crust for 10 minutes. Remove from the oven, place on rimmed baking sheet, and set aside.
To make the filling: In a large bowl, beat together the cream cheese, sugar substitute, yogurt, salt, vanilla, cake flour, lemon zest and lemon juice, until creamy. Add the egg substitute and continue beating until well combined.
Pour the filling into the prepared crust and place in oven with baking sheet (to avoid any leaking messes). Bake for 1 hour and remove from oven. Place cheesecake on a rack to cool completely. Cover well with plastic wrap and refrigerate 3-4 hours or overnight.
When ready to serve, remove rim of springform pan. Place on serving dish and top with fresh strawberry slices.
Nutrition Information
Serving size: 1 slice
Per serving
Calories: 216; Total fat: 13 g; Saturated fat: 6 g; Sodium: 462 mg; Cholesterol: 44 mg; Total carbs: 16 g; Fiber: 1 g; Sugars: 8 g; Protein: 9 g; Potassium: 292 mg
CLC016084.A