No matter the weather, biting into a ripe strawberry can feel like tasting the sun. These sweet fruits are not only delicious, they are also versatile and nutritious. Strawberries are:
High in vitamin C
One cup of strawberries has more than 100% of your daily need for vitamin C. This vitamin helps your immune system work well. It is also an antioxidant, which means it helps protect your body's cells from damage.
Hydrating
Every cell, tissue and organ of your body needs water to work. But drinking lots of water is not the only way to stay hydrated. High-fluid foods can also help your body get the water it needs. Strawberries, for example, are 91% water. Think of fruit salad with strawberries as a hydrating snack!
Rich in fiber
Strawberries are a source of fiber. Fiber helps you feel satisfied when you eat. Fiber also helps you manage blood sugar.
A great source of potassium and magnesium
Both potassium and magnesium are vital for good health. Potassium helps manage blood pressure. It eases tension in blood vessel walls. This helps blood pass more freely. Magnesium can help muscle relax. It also plays a role in managing blood sugar.
Full of folate (vitamin B9)
Strawberries are a source of folate. Folate helps your body convert carbs into energy. It's also important for brain health.
Strawberries can make a nutritious and delicious topping for cereal, smoothie ingredient or snack. They can also be a tasty addition to a salad. Here's a recipe to try:
Strawberry Jicama Cucumber Salad
Makes 4 servings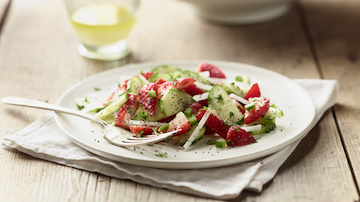 Ingredients
2 cups of chopped, fresh strawberries
1 medium peeled jicama, chopped
1 medium cucumber, chopped
1 fresh jalapeño, seeds removed, diced
1 Tbsp fresh cilantro, finely chopped
1 Tbsp extra-virgin olive oil
2 Tbsp lime juice
1 Tbsp no-calorie sweetener (about 1 1/2 packets)
1 tsp poppy seeds


Preparation
Combine strawberries, jicama, cucumber, jalapeño and cilantro in a medium bowl. In a separate bowl, combine the olive oil, lime juice and sweetener until the sweetener is fully dissolved. Pour the mixture over the strawberry salad and lightly toss. Sprinkle the poppy seeds on top to garnish and enjoy cold or at room temperature!
Nutrition Information
Serving size: 1¼ cup
Per serving
Calories: 130; Total fat: 4 g; Saturated fat: 1 g; Sodium: 10 mg; Cholesterol: 0 mg; Total carbs: 24 g; Fiber: 11 g; Sugars: 8 g; Protein: 3 g

Proprietary content and tools licensed from the American Heart Association. The information in the content and tools is not intended as medical diagnosis or treatment, or as a substitute for professional medical advice from your healthcare provider. Powered by American Heart Association®
CLC016039.A