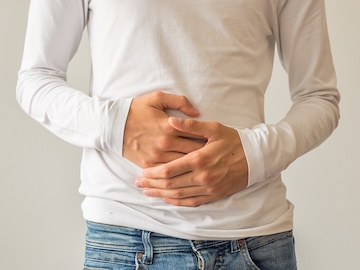 We all have stomach pain at times. It's normal from time to time to deal with heartburn, diarrhea or feeling bloated. But if these symptoms last a long time, get worse or are out of the ordinary, you should bring them up with your doctor. If you have diabetes, you may be experiencing a condition called gastroparesis.
What is gastroparesis?
Gastroparesis is a form of neuropathy that affects the stomach. Your body might not be digesting food properly, which can cause nausea, vomiting or bloating. This condition can also make it hard to manage your blood sugar and to match insulin doses to your food portions.
Keep a record if you have any of the symptoms listed below for a prolonged stretch of time. Then share that information with your doctor during your next visit.
Signs and symptoms include:
Heartburn or indigestion

Nausea or vomiting undigested food

Feeling full for a long time, even long after eating

Bloating after meals

Stomach feeling full, even after eating a small amount of food

Diarrhea

Loss of control of bowels

Constipation

Blood sugar levels becoming hard to predict after eating
Treatment for gastroparesis
If your doctor tells you that you have gastroparesis, the most important thing to do is eat properly. Many people can manage gastroparesis with simple dietary changes. Your doctor may refer you to a registered dietitian who can work with you to find foods that are easier for you to digest. This can help you to get enough calories and nutrients from the food you eat.
Nutrition strategies to manage gastroparesis might include:
Smaller, more frequent meals or snacks

Chewing food thoroughly

Eating your fruits and vegetables well-cooked rather than raw

Avoiding fibrous fruits and veggies, such as oranges and broccoli, which may cause bezoars (solid masses of food that your body can't digest, which can cause a blockage)

Choosing mostly low-fat foods, but if one can tolerate fat, adding small servings of fatty foods to your diet

Trying soups and pureed foods if liquids are easier for you to swallow

Drinking about 1 to 1.5 liters of water a day (if you have chronic kidney disease or heart failure, check with your doctor to see how much water you should be drinking each day)

Exercising gently after you eat, such as going for a walk

Avoiding fizzy drinks, alcohol and smoking

Trying to avoid lying down for two hours after a meal

Taking a multivitamin every day
Other forms of treatment for gastroparesis might include medications to control nausea and vomiting, or to get your stomach muscles working. There are also surgical options for some cases. Talk with your doctor if you have questions about these treatments.
Sources: American Diabetes Association, Mayo Clinic
CLC015957.A