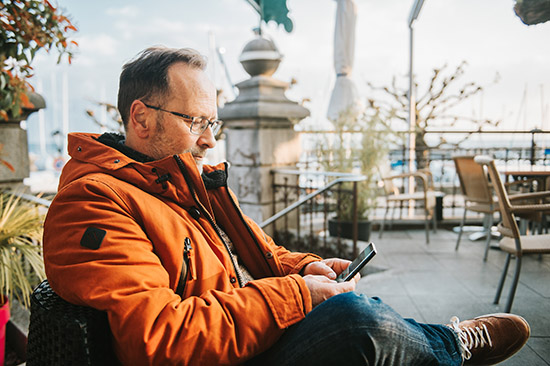 The winter season means less sun—aka shorter days—along with chilly temps and, for some, snow, snow and more snow. The changes the season brings can really throw off your schedule, making it harder to keep up with your checking habit.
But it's especially important to stay on top of checking your blood sugar during the winter. Why? When the temps dip, many of us end up spending more time indoors—which can lead to being less active. This, along with less sun exposure, can mess with your sleep and eating patterns. All of these factors can affect your actual blood sugar readings.
Keeping up with your checks is an important part of your long-term diabetes management. It is the best way for you to stay healthy all year long. We're sharing our top tips to help you stick to your blood sugar check schedule this winter season.

Stick to a schedule
With the evenings getting dark around 5 p.m. and less sun overall, it's easy to lose track of time. To stick with your checking habit, set alarms on your phone as daily reminders. Title each check with words of encouragement, for example, "First AM check—now enjoy your cup of coffee!"
Another tip? Anchor your blood sugar checks to an everyday habit like brewing coffee, watching the morning news or brushing your teeth. Make sure it's a habit you do all week—weekends included.
Keep your supplies at room temperature
It can be hard to keep up with checks if your monitor isn't working right or your strips have become defective. Extreme heat or cold temps can affect your monitor and test strips, giving you an inaccurate reading. These swings in temp can also affect your insulin pens, pumps and vials. Avoid leaving your supplies or medicines near a heater or in a car in cold weather.
Make sure your supplies are ready
Shorter days can mean fewer opportunities to check. Keep your meter charged and order strips and lancets if you're running low. Stay stocked on insulin or oral medications as well. Winter storms or weather changes could prevent you from heading out to get any supplies you need.
Warm your hands first
Did you know checking when your hands are cold—e.g., just coming in from shoveling outside—can affect your blood sugar reading? Allow your hands to warm up beforehand. The best trick is to wash your hands with warm water and soap—this will clean and warm up your hands at the same time. Make sure to dry them before testing.
Stay positive
Use your blood sugar numbers as information to help you take care of yourself. Checks aren't a grade for how well you're managing your diabetes. Slipups happen. And even if you've been working hard on your health, the numbers don't always match up with your ideal. So, when your numbers aren't in range, don't be hard on yourself. Just plan to make good choices going forward. (But don't ever stop checking!)
Need help sticking with your checking routine during the winter (and beyond)? Message an expert coach on the Livongo app. We're here to help!
CLC015955.A