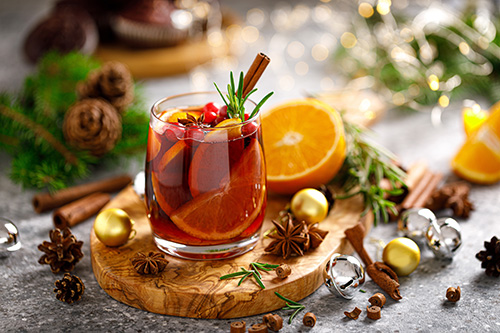 'Tis the season to gather with loved ones. Coming together for the holidays often means delicious food and drinks. If you plan to enjoy a few cocktails this time of year, aim for options that are lower in sugar. Look out for cocktails that include simple syrups or sugary mixers or are mostly juice.
You can still enjoy the fun this year, just be mindful about what you are sipping on. To help, we crafted three holiday drinks perfect for this year's festivities. These drinks are lower in sugar, but they are not sugar-free. Stay within recommended drinking guidelines: Women should drink no more than one drink per day and men, two drinks per day.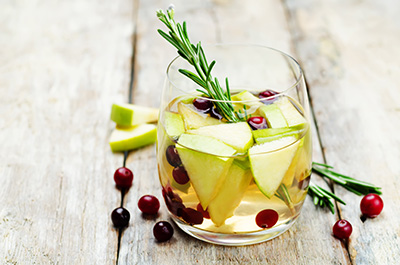 Winter White Sangria
Makes 1 serving
Prep: 5 min
Ingredients
5 oz white wine
¼ cup sliced pear
¼ cup fresh cranberries
Splash club soda
Rosemary garnish
Preparation
Add the first four ingredients to a glass and gently stir. Add rosemary garnish. Enjoy!
Nutrition
Calories: 156; Total fat: 0 g; Saturated fat: 0 g; Sodium: 20 mg; Cholesterol: 0 mg; Total carbs: 12 g; Fiber: 2 g; Sugars: 6 g; Protein: 0 g; Potassium: 235 mg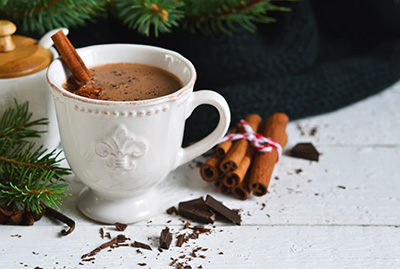 Spiked Cinnamon Hot Chocolate
Makes 2 servings
Prep: 5 min Cook: 10 min
Ingredients
3 cups unsweetened milk (almond, cow's, etc.)
2 Tbsp maple syrup
¼ cup cocoa powder
2 oz cinnamon whiskey
Cinnamon stick garnish (optional)
Preparation
Add milk, maple syrup and cocoa powder to a small saucepan. Place over medium-high heat and bring to a boil. Reduce heat and let simmer for 2-3 minutes.
Add one ounce of whiskey to each mug and top with hot chocolate mixture. Gently stir and garnish with a stick of cinnamon.
Nutrition
Serving size: about 2 cups
Per serving
Calories: 206; Total fat: 7 g; Saturated fat: 1 g; Sodium: 274 mg; Cholesterol: 0 mg; Total carbs: 22 g; Fiber: 5 g; Sugars: 12 g; Protein: 4 g; Potassium: 596 mg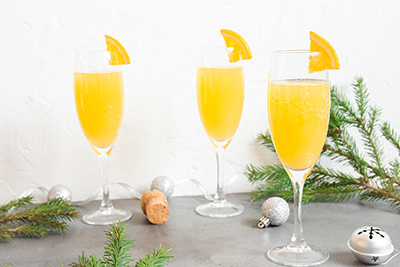 'Tis the Season Spritz
Makes 4 servings
Prep: 5 min
Ingredients
1 cup orange juice
20 oz champagne
Orange slice garnish
Preparation
Fill eight sections of an ice cube tray with orange juice. Place in freezer for 4 hours, or until solid. Fill four glasses with 5 ounces of champagne or prosecco each and add two frozen cubes to each glass. Garnish with a slice of orange and enjoy!
Nutrition
Serving size: 5 ounces and 2 cubes
Per serving: Calories: 206; Total fat: 7 g; Saturated fat: 1 g; Sodium: 274 mg; Cholesterol: 0 mg; Total carbs: 22 g; Fiber: 5 g; Sugars: 12 g; Protein: 4 g; Potassium: 596 mg
PM016409