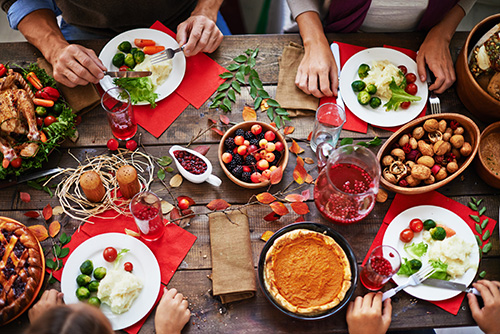 Getting through the holidays when you're on a budget can be hard. From gifts and travel to festive meals and parties, holiday costs can add up quickly. But when it comes to enjoying meals with loved ones, there are some easy ways to save a few dollars on your grocery bill.
Here are five ways to enjoy a holiday feast while watching your wallet.
Make a list...and stick to it
Have you ever gone to the grocery store without a shopping list? It can be a disaster, right? Going in without a plan can leave you feeling unsure of what to shop for, and it's likely that you'll end up throwing in whatever looks good in the moment.
But mapping out what you want to eat or serve at a meal, like a holiday dinner, sets you up for success. Be detailed and thorough. This will ensure you get everything in one trip—i.e., you won't have to run back to the store for an item you forgot. Plus, there is less chance of grabbing those extras in the moment.
To do this, map out each course. Perhaps you start with a soup or salad, and then move onto the entrée and side dishes, and lastly, dessert. Figure out which recipes you're planning to use and the ingredients you will need. Check your list against what you may already have so you don't spend money on items you don't need.
Throw a potluck
One of the smartest things you can do for your wallet (and your stress levels) is to throw a potluck with your guests. Ask everyone to bring a dish to share.
One approach as the host is to provide the main entrée and then ask others to bring appetizers, side dishes and desserts. Depending on the crowd, you may want to give your guests some direction. For example, tell them what type of dish to bring—whether it's a vegetable side or a dessert. This way you end up with a balanced meal and not a table filled with cookies, cakes and pies.
Enjoy produce frozen or canned
Did you know that frozen and canned produce can be just as healthy as fresh? Fruits and vegetables are packed with nutrients, and they're great when included as part of a side dish, entrée, appetizer or even dessert at your holiday meal.
But if you're trying to save money, you may want to look beyond the produce section. In many cases, frozen or canned fruits and vegetables are cheaper than fresh. And they can be just as healthy if you know what to look for.
A few tips: When shopping for frozen produce, skip anything packed in a sauce, which can be high in fat and salt. Also avoid anything packed in sugary syrups. If you're shopping in the canned section, look for low-salt or no-added-salt vegetable options. For fruit, choose packed in water versus packed in any type of syrup. You also want to avoid cans with big dents in them. This means the food may contain bacteria that can make you sick.
Make smart swaps
You've planned your meal, decided on dishes and put together a shopping list. As you are trying to be mindful of your spending, review your list before heading to the grocery store for any pricey ingredients.
In some cases, you may be able to swap out these items for more budget-friendly choices. It depends on the recipe and how the food is being served, but some examples to consider include:
Chicken thighs in place of chicken breasts (be sure to trim the fat when preparing)

Cremini or baby bella mushrooms instead of porcini mushrooms

Pepitas in place of pine nuts

Dried cranberries instead of dried cherries

Whipped low-fat cream cheese in place of mascarpone cheese
Shop the sales
Shopping the sales takes some advanced planning. If you decide on the menu a few weeks in advance, then you can shop the weekly sales for your items.
Many of us shop for a dinner party just a few days in advance. This means we must buy the items right then and there versus waiting and buying the ingredients when they are on sale.
Shopping when there is a deal works for many pantry and freezer items, and even some refrigerated ones. You can even buy meat like a turkey or chicken in advance and freeze until it's time to prepare. This tip doesn't work as well if you're looking for fresh fruits and vegetables like leafy greens and berries, as these tend to spoil quicker. With planning ahead, you can budget those items as well.
Enjoy the holidays but stick to your budget. This time of year is about spending precious time with family and friends and less about the gift-giving and the meals you eat.
CLC015942.A