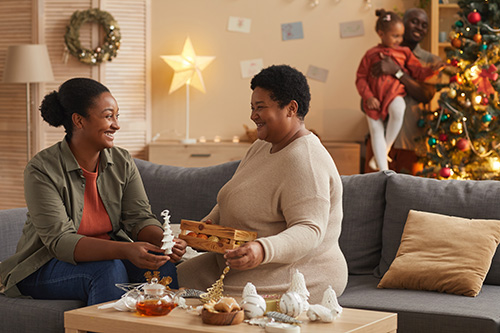 The holiday season often involves celebrations of some sort: office parties, feasting with friends and festive gatherings. But fitting all of these into your schedule and staying on top of your diabetes can be a lot to juggle. Check out these six tips for a healthy holiday season this year.
Stick to your routine (as much as possible)
You're bound to find yourself surrounded by desserts, drinks and decadent foods at some point this holiday season. And with a packed schedule, it can be hard to fit in all of the things you regularly do to take care of yourself, like getting enough sleep, taking walks or meditating.
Have fun these holidays and enjoy time with your family and friends. But continue to make time for yourself, including taking care of yourself. Being aware of the potential breaks in your routine is the first step. Here are a few more tips:
Get enough sleep. Aim for 6-8 hours every night. Arrive early to any evening holiday parties and commit to heading home in time to get enough shut-eye.
Keep up with your checking. The holidays can be busy and stressful. This makes it easy to forget to do everyday tasks like checking your blood sugar. Try your best to stick to your usual checking routine.
Make your "non-party meals" count. Parties typically mean tasty foods and delicious drinks. Try to make your regular meals as balanced and nutrient-packed as possible. This helps provide balance during the holidays.
Be mindful of your drinking
Holidays are a time to be festive and alcoholic drinks are sure to be served. But for some people, especially those who use insulin or some oral meds like sulfonylureas, alcohol can lead to low blood sugar for up to 24 hours. Make healthy choices to ensure you can continue to celebrate. A few tips:
Limit your intake: Women—up to one drink per day; men—up to two drinks per day.
Check, check and check again: Monitor your blood sugar levels. Check your blood sugar before you drink, while you're drinking and after you drink, and continue to check up to 24 hours. If your blood sugar is low before going to bed, eat something with at least 15 grams of carbs.
Don't drink on an empty stomach: This is very important if you take insulin or some oral meds like sulfonylureas.
Skip the sugar: Avoid drinks made with sugary mixers, and alternate drinks with plenty of sugar-free fluids, like water, seltzer or diet tonic.
Bring a healthy dish
If you want to ensure that there will be at least one healthy dish for you to enjoy at a gathering, bring it yourself! A dish that is centered around whole grains, a vegetable, fruit or even a lean protein (and one that isn't smothered in butter or sauce) helps to balance out any holiday meal. It's likely others will thank you too.
Stay active
It's easy to feel busy and overwhelmed this time of year, and sticking with your routine during the holidays can be tough. But staying active (or even boosting your activity) during this time can make all the difference. Exercising helps with managing your blood sugars, your weight and even your stress levels.
Fit in exercise where you can. It doesn't need to be an intense one-hour session. Try breaking up your workouts to fit your schedule. This could look like a 10-minute walk in the morning, another during lunch and again after work. It all counts and adds up throughout the day.
Be choosy
One potential pitfall of the holidays is all of the delicious foods served up at parties and celebrations. You certainly want to enjoy yourself and try some of the tasty treats, but that doesn't mean you have to try everything. Be mindful and choosy with what you decide to enjoy. Make every bite count.
Figure out what is a good balance for you and stick with it. Perhaps you enjoy one decadent food and ignore the rest. Or maybe you enjoy a smaller portion—a few bites even—of a couple of dishes that have caught your eye.
Load up on veggies
When all else fails, load up on veggies. They're lower in calories and are packed with nutrients, which can help balance out some of the rich foods you'll be eating throughout the holidays. Look for apps and dishes that are centered around veggies—think a crudité dip, roasted vegetables as a side or a veggie-based soup. Limit options that are heavy on the butter, oil or creamy sauces.
CLC015948.A