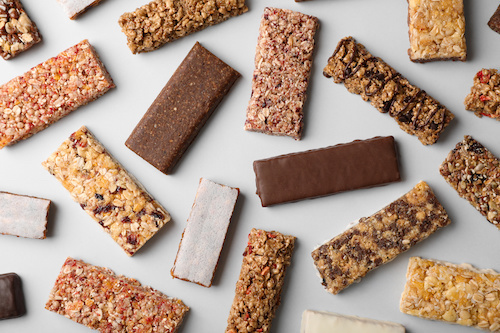 When it comes to snacking, eating whole foods is your best bet. But if you're busy or on the go, nutrition bars are an easy snack option.
Nutrition bars can be a convenient, balanced choice, but that's not always the case. Some bars are more like a candy bar than a nutritious snack; there are also hundreds of different brands, flavors, and nutrition offerings. This can make it hard to know which bar to choose.
The good news is there are many better-for-you bars available. You just need to know what to look for and what to avoid. This guide will help you find the nutrition bar that's right for you.
What to look for in a nutrition bar
Calories:

Some nutrition bars are perfect for snacking and others are meant to replace meals. A nutrition snack bar has about 250 calories or less. Making sure the bar fits into your total calorie needs for the day is most important.
Wondering how many calories you should be eating in a day? Consider scheduling a coaching session with one of our Livongo expert coaches.
Fiber:

Choose a bar with at least 3-5 grams of fiber. Dietary fiber may help lower cholesterol and blood sugar levels. It also helps with digestion and keeps you feeling fuller longer.
Protein:

Choose a bar with at least 7-15 grams of protein. Protein helps build and keep muscle and helps you feel full. Protein has very little impact on your blood sugar. High-quality protein sources include whey, rice, peas, hemp, and egg whites.
Carbohydrates:

Carbohydrates are a source of energy. As a snack, look for a bar with no more than 20 grams of carbohydrates.
Healthy fats:

Fats are pleasing to our taste buds and help keep us full. Choose a bar with healthy mono- and polyunsaturated fats, staying away from those with less healthy saturated fats.
Natural sweeteners:

Pick a bar sweetened with natural sugars like dates or dried fruit. Aim to keep the sugar content to no more than 15 grams.
Real food ingredients:

Look for a bar made up of whole food ingredients like nuts, seeds, dried fruit, and oats. Keep in mind ingredients are listed in order of quantity. Ingredients that make up the majority of the bar are at the beginning of the list. Ingredients found in smaller quantities are at the end of the list.
What your best bars should look like on the label:
| | |
| --- | --- |
| Calories | 250 calories or less |
| Fiber | At least 3-5 grams |
| Protein | At least 7-15 grams |
| Carbohydrates | No more than 20 grams |
| Fats | Look for mono- and polyunsaturated; less than 3 grams saturated fats |
| Sugar | No more than 15 grams |
| Whole food ingredients | Look for whole food ingredients like nuts, seeds, dried fruit, and oats |
What to avoid in a nutrition bar
Added sugar:

Avoid bars with added sugars listed as one of the first few ingredients. Some names for added sugar include sucrose, high fructose corn syrup, coconut sugar, and brown rice syrup.
Oil:

Avoid bars with refined oils like canola oil, palm kernel oil, and vegetable oil.
Sugar alcohols:

Sugar alcohols like sorbitol, xylitol, and mannitol can cause gastrointestinal upset in many people. Try to avoid sugar alcohols when possible.
Fat:

Avoid bars high in saturated fat. Some oils like coconut oil are a source of saturated fat.
Healthier nutrition bar options: Many of the bars listed here are not an ideal snack — nutritionally. Each bar tends to have some pros and cons. Most brands have a variety of bars, with various nutritional content. Be sure to always read the Nutrition Facts label. Choose the bar(s) that best fit your lifestyle, goals, and preferences. And keep in mind, whole foods are best: The Smart Snacking Combo
KIND Bar (original)

LÄRABAR Protein Bar

Primal Kitchen Collagen Fuel Bar

EPIC Bar

Health Warrior Bar

Perfect Bar

GoMacro Protein Bar

Clif Whey Protein Bar

Think! High Protein Bar

Aloha Protein Bar

Built Bar
Overall, you want to choose a bar that adds value to your diet. The bar should provide protein, fiber, whole grains, healthy fats, vitamins, and minerals, with as little processing as possible.
CLC15707.A