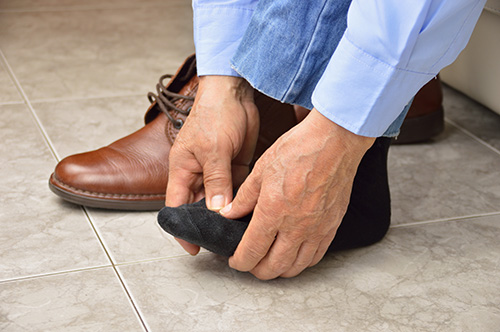 If you have diabetes, your blood sugar may run high. Over time, this can lead to nerve damage, or neuropathy. Having diabetes for a longer period of time (or as you age) can also lead to nerve damage.
How do you know if you have neuropathy? The condition can damage nerves throughout your body, so there are many symptoms to be aware of. Depending on where the nerve damage occurs, some signs that you may have neuropathy include:
Legs, feet, arms or hands
Burning, tingling, numbness or pain

Swelling (feet)

Sores or infections that take a long time to heal. This is a common issue that typically affects your feet.

Trouble walking or loss of balance

Trouble sensing temperatures in your hands and feet
Your gastrointestinal (GI) tract
Bloating

Constipation

Nausea and vomiting

Belly pain

Diarrhea

Reproductive organs
Trouble urinating. You may be unaware that your bladder is full or have trouble fully emptying.

Erection issues (men)

Vaginal dryness (women)

Overall body
Low blood pressure

Dizziness or fainting

Trouble knowing when your blood sugar is low

Heavy sweating at night or always feeling cold
To diagnose neuropathy, your doctor will give you a physical exam. They may also run some tests. This depends on where it's believed the neuropathy is occuring.
Managing Your Neuropathy
One of the most important things you can do, no matter where you're experiencing neuropathy, is to get control over your blood sugar. Keeping your blood sugar in check can help limit the damage that is done. Here are some other ways to manage neuropathy, specific to where it's occurring.
Feet: Wear socks and shoes at all times to prevent getting a cut or some other injury. Check your feet every day for any cuts or ingrown toenails. Talk with your doctor right away if you see any changes in your feet. Leaving it untreated can lead to a major infection or even amputation.
GI tract: If you're having any GI issues, talk with your doctor. Some problems may be treated with medication.
Reproductive organs: Depending on the issue, there are meds, creams and devices that may be able to help. Talk with your doctor if this is a concern for you.
Blood pressure: Your doctor may prescribe medications for your blood pressure. Compression socks may be able to help as well.
Pain: If you are having pain, talk with your doctor. There may be medicines that can help.
CLC000020.A