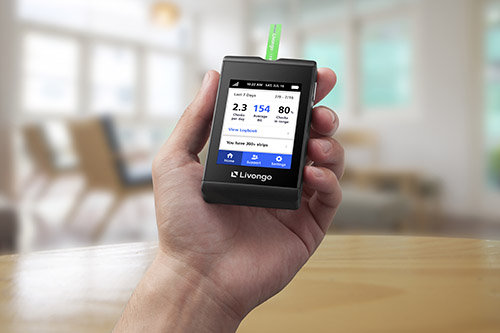 A blood glucose meter gives you the information you need to help control your blood sugar. Your meter shows you how exercise, what you eat and other lifestyle habits can affect your reading. But this info is only helpful if it is accurate.

Another reason accurate readings are important? They affect how you manage or treat your blood sugar. This may mean taking fast-acting insulin or treating a low reading with fast-acting carbs. Making sure the reading is accurate keeps you from missing treatment.

Inaccurate readings happen. And sometimes, simple, everyday missteps are the cause. Here are seven common mistakes that may lead to an inaccurate blood sugar reading.
1. Not washing your hands beforehand
This is one of the most common reasons for an inaccurate reading. Forgetting to wash your hands before testing means that whatever is on your skin can affect the results.
To wash your hands, use warm, soapy water. Soap cleanses and removes residue. The warm water may help to soften the skin while improving the blood flow to the fingertip as well. This may make for an easier and less painful fingerstick.
Avoid using hand sanitizer if you can. If you don't have access to warm water and soap, rubbing alcohol is better than nothing. Just make sure that your finger is thoroughly dry.
2. Squeezing the blood from your finger
Have you ever pricked your finger and then had a tough time getting enough blood so you squeezed your finger as hard as you could? This can also cause an inaccurate reading.
To get enough blood, try to stick the side of your fingertip after washing with warm, soapy water. Even letting your hand hang down at your side for about a minute before sticking your finger may help. After the fingerstick, apply gentle pressure just at the fingertip to get the drop of blood needed.
3. Storing test strips in the bathroom
Do you keep your meter or test strips in the bathroom? You want to avoid this because bathrooms often heat up and can get humid. For instance, when you take a hot shower, there is steam, adding heat and humidity to the room.
Instead, store your meter and strips at or near room temperature. Avoid areas of your house that get humid.


4. Taking out more than one strip at a time
Strips are also sensitive to light. You don't want to expose them to too much light. It may be convenient to grab the strips you'll need for the week and stuff them in your case. The trouble is, doing so can lead to falsely low blood sugar readings. Instead, keep all your test strips in the dark vial that they came in and only pull one out at a time for each test.


5. Using strips more than 6 months old
Using the expiration date to determine when your strips expire makes sense. But this isn't always correct. Avoid using strips if they are past the expiration date on the vial or when they have been opened more than 6 months ago—whichever comes first.
So, if you have a vial that has been open for more than 6 months but hasn't reached the expiration date on the label, the strips are still considered expired. They should not be used. Using an expired test strip can also lead to an inaccurate reading.
To stay on top of this, open only one vial at a time. On the vial, mark the date it was opened. Keep track of this date and the expiration date.
6. Reusing a lancet
You may be tempted to reuse a lancet, but don't. They can be exposed to dirt, bacteria and really anything in the outside world, which may impact your reading. Even after the first time a lancet is used, it begins to dull. If reused, you may have a more painful fingerstick. Remember, whenever you need more lancets, we'll send them to you—free of charge.
7. Checking your blood sugar within 30 minutes of charging your meter
You go to check your blood sugar, but your device doesn't turn on. Sound familiar? It's time for a charge. And though the meter may seem ready once it is fully charged, you need to wait 30 minutes before checking your blood sugar. The device can still be warm after charging, throwing off your blood sugar reading.
If you think your blood sugar reading is inaccurate, check this list to see if you may have done one of these actions. Make the correction and then recheck.

Lastly, don't forget the importance of control solution testing. Everything you need for a control test came in your Welcome Kit. Anytime you question the results, open a new box of test strips, or just want to check the system, you should do a control test. The control solution tests check the meter and the strips, and makes sure that they are working together as they should. If you do not have control solutions, or if they have expired, please let us know and we can send them to you free of charge.

And if you haven't run the control tests before or need a refresher, please watch this video on how to do a test.
CLC15902.A