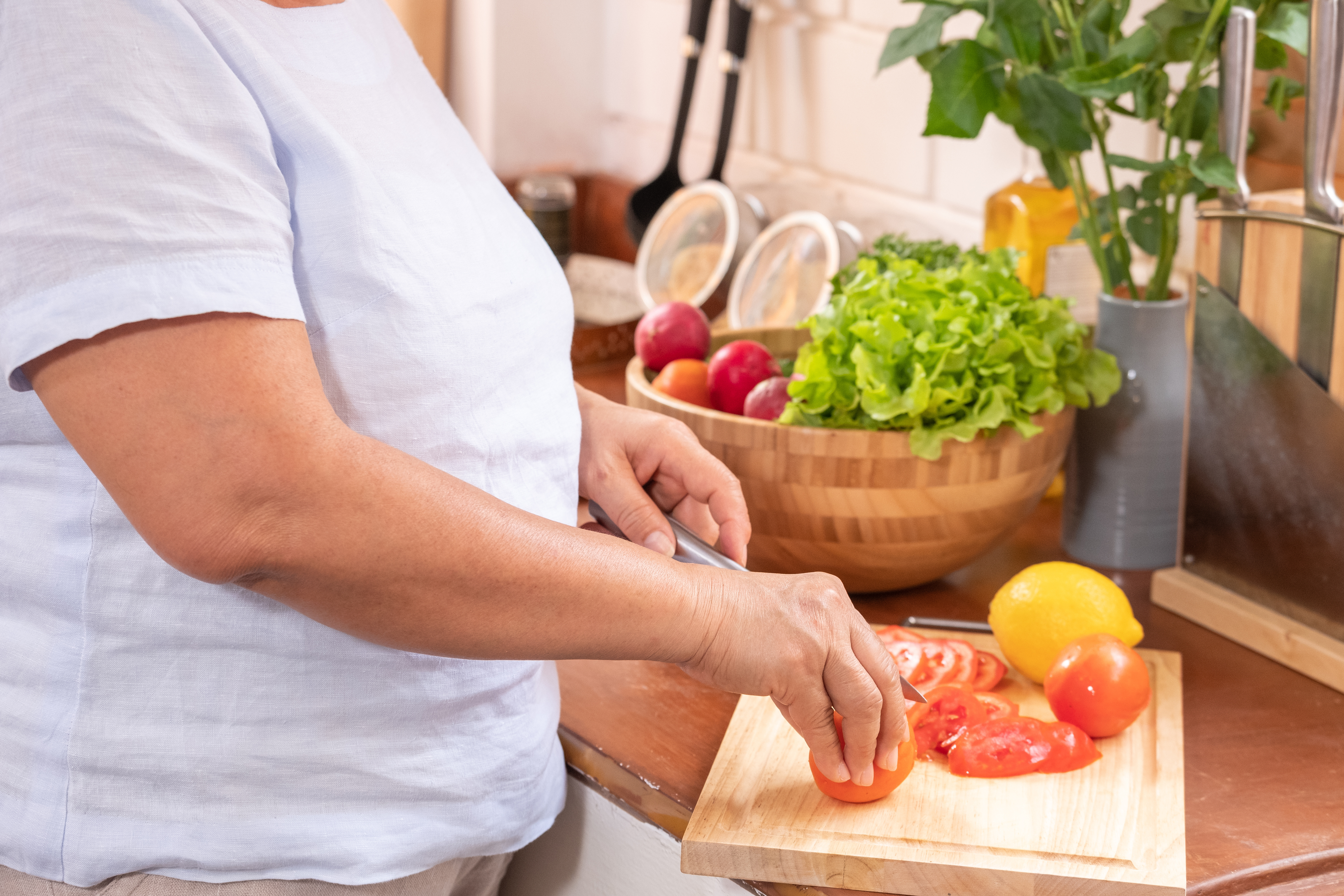 Cooking for one can be daunting, especially when you are dreading the cleanup afterward. By keeping things simple, you can limit your time in the kitchen, for both prep and cleanup. Plus, you may find it easier to build a balanced plate (50% non-starchy vegetables, 25% lean protein, and 25% carbohydrates) and stay on track with your health goals when you are cooking for just yourself. Make the most out of your time in the kitchen by mastering the art of cooking for one with these four tips:
Plan Ahead and Get Creative
When creating your meal plan for the week, try to use many of the same ingredients in different dishes. This will help to reduce waste and the time spent in preparation. Plus, it will make shopping easier and allow you to enjoy satisfying meals.
For example, you may want to buy a bag of fresh spinach to make a delicious salad, but you know you won't end up using the whole bag before it goes bad. This same bag of spinach can be used in a morning smoothie, sautéed in your favorite pasta dish, or warmed in a bowl of soup for some added greens.
The Freezer Is Your Friend
Storing foods in the freezer extends their shelf life. You can easily freeze single portions so that you use only what you need, while keeping the rest properly stored in the freezer.
Another plus when it comes to freezing? Sometimes it is more cost effective to buy in bulk, so don't let cooking for one stop you from missing out on a great deal! Fresh proteins such as chicken, beef, pork, and fish can be portioned out and stored in a resealable bag in the freezer. Just be sure to defrost overnight in the refrigerator (not on the counter) before cooking.
Be Smart When Storing Your Produce
Store your fresh fruits and veggies in separate places. Ripe fruits release ethylene gas, which can cause neighboring produce to ripen at a faster pace. Try storing fresh whole fruit such as mangoes, peaches, and pineapple on the counter until they are ripe. Once the produce is ripe, store them in the refrigerator to lengthen their life and slow spoilage. Fresh produce is wonderful to have on hand, but canned and frozen fruits and veggies are great, too.
Love Your Leftovers
Don't shy away from a recipe because it creates multiple servings. You can have that meal for a few days during the week! Soup, chili, and casseroles are some great options to prepare in larger quantities. Freeze any leftover portions to enjoy later. If the recipe still seems just too big, cut the ingredients in half!
Cooking for One Recipes for Every Meal of the Day
Find some fun, single-serving recipes to try below. Keep in mind, you could always double and store, as well as pair similar ingredient recipes for the week ahead.
Breakfast
Open-Faced English Muffin With Veggies
Swiss, Mushroom, and Broccoli Frittata
Lunch
Dinner
Garbanzo Bean Curry With Carrots
Italian Spaghetti Squash With Leeks
Cashew Chicken and Broccoli Stir-Fry
Pasta With Ricotta and Mushrooms
Zesty Grilled Chicken With Thyme
Snacks, Sides, and Desserts
Chocolate Yogurt Mousse & Berries
CLC15689.A