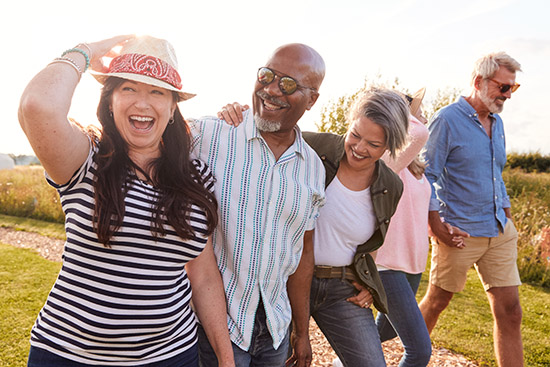 Summertime means vacations, barbecues, and long days at the beach or pool. But the summer months also mean warmer temps, and this can be an issue for anyone with diabetes. People with diabetes are affected more by the heat than those who don't have the disease. Here are a few reasons why this happens.
First, people with diabetes become dehydrated more quickly. This can be a hard cycle to break: If you don't drink enough liquids, your blood sugar can increase. Having high blood sugar makes you urinate more, worsening dehydration. Another concern is that the heat can change how your body uses insulin. Lastly, common diabetes complications like damaged blood vessels can impact your sweat glands, making it harder for your body to cool down.
So what can you do to beat the heat and keep your diabetes in check this summer? Here are seven tips to help keep you cool and safe.
1. Check the Heat Index
It's not just the number on the thermometer that you need to be concerned about. Humidity is a factor, too. When it's humid out, the sweat from our bodies doesn't have the chance to evaporate. This can keep us from cooling down. If you're checking the temps for the day, pay attention to the heat index, too. This measurement takes into account both the temperature outside and the humidity.
2. Exercise Early, Late, or Indoors
The sun and its heat tend to peak midday from about 11AM to 3PM. Avoid being active outdoors during this time. Instead, work out early in the morning or in the evening once the sun starts to go down and the temps begin to fall. This will cut down your risk of overheating. Another option is working out indoors at the gym or in your air-conditioned home.
3. Avoid Heavy, Tight, or Dark Clothing
When the temps rise, stick to lightweight materials like cotton or linen and keep the fit of your clothes loose. Dark clothes tend to attract or absorb heat, while white does a better job of reflecting the heat. Choose light-colored clothing when you're trying to stay cool.
4. Stay Hydrated With the Right Fluids
The key to staying hydrated is to stay ahead of your thirst. What does this mean? Drink even when you're not thirsty. Water and other drinks without caffeine or tons of sugar are ideal. Avoid alcohol, coffee, soda, energy drinks, and even sports drinks. These can cause your blood sugar to rise and may make you more dehydrated.
5. Wear Sun Protection
When you're outside, slather on some sunscreen and throw on a hat. These will help protect your body and face from getting too much sun. Not only will you reduce your risk of skin cancer, but you'll lower your chance of getting a sunburn as well. Sunburns can raise your blood sugar levels.
6. Monitor More Often
We know the heat affects how our body uses insulin. This can make it hard to keep your blood sugar levels in a healthy range. Monitor your blood sugars more closely, especially before, during, or after you're active. In some cases, you may need to adjust how much insulin you are using. Talk with your doctor if you need help changing your dosage.
7. Keep Your Supplies Out of the Heat
When it comes to your medications (insulin and oral meds), avoid extreme heat or even direct sunlight. Both of these elements can have a negative effect on your medications. If you are traveling, don't leave your meds in the car. Instead, store them in a cooler, but avoid putting them directly on ice or an ice pack. The high temps can also ruin your blood glucose monitor and other equipment like an insulin pump. Test strips can be affected, too.
CLC15632.A