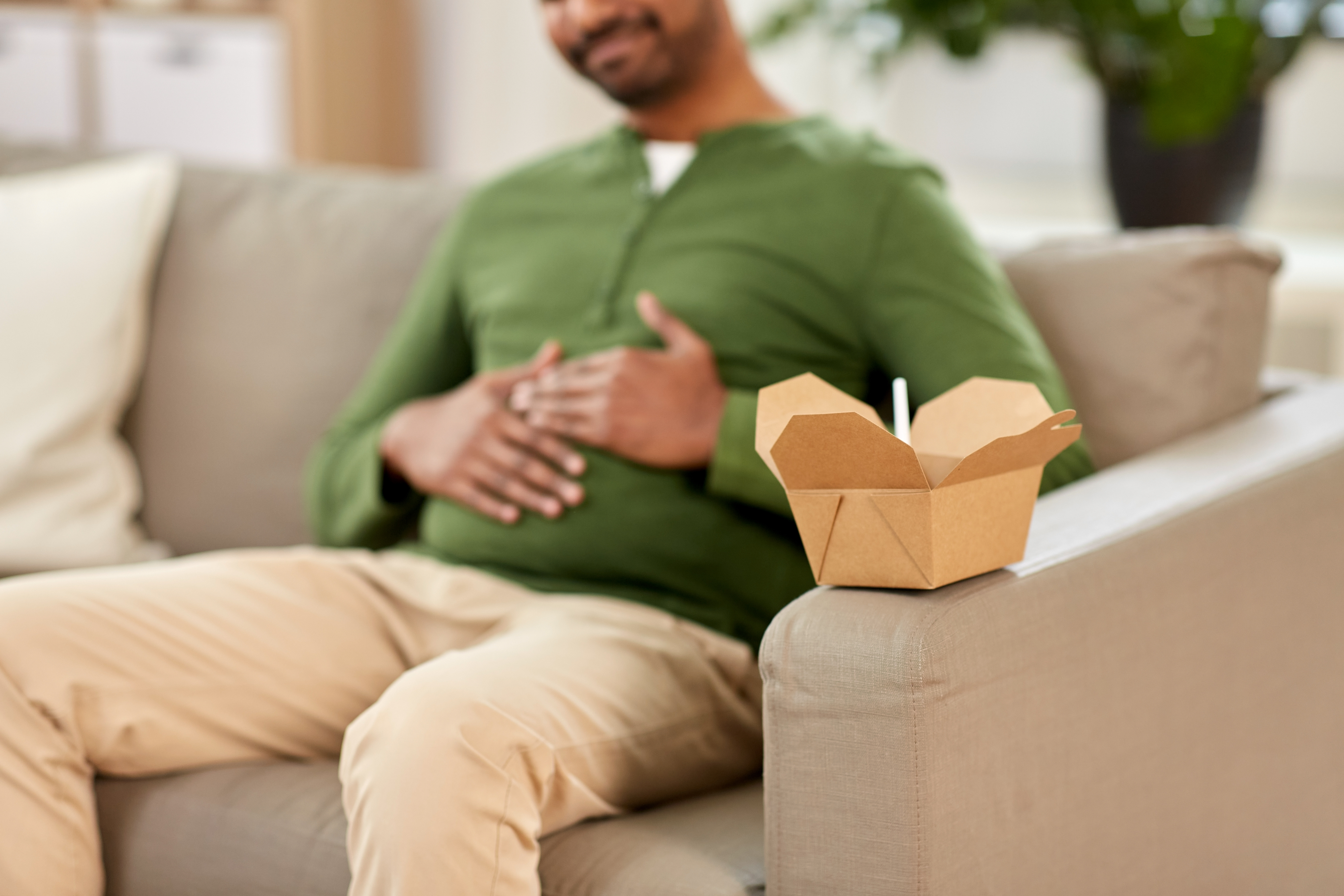 Are there specific foods that trigger you to overeat? Maybe some situations cause you to "stress snack." Here are five steps you can take to recognize and manage your triggers.
Step 1: Identify Your Triggers
Maybe it's obvious to you what your triggers are. But if it's not, tracking the food you eat can help bring awareness to your habits. Take note of not just what you eat, but how you are feeling when you eat. This can help you look for patterns. Noticing patterns can help you develop solutions.
Step 2: Insert a "Pause"
Give yourself a strategy for taking a "pause" when those triggers come up. The next time you are feeling triggered:
Take a deep breath.

Remind yourself that you are being triggered.

Use the Hunger Gauge to decide if you are truly hungry.

Remind yourself of your health goals.
Maybe your trigger is stress or fatigue related. If that's the case, take a longer "pause" to help calm and replenish. Here are some ideas:
Sit and listen to music.

Take a nap.

Drink tea.

Practice mindful breathing.

Do something you enjoy that engages your mind, like doing a crossword puzzle or calling a friend.
Step 3: Plan Ahead
Maybe your triggers are special events like a birthday party, wedding, or restaurant meal. Planning can help you set yourself up for success.
Check menus or call ahead if possible.

Ask if you can bring a side dish like your favorite salad or fruit plate.

Don't skip meals or snacks prior to the event. This usually sets you up to overeat at the event.

Make your choices as close to the Balanced Plate as possible.

Stick with just one plate of food.
Step 4: Work With Your Triggers
Some triggers are unavoidable. That's okay! Here are some quick tips for sticking with your healthy eating plan.
Grocery shop at a time when you're likely to make healthier choices. Some people find that shopping after exercise helps them feel encouraged to buy nutritious foods.

Make a grocery list ahead of time. Do your best to stick with it.

Use positive self-talk to remind yourself why you are choosing certain foods. "These fruits and vegetables will help me feel satisfied and manage my blood sugar," for instance.

Stay hydrated. People often confuse thirst for hunger.

Pack nutritious snacks for work. Choose healthy foods that you enjoy. This will keep you from eating less desirable snacks from the breakroom.

Make a list of go-to meals at restaurants your family or friends frequent. This way you can enjoy dining out and feel confident that you can make healthy choices.
Step 5: Use Caution With Alcohol
Like other treats, alcohol can be enjoyed mindfully. But it should be planned for ahead of time. Keep the following in mind:
Alcoholic beverages contain calories. They can also be a source of carbs.

Slow your pace so you truly enjoy each sip. If you're out for a long night, switch between a drink and a glass of water.

Choose lower-calorie beverages, like light beer or liquor mixed with a no-calorie beverage.

Consider just enjoying the company of those around you. Alcohol doesn't have to be part of social events for you to have fun!

Try a mocktail. An alcohol-free beverage can help you stay more on top of your choices. Look for an option that is low in sugar, as well.
CLC12485.A