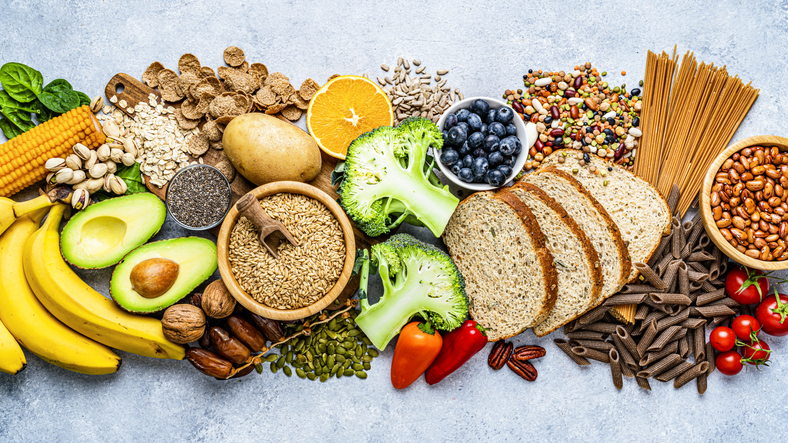 Energy for Your Body
Carbohydrates (carbs) are a nutrient that we get from food. They are an important source of energy for our bodies. When we digest carbs, our bodies turn them into blood sugar. That provides energy to our cells, tissues, and organs.
How Do Carbs Fit Into a Healthy Diet?
There are different types of carbs: sugars, starches, and dietary fiber. Some carbs are better for you than others. Whole grain carbs and carb-rich veggies are healthier choices than refined grains and sugars.
Creating Healthy Meals
Limit foods that are high in added, refined simple sugars.

Choose unprocessed or less processed whole grains over refined grains.

Choose foods that have "whole" or "whole grain" ingredients listed first on the food label.

Eat more fruits and veggies.

Focus on legumes — beans, dried peas, and lentils.
Building Your Plate
Fill half of your plate with non-starchy veggies.

Fill 1/4 of your plate with carbohydrates.

Fill 1/4 of your plate with protein, which can include beans or nuts.
Healthier Carbs
These foods are higher in nutrients and fiber. Fiber helps with digestion. It also helps you feel full and energized for a longer period of time. You still need to watch portion sizes, though. Even healthier carbs can raise your blood sugar.
Whole fruit*

Legumes (beans, chickpeas)*

Sweet potatoes*

Whole grain bread*

Whole wheat pasta*

Whole grain oatmeal and cereal*

Brown rice and barley*
*These carbs may be healthier options. However, if you have diabetes, they may cause blood sugar levels to rise above normal limits. Watch portion sizes and practice paired checking to see how they affect you.
Not-So-Healthy Carbs
These carbs are low in fiber and nutrients. They provide a quick burst of energy that wears off quickly. They can leave you hungry soon after you eat them. These carbs may increase your blood sugar levels too much or too quickly. That can increase the risk for diabetes. They can also increase the levels of fats in the blood, which can contribute to heart disease. Limit these types of carbs in your diet:
Table sugar

Sugar-added drinks, like soda, sweet tea, fruit punch, and sports drinks

Candy

Fruit juice (limit to 6 oz or less per day)

White potatoes

White bread

Regular pasta

Processed cereals

White rice
PM05646.A