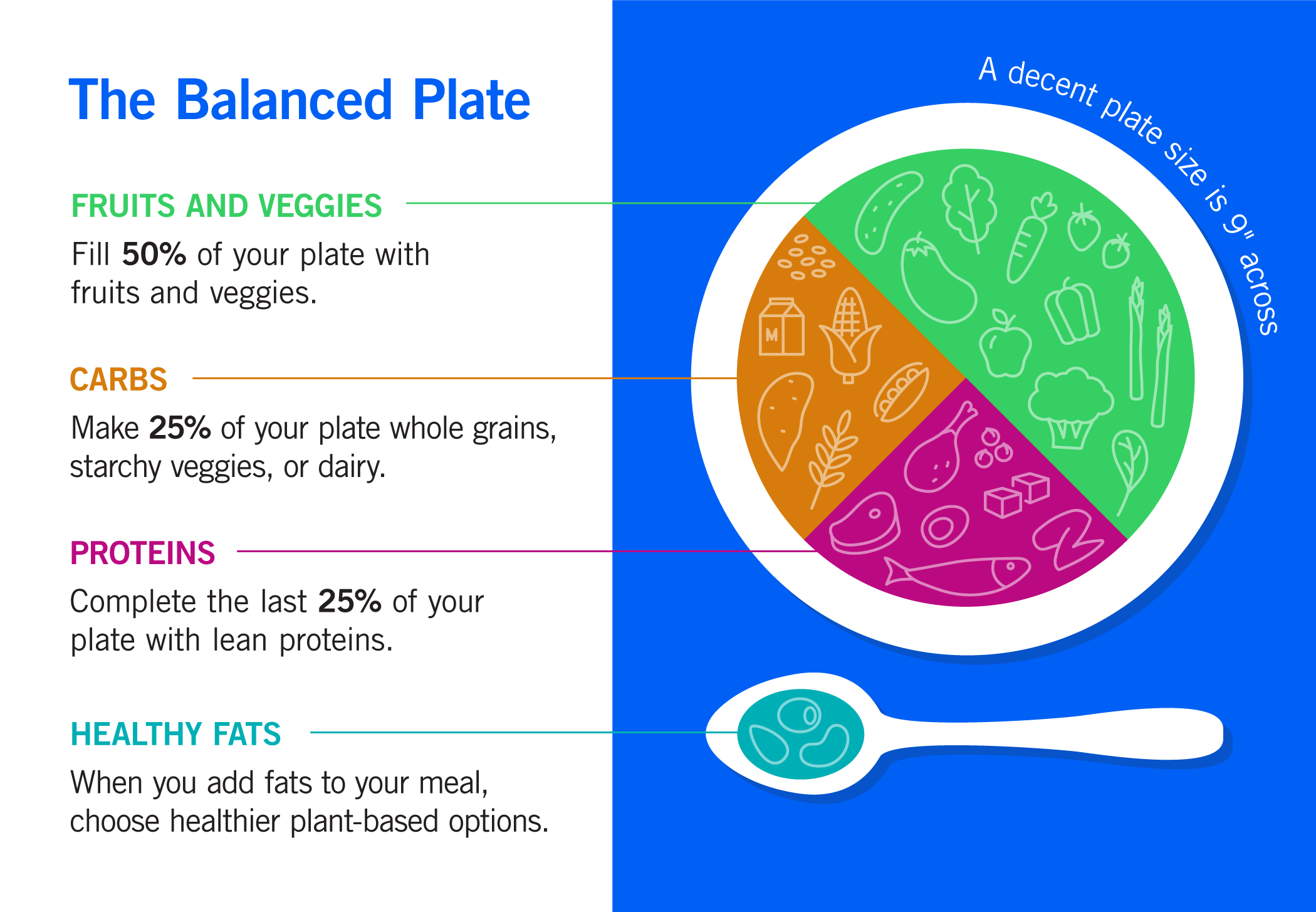 You can eat foods that are kidney-friendly and still enjoy mouthwatering meals! The Balanced Plate model is an easy, delicious way to get the kind of healthy fuel your body knows how to use.
A plate that's balanced for kidney health has 50% fruits and vegetables, 25% lean proteins, and 25% carbs. Small portions of healthy fats can also be part of a balanced meal plan. If you have kidney disease, your doctor may have told you to limit certain nutrients in your diet. You can do this and still eat balanced, delicious meals.
If you're eating to manage your blood sugar, you may need to limit your serving sizes of fruit and starchy veggies. You can do this by counting these foods as carbs. This means they can make up 25% of your plate (instead of 50%).
Scheduling a session with a Livongo expert coach can help you get to know your individual needs.
Note that foods marked with * are higher in nutrients that some people need to limit for kidney health, such as potassium. Talk with your doctor or Livongo expert coach about how to safely include these foods in your diet.
FRUITS AND VEGGIES
Nature's superfoods! Produce has powerful nutrients that help reduce inflammation and slow the progression of kidney disease. It can also help lower blood pressure and cholesterol. Fruits and veggies are naturally low in sodium and protein. Some are high in potassium, which your doctor may suggest you limit. Usually, you can do this by limiting portion sizes rather than avoiding them completely.
All fruits and veggies are good for you. Here are a few examples:
Apples

Asparagus

Blueberries

Broccoli*

Cabbage

Cauliflower

Cherries

Collard greens*

Cucumber

Eggplant

Grapes

Green beans

Kale

Lettuce

Onions

Parsnips

Peppers

Radish

Raspberries

Strawberries

Zucchini*
Remember, if you're eating to manage blood sugar, count starchy veggies and fruits as carbohydrates.
LEAN PROTEINS
Protein foods help you maintain a healthy weight, balance your blood sugar, boost your energy, and support strong muscles and bones. For kidney health, you'll want to eat a low or moderate amount of protein. Your kidney healthcare team can help you figure out your exact needs.
Plant proteins are a good option since they tend to be lower in protein than animal proteins. Plant proteins are less work for your kidneys. It's important to eat smaller servings of animal protein foods. Here are some protein foods you might include on your plate:
Animal Proteins
2-3 oz cooked chicken or turkey

2-3 oz cooked fish

2-3 oz cooked non-fried seafood

1 egg or 2 egg whites

6 oz yogurt*

2-3 oz reduced-fat cheese
Plant Proteins
3 oz tofu

⅓-½ cup low-sodium canned beans (rinsed)

⅓-½ cup cooked lentils

2 Tbsp nut butter

2 Tbsp unsalted seeds

2 Tbsp unsalted peanuts

2 Tbsp unsalted nuts
If you are managing blood sugar, be aware that beans, lentils, and dairy foods also count as carbs.
CARBOHYDRATES
A tasty way to energize. Complex carbs can include whole grains, starchy veggies, and fruit. They often have nutrients and fiber, which help improve cholesterol levels and lower the risk of heart disease and stroke. For blood sugar management, it's best to enjoy foods that contain carbs in smaller portions.
Here are some examples of healthy carb foods you may want to include:
Cassava

Whole grain bread

English muffin

Corn tortilla

Wild rice

Brown rice

Polenta
HEALTHY FATS
Your body needs some fat to give you energy. It also protects your organs and helps keep your body temp at normal levels. Healthy fats lower bad cholesterol (LDL), increase good cholesterol (HDL), keep you feeling full after eating, and even keep your brain working well.
Some examples of healthy fats include:
Unsalted nuts (such as almonds, cashews, macadamia)

Unsweetened nut butters (peanut, almond)

Seeds (such as pumpkin, sesame, sunflower)

Healthy oils (such as extra-virgin olive, avocado, canola, walnut)

Unsalted butter, 1-2 tsp
CLC12173.A