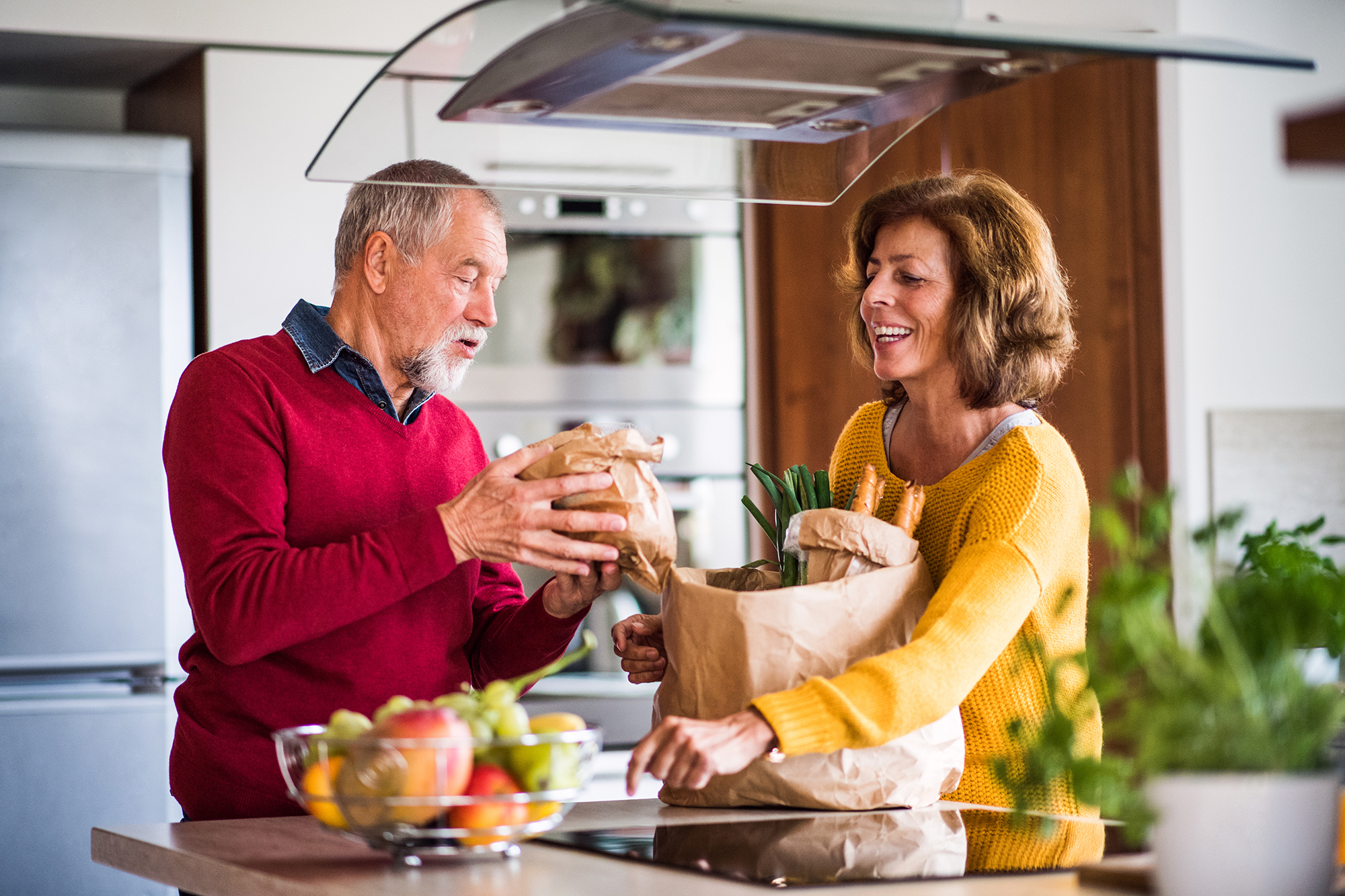 Knowing what to eat is one important part of your healthy living journey. Figuring out how to turn nutrition advice into delicious meals you can prep in a pinch? That's the step that makes healthy eating a reality. This four-step guide will help you plan and shop for success.
Step 1
Think about your schedule for the week. Consider:
How many days will you cook meals at home? How many meals will you dine out or order in?

Do you have any events this week that will keep you from eating at home?

Will you be traveling?

What is the best day to spend some time grocery shopping and food prepping?
Mark the days that you will not be home to eat on the calendar. This way you can be realistic about how much you need to buy. Then, schedule time for shopping and prepping — just like you would a doctor's appointment or work meeting. Taking care of yourself takes time!
Step 2
Brainstorm ideas for meals and snacks you might eat.
Think about what you are usually in the mood for. If you live with others, check in with them on meal and snack ideas.

Look at some of our recipe and meal-planning resources:
Trying new foods can help keep things fun and fresh. Here are some helpful resources:

Food magazines, apps, or websites with recipes that fit your balanced plate.

Ask friends about their favorite go-to meals.

Consider old family favorites. They may be healthier than you remember. If not, you can swap in better-for-you ingredients.

Keep it simple by following the balanced plate: 50% non-starchy vegetables, 25% protein, 25% carbs.

You don't need to have a unique meal for every day of the week. To make it easier (but also interesting), plan for around:

2-3 breakfast options

3-4 lunch options

3-4 dinner options

3-4 snack options
Step 3
Use the Meal-Planning Template to map out what you'll eat each day. It will help you create balanced meals and snacks. Once you've done that, you can also use the template to make your grocery list.
Step 4
Time to get shopping! Make your grocery trip a successful one:
Bring your list and stick with it.

Skip grocery shopping if you're feeling stressed.

Try to time shopping soon after a meal so you won't be hungry. If you can't do that and you are hungry before shopping, have a small snack.

Aim to make half of your grocery cart fruits and veggies.

Canned and frozen fruits and veggies are great alternatives to fresh! Check the nutrition label to make sure added salt and sugar are kept to a minimum.




Sample Meal Plan and Grocery List
Here is a sample of what a week of meals might look like for you:
Breakfasts:
Oatmeal, nut butter, berries

Eggs, whole wheat toast with avocado

Egg frittata with spinach, ham, feta, mushrooms, tomatoes
Lunches:
Open-faced turkey sandwich, side of tomato and cucumber salad

Mediterranean wrap: Pita, hummus, cucumber, tomato, feta cheese, and grilled chicken; serve with a side salad

Picnic lunch: Hard-boiled eggs, mixed nuts, berries, cheese stick, pita chips

Taco salad: Cooked peppers, onions, corn, pulled chicken, tomatoes, avocado, with jalapeño-lime vinaigrette
Dinners:
Sheet-pan meal: Chicken sausage, brussels sprouts, sweet potato

Miso-glazed salmon, broccoli, brown rice

Whole wheat spaghetti with veggie-loaded turkey meatballs

Taco-stuffed bell peppers
Snacks:
Apple + nut butter

Bell pepper + hummus

Cheese stick + mixed nuts + clementine

Greek yogurt + berries
PM10250.B