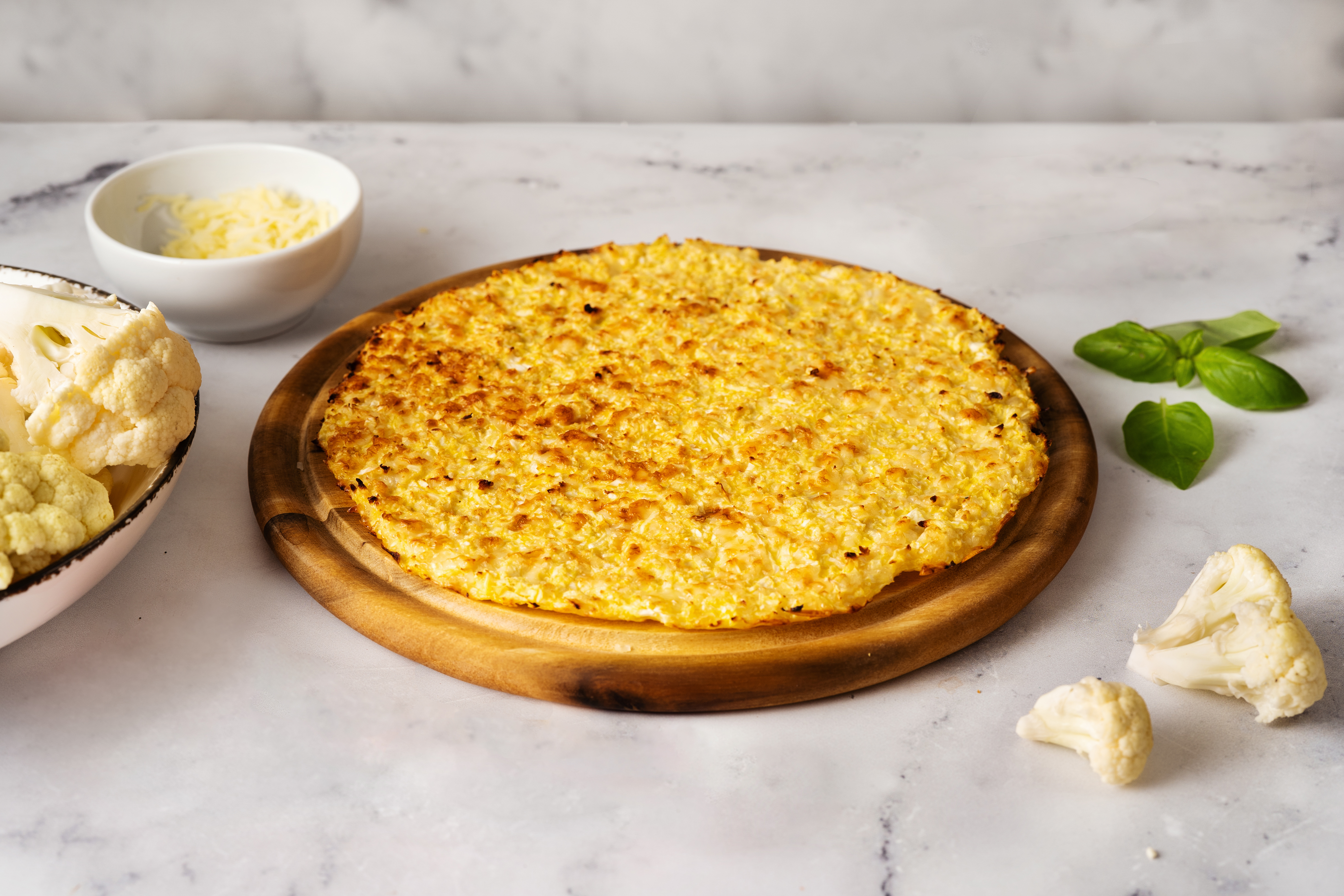 Makes 6 servings
Ingredients

1 head cauliflower, stalks removed

2 large eggs, lightly beaten

½ cup shredded mozzarella cheese

2 Tbsp freshly grated Parmesan cheese

½ tsp dried oregano

¼ tsp kosher salt

½ tsp garlic powder

Preparation
Preheat the oven to 425°F. Line a baking sheet with parchment paper and set aside.
Place cauliflower into the bowl of a food processor and pulse until finely ground. Transfer to a microwave-safe bowl. Cover loosely and place into the microwave for 4-5 minutes, or until softened. Let cool.
Using a clean dish towel or cheesecloth, drain cauliflower completely. Squeeze with the dish towel or cloth, removing as much water as possible. Transfer cauliflower to a large bowl. Stir in eggs, mozzarella, Parmesan, oregano, salt, and garlic powder.
Pour mixture into the center of the baking sheet and spread into a circle, resembling a pizza crust. Bake for 20 minutes. Add desired toppings and bake for an additional 10 minutes.
Slice into 6 servings.

Nutrition Information Per Serving (serving size = 1 slice)
Calories: 104
Total fat: 5 g
Saturated fat: 3 g
Sodium: 252 mg
Cholesterol: 74 g
Total carbohydrates: 6 g
Fiber: 2 g
Sugars: 2 g
Protein: 9 g
Potassium: 291 mg
CLC15922.B