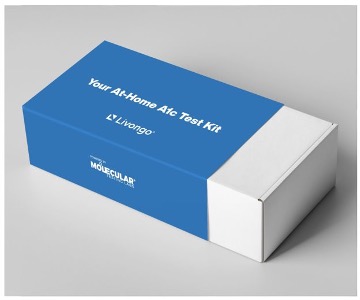 PWNHealth and Livongo have partnered to bring you an A1c test kit to help support you as you manage your diabetes. Here you'll find answers to frequently asked questions about your test kit, A1c levels, diabetes, and more.
Why should I take an A1c test when I already have diabetes?
A1c is the measure of your average blood sugar over a span of 2-3 months, typically shown as a percentage between 4 and 14. The higher it is, the higher your blood sugar levels have been.
It's important to know your A1c number so you can better track and manage your diabetes. Your healthcare team will also use your results to help make treatment decisions or adjust your medication. Since higher A1c levels are linked with more complications, it's important to keep track of your number so you can take steps that will help you get closer to the target set by your healthcare team. Go here to read more about A1c.
How does the at-home A1c test kit work?
The test kit will come straight to your door — no need to leave the house! Use the step-by-step instructions included in the kit to collect a quick finger prick sample. Once you've completed the test, you'll send it back to the lab in the prepaid mailer provided. Once your results are ready, PWNHealth will notify you and share your results with us so we can better support you.
When will I receive my kit?
Once we receive your request for an at-home A1c test kit, PWNHealth will initiate the process to have the kit sent to the address you have on file with Livongo.
How do I update my mailing address so my kit goes to the right place?
To update your address, please visit my.livongo.com and log in to your account. Click on your name in the upper right hand corner, then choose "Profile & Preferences." Update your shipping address as needed and then hit the "Save Account Settings" button below.
What does it mean if my A1c level is high?
If you have a high A1c level, you may have uncontrolled diabetes or poor glucose control. This can be due to several factors, such as lifestyle factors, certain medications, or illnesses.
If my A1c level is high, should I look out for symptoms?
Since your A1c is the measure of your average blood sugar over a span of 2-3 months, a high A1c level means that your blood sugar has been consistently high. Because of this, you may start having symptoms such as:
Blurry vision

Feeling very tired

Frequent urination

Leg cramps

Being more hungry or thirsty than usual

Weight loss
What will happen if I don't lower my A1c level?
A high A1c level can affect you from head to toe. If your levels remain uncontrolled for a long time, you could experience eye damage, nerve damage, kidney disease, heart attack, and stroke. It's important to follow up with your healthcare provider to talk about your risk for these complications. Your healthcare provider can help you make a plan to better manage your diabetes.
How can I lower my A1c level?
You can help lower your A1c level by taking steps to change your lifestyle. By eating healthy and getting enough physical activity, you'll be giving your body the chance to handle sugars more effectively and efficiently. Your healthcare provider may also prescribe medication to help control your A1c level. Be sure to take your medication exactly as prescribed for the best results.
What should I do after I get my test results?
If your A1c level is high, you may receive a phone call from PWNHealth to discuss your results. Most importantly, you should share your results with your healthcare provider. Together, you can develop a plan that's right for you.
Who can I call if I have more questions?
Livongo does not manufacture or process the test kits, so Livongo Member Support will not be able to address specific questions about your test kits. If you do have questions regarding your A1c test kit, please call PWNHealth at (718) 210-5616.
Who is PWNHealth?
PWNHealth is the provider network responsible for physician oversight of lab orders. By returning a lab kit, you acknowledge your acceptance of PWNHealth's consent and policies found at www.pwnhealth.com/terms.
PM10094.A