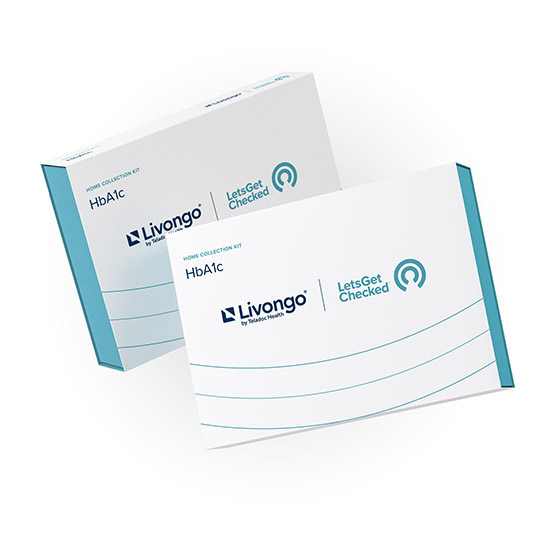 What is an A1c test?
An A1c test reflects your average blood sugar over the past two to three months. The higher it is, the higher your blood sugar levels have been. An A1c test result is typically a percentage between 4 and 14.
Why is it important to test A1c?
An A1c test is used to diagnose prediabetes and diabetes. You and your care team can also use it to make treatment decisions. Take steps that will help you get closer to the target set by your healthcare team. Higher A1c levels are linked to other health issues. Click here to read more about A1c.
How does the at-home A1c test kit work?
If you're eligible, LetsGetChecked will send an at-home test kit straight to your door. Use the step-by-step guide in the kit to collect a quick finger-prick sample. Once you've taken the test, send it back to the lab in the prepaid mailer. No need to leave home! We'll email you when your result is available in your Livongo account.
When will I receive my kit?
After you submit your request, an at-home test kit will be shipped to the address you have on file with Livongo. You will get an email with tracking details. We estimate your kit should arrive within three to five business days.
How do I update my mailing address so my kit goes to the right place?
Sign in to your online account. Click on your name in the upper-right corner, then choose "Profile & Preferences." Your name and shipping address will appear. Make your updates and hit the "Save Account Settings" button below the form fields.
Who can I call if I have more questions?
If you have questions about shipping, your test kit or the result, please call LetsGetChecked at 866-688-2701. Livongo doesn't make or process the test kits, so we can't address specific questions about them.
Who is LetsGetChecked?
LetsGetChecked is transforming how people engage with their health. This includes easy-to-use at-home test kits to collect samples from the convenience, comfort, and privacy of home as well as virtual care and even medication delivery for a wide range of health and wellness conditions. LetsGetChecked partners with Livongo to provide an easy and comprehensive way to manage your health from home. Learn more at LetsGetChecked.com.
Who is eligible for an at-home A1c test kit?
Livongo and LetsGetChecked provide at-home A1c test kits to people with health plans or employers that sponsor this offer. If you're eligible, you'll get an opt-in message on your Livongo blood glucose meter. After tapping, "Yes, ship it to me," you'll get an email with next steps. If you aren't sure if you're eligible, contact Member Support at 800-945-4355.
PM10094.B