What is "Real-Time Coaching Support"?
If your blood sugar reading is above or below your support setting range, an expert coach will reach out to you within minutes by your preferred method of contact (text or phone call) and help you get it back into target range. This support is optional and can be turned off or customized on our secure website.
What's the difference between my target blood sugar range and my support setting range?
Your

target blood sugar range

is a recommendation by the American Diabetes Association. Research shows that by keeping blood sugar within the recommended ranges will help prevent health risks associated with diabetes. The American Diabetes Association suggests a goal of 80-130 mg/dL before meals and less than 180 mg/dL 2 hours after a meal. However, your individual target range may vary depending on certain factors. Talk with your doctor about a range that is safe for you. Check out the highs and lows of blood sugar to learn more.
The

support setting range

is determined by you. It is a blood sugar range in which you feel you may need additional support from an expert coach within minutes of getting your blood sugar result on your meter.
What's a good number to use for customizing my blood sugar support settings?
The range is automatically set to less than or equal to 50 mg/dL and greater than or equal to 400 mg/dL.
You can change this range at any time to anything you want based on your personal needs and goals. It is best to set this range at readings in which you feel you need additional support.
Once set, this means that any time your blood sugar is outside of that range, an expert coach will reach out to you to provide support. You can also choose not to be contacted at all by opting out.
How do I set my Real-Time Coaching Support preferences?
Sign in to our secure website at

my.livongo.com

Click

Blood Sugar

on the left-hand side

Scroll down to

Communication Preferences
Click Update Preferences

Switch support to On

Click

Edit

for both low and high blood sugar support

On the pop-up, select the value in which you want a coach to reach out to you

Click

Save

Select your preferred contact method
If you don't want to be contacted at all, opt out by clicking Off to the right of Support. You can change these preferences at any time, and as often as you want.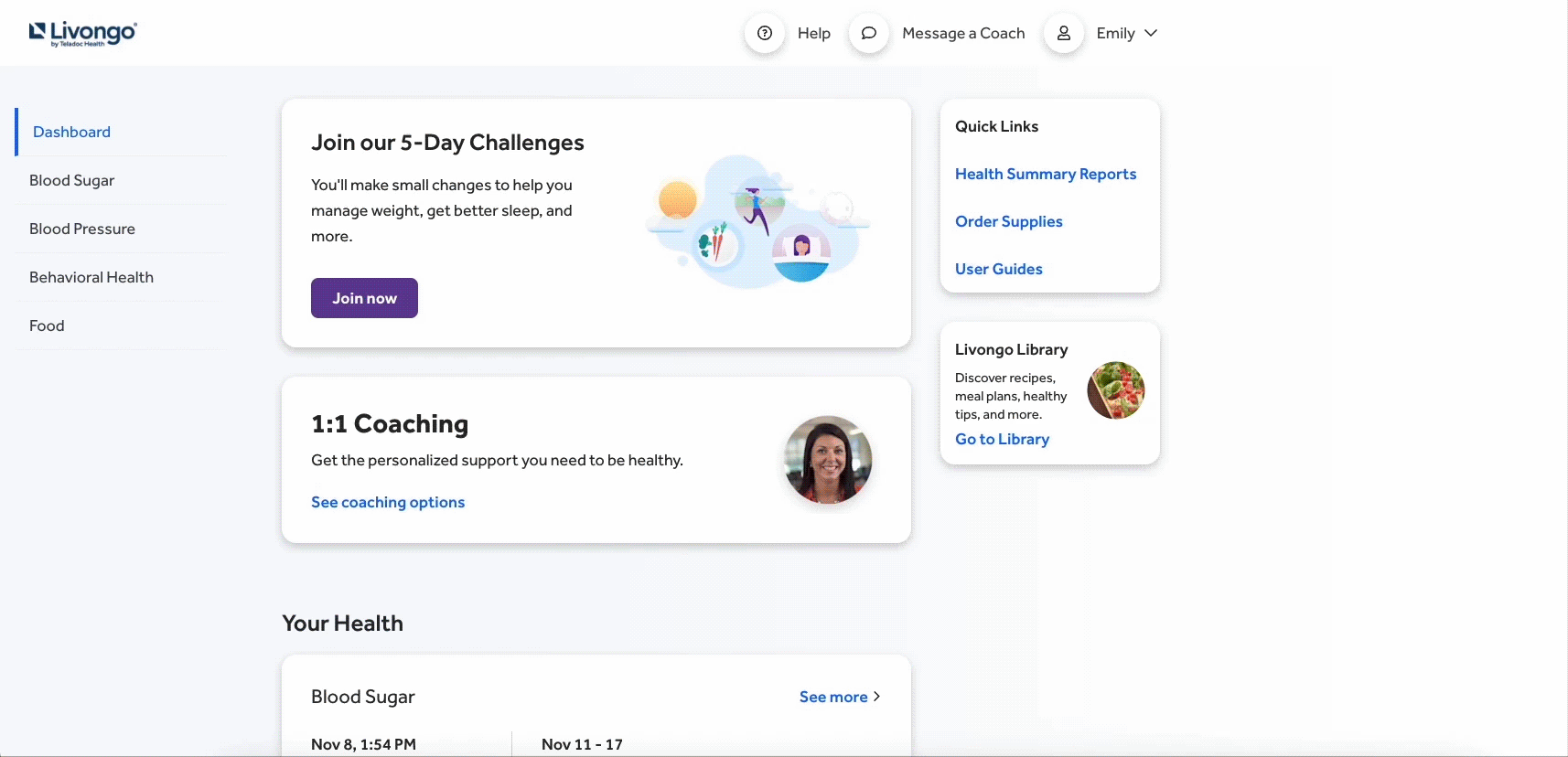 PM019151.A (video)
PM07752.B