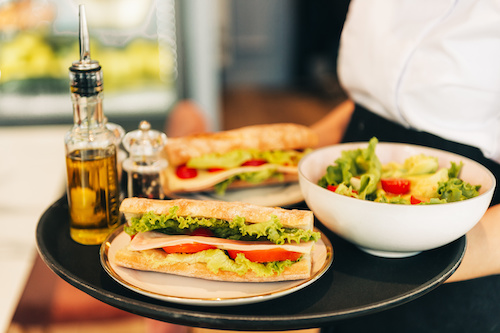 Dining out is a regular part of life for many people. But if you're trying to favor healthier fats, restaurants can be tricky. Chefs often use butter, cream, cheese, and other saturated fat–rich ingredients.
And what's the problem with that? Eating too many saturated fats can raise your LDL or "bad" cholesterol.
On the other hand, monounsaturated and polyunsaturated fats are heart-healthy choices. You can find them in foods like olive oil, olives, nuts, avocados, and fish. Here are a few ways you can make the shift toward better-for-you fats when you dine away from home:
Make Fish Your Main
Red meat (like beef and steak) is a source of saturated fat. On average, a restaurant portion of red meat has 10-12 grams of saturated fat! Fish like salmon and tuna, however, pack heart-healthy omega-3 fatty acids and a lot less saturated fat.
Upgrade With Olives
Olives make a great topping. They're flavorful and rich in unsaturated fats. Switch them in for the cheese crumbles on a salad or for the sausage on your pizza.
Swap Out Butter
Choose menu items that are cooked with olive oil rather than butter. Not sure how the meals are prepared? Ask the server!
Go Guac
Avocado-based guacamole is a super swap for sour cream. Both add-ons are high in calories, but sour cream is also high in saturated fat. Two tablespoons of guac provides a healthy serving of monounsaturated fats instead.
Opt for Oil-Based Dressings
A good-for-you salad can become less so if you use a creamy dressing. Toppings like ranch or blue cheese can pack saturated fat. Instead, choose an oil-based dressing like balsamic vinaigrette. Or, ask for oil and vinegar! One tablespoon of oil-based dressing is a healthy serving size.
Add Avocado
Mono-rich avocados taste smooth and buttery. Two tablespoons of creamy avocado make a great stand-in for mayo or cheese on sandwiches.
PM08036.A