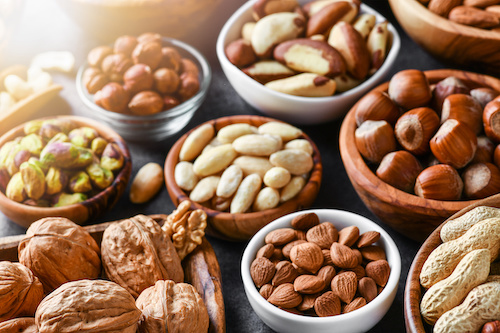 We're just crazy about nuts! Did you know nuts are good sources of healthy fats? The unsaturated fats found in nuts can help lower "bad" (LDL) cholesterol.
Nuts pack protein and are low in carbs. They're also good sources of nutrients like vitamin E and zinc, which both boost immunity. Since nuts are high in calories, smaller portions are the way to go.
Here are eight types of nuts to add to your day. All servings equal to 1 ounce of shelled nuts.
Almonds
Best Portion: Around 22 nuts

Unsaturated Fats: 9 g monounsaturated fat, 4 g polyunsaturated fat

Calories: 168
Brazil Nuts
Best Portion: Around 6 nuts

Unsaturated Fats: 7 g mono, 7 g poly

Calories: 185
Cashews
Best Portion: Around 18 nuts

Unsaturated Fats: 7 g mono, 2 g poly

Calories: 157
Macadamia Nuts
Best Portion: Around 10-12 nuts

Unsaturated Fats: 17 g mono, 1 g poly

Calories: 204
Peanuts
Best Portion: Around 28 nuts

Unsaturated Fats: 6 g mono, 5 g poly

Calories: 162
Pecans
Best Portion: Around 19 halves

Unsaturated Fats: 12 g mono, 6 g poly

Calories: 196
Pistachio Nuts
Best Portion: Around 49 kernels

Unsaturated Fats: 7 g mono, 4 g poly

Calories: 159
Walnuts
Best Portion: Around 14 halves

Unsaturated Fats: 3 g mono, 13 g poly

Calories: 185
PM08037.A