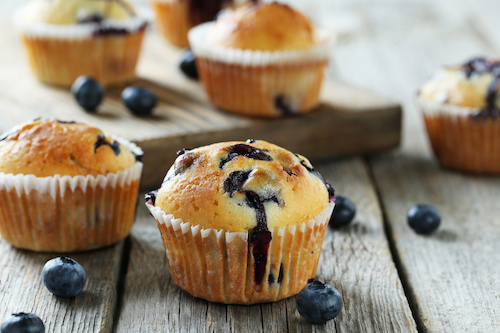 Does your mouth water for potato chips and french fries? Do you get starry-eyed for cake and ice cream? Does your heart race for muffins and cookies?
We all have our favorite treats! The key is to enjoy treats in moderation so you can stick to your health goals.
Stay in the Driver's Seat
No food is off limits! Treats are a normal and important part of healthy eating. Pay attention to both how you eat your treats and how much you eat. That way you can savor your treats while you stay on track with your health goals.
Here is a list of popular treats and some proper portion sizes to keep that saturated fat at a healthier level.
Blueberry Muffins
Good Portion: ½ muffin

Total Saturated Fat: 1.5 g

Calories: 180

Total Carbohydrates: 26 g

Sodium: 135 mg
Cheese Puffs
Good Portion: 1 oz (about 13 puffs)

Total Saturated Fat: 1.5 g

Calories: 150

Total Carbohydrates: 13 g

Sodium: 300 mg
Cheesecake
Good Portion: ¼ slice

Total Saturated Fat: 2 g

Calories: 64

Total Carbohydrates: 5 g

Sodium: 41 mg
Chocolate Cake (without icing)
Good Portion: ¼ slice

Total Saturated Fat: 1.4 g

Calories: 85

Total Carbohydrates: 13 g

Sodium: 75 mg
Chocolate Chip Cookies
Good Portion: 2 cookies (average size)

Total Saturated Fat: 1.5 g

Calories: 94

Total Carbohydrates: 14 g

Sodium: 60 mg
French Fries
Good Portion: small size

Total Saturated Fat: 1.5 g

Calories: 230

Total Carbohydrates: 29 g

Sodium: 160 mg
Ice Cream
Good Portion: ¼ cup

Total Saturated Fat: 2.2 g

Calories: 71

Total Carbohydrates: 9 g

Sodium: 25 mg
Potato Chips
Good Portion: 1 oz (about 11 chips)

Total Saturated Fat: 1 g

Calories: 160

Total Carbohydrates: 15 g

Sodium: 170 mg
PM08021.A