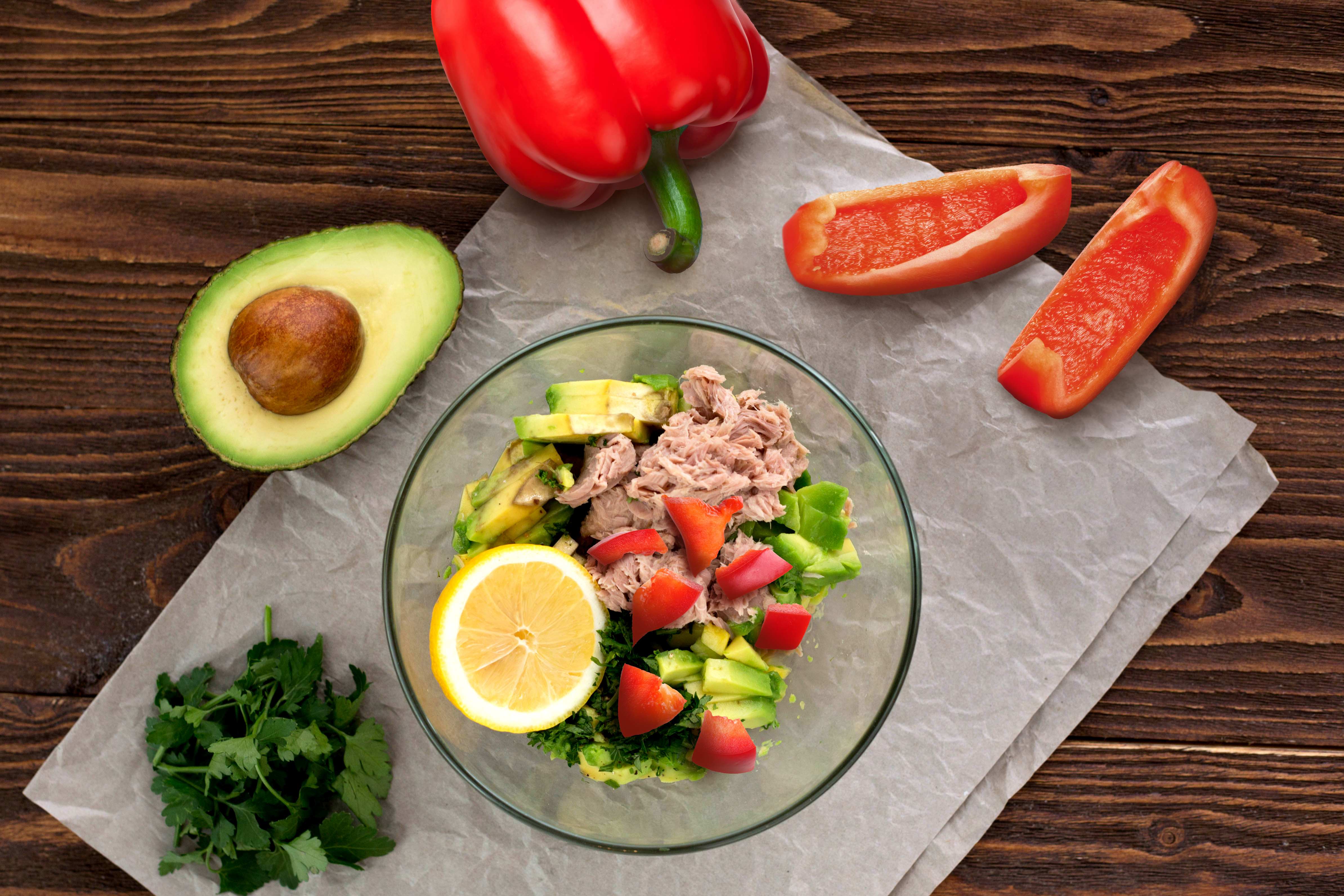 It's easy—and delicious!—to eat your way to a healthier heart. Eye-catching and tasty foods like vegetables, fruits, whole grains, legumes, nuts, seeds, and fish make up the base of a cholesterol-lowering diet. By focusing on these ingredients, you'll keep saturated and trans fats down while getting a healthy dose of better-for-you fats. Here is a day's worth of heart-smart meals to get you started:
Breakfast: Savory Barley Breakfast Bowl
Makes 1 serving
Prep: 5 min Cook Time: 15 min
Ingredients
½ cup cooked hulled barley

½ cup sliced button mushrooms

2 cups baby spinach

1 large egg

1 Tbsp shredded Parmesan cheese

2 Tbsp chopped walnuts

Freshly cracked black pepper
Preparation
Scoop cooked barley into a serving bowl and microwave warm. While the barley is heating, spray a medium sauté pan with cooking spray and cook mushrooms over a medium flame. When mushrooms soften, add spinach and cook until wilted. Put vegetables on top of barley and spray pan with more cooking spray; reduce heat to low. Crack egg into pan and cook until whites are set, around 5 minutes. Flip egg and cook on the other side to desired doneness. Slip egg on top of vegetables in serving bowl. Sprinkle with Parmesan, walnuts, and freshly cracked black pepper.
Nutrition Information Per Serving
Calories: 303; Total fat: 16 g; Saturated fat: 3 g; Sodium: 207 mg; Cholesterol: 190 mg; Total carbohydrates: 28 g; Fiber: 6 g; Sugars: 2 g; Protein:15 g; Potassium: 654 mg
Lunch: Avocado Tuna Salad
Makes 1 serving
Prep: 5 min
Ingredients
3 oz can water-packed tuna, drained

½ medium avocado, chopped

2 Tbsp chopped onion

2 Tbsp chopped parsley

1 Tbsp olive oil

1 tsp lemon juice

1 medium red bell pepper, halved, seeds and stems removed

1 serving of high-fiber crackers
Preparation
Place tuna into a medium bowl and break up large pieces with fork. Add avocado, onion, parsley, olive oil, and lemon juice, and mix well. Pack tuna into both sides of red bell pepper. Serve with whole grain crackers.
Nutrition Information Per Serving
Calories: 483; Total fat: 22 g; Saturated fat: 3 g; Sodium: 364 mg; Cholesterol: 30 mg; Total carbohydrates: 30 g; Fiber: 10 g; Sugars: 7 g; Protein:20 g; Potassium: 901 mg
Dinner: Green Noodle Stir-Fry
Makes 1 serving
Prep: 5 min Cook Time: 15 min
Ingredients
1 medium zucchini, cut into thin long strips or "zoodles"

½ cup cooked whole wheat spaghetti

½ cup frozen shelled edamame

1 Tbsp sesame oil

1 tsp rice wine vinegar

1 tsp honey

2 Tbsp unsalted peanuts
Preparation
Spray a large skillet with cooking spray and place over a medium flame. Add frozen edamame and cook for around 4 minutes, tossing gently until edamame are heated through. Add zucchini to skillet, tossing every minute or so to ensure even cooking. Whisk sesame oil, rice wine vinegar, and honey together in a small bowl. When zucchini is softened, turn off heat. Add cooked spaghetti and dressing to skillet; toss well to combine. Pour stir-fry into bowl, top with peanuts before serving.
Nutrition Information Per Serving
Calories: 430; Total fat: 21 g; Saturated fat: 3 g; Sodium: 78 mg; Cholesterol: 0 mg; Total carbohydrates: 44 g; Fiber: 9 g; Sugars: 12 g; Protein:20 g; Potassium: 490 mg
CLC07491.B