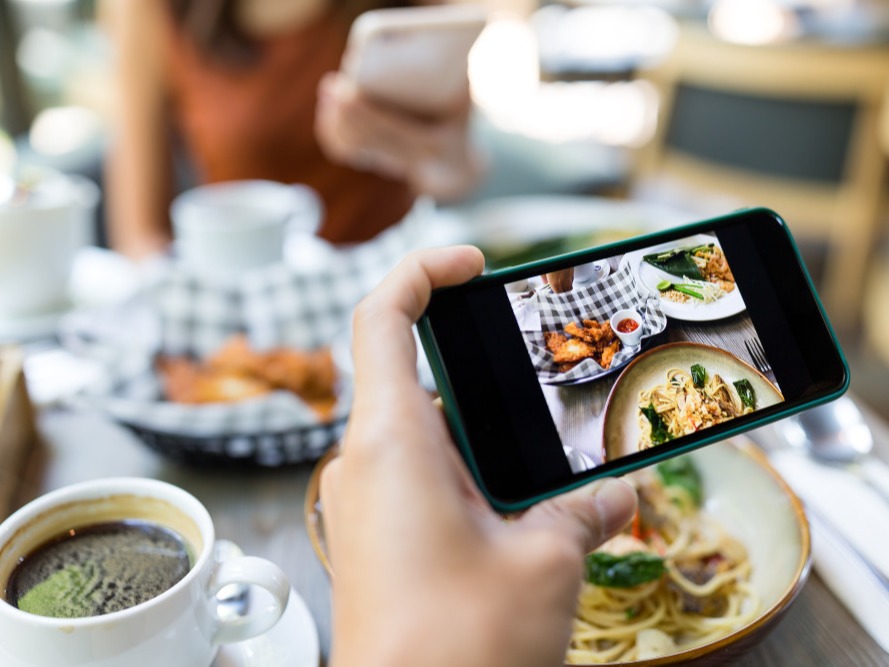 Keeping track of what you eat can help you reach your health goals. It helps you look back on your eating patterns—like how different foods make you feel. And you'll start to notice where swapping certain foods or portion sizes makes a difference.
You can keep up this powerful habit by using your app. It now has new features that make it even easier.
Here's what's new: 
We've created a Food Insights feature that helps you understand how your eating habits affect your daily nutrition targets. Specifically, you'll be able to:
Set a daily calorie target: Our helpful tool asks simple questions to help you set a daily calorie target depending on whether you're trying to maintain, gain or lose weight.
Track nutrients: Adding food will show you the amount of carbohydrates, fat and protein it contains.
Track sodium and potassium: You can also choose to track sodium and potassium to see if you're below or above clinical recommendations.
And don't forget these other recently added features:
Food database: By selecting common and branded foods from a database, you can get a more accurate breakdown of calories and nutrients and typical serving sizes for each food you track.
Autocomplete feature: You can see suggestions as you type. If the right one appears before you finish typing, just tap it to save time. 
Recently logged foods: If you often eat the same foods, you can find anything you recently

tracked listed at the start of a new search. This makes it easier to add that food again. 
Past and future meals: If you forget to track something you ate, you can add food as far back as a year in the past. You can also add foods up to two weeks in advance. 
Ready to get started? Just follow these steps.
Set up Food Insights

Select "Set Up Food Insights"

Toggle on

the items you want to track. You can select "Track calories," "Track sodium," and "Track potassium."

Tap "Help me set my target" to get your recommended daily target.

Tap each field to answer the questions. Your recommended calorie target will appear once all fields are filled.

Tap "Set target" button.

Select "Start tracking."

You'll

receive

a confirmation

that your food insights preferences are set.
Track Yo

ur Food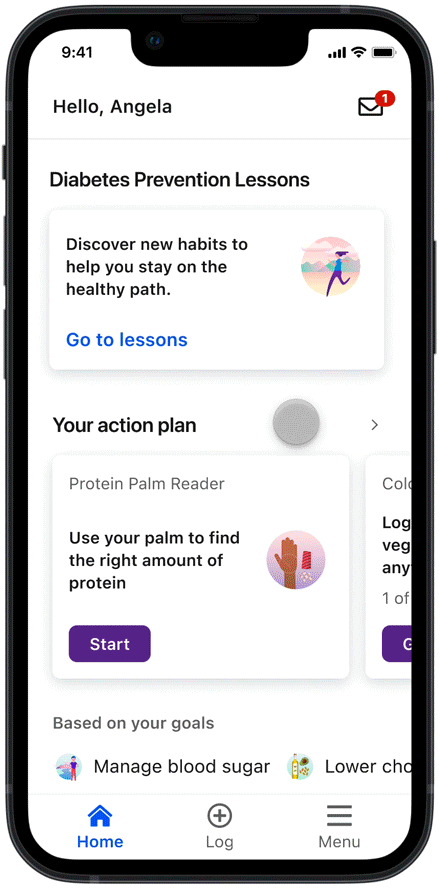 Get started. Tap "Log" at the bottom of the home screen and then select "food." Or, select "Add food" from the food card and then tap "add food" under the meal you're tracking.

Search for a food. If you're searching for a food you recently tracked, you'll notice it listed at the start of the search. If there aren't any foods listed or you're searching for something new, start by typing the name of the food you'd like to track in the search bar. Options will appear as you type. If it's a branded food, like "Healthy Choice Beef & Broccoli," select the Brand Foods button and start your search there. Once you find the correct food, tap the result. 

Fill in the details. Choose the serving size, enter the date and time and select the meal. You can also include a note and take a picture of the food. Photos are a simple way to capture details about your meals when you're busy.
View Food Insights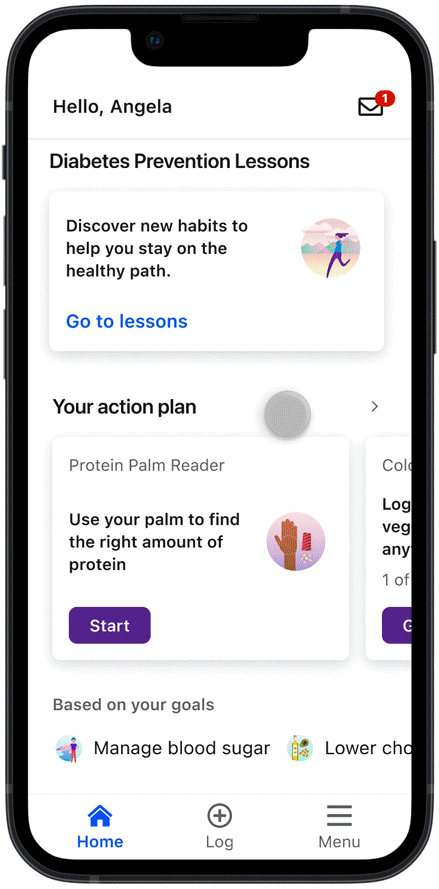 Select "Food" card.

Select "Food Insights" tab.

View calories, calorie

breakdown and sodium

and potassium.

Select "See more details" to find a more detailed breakdown of each macronutrient.