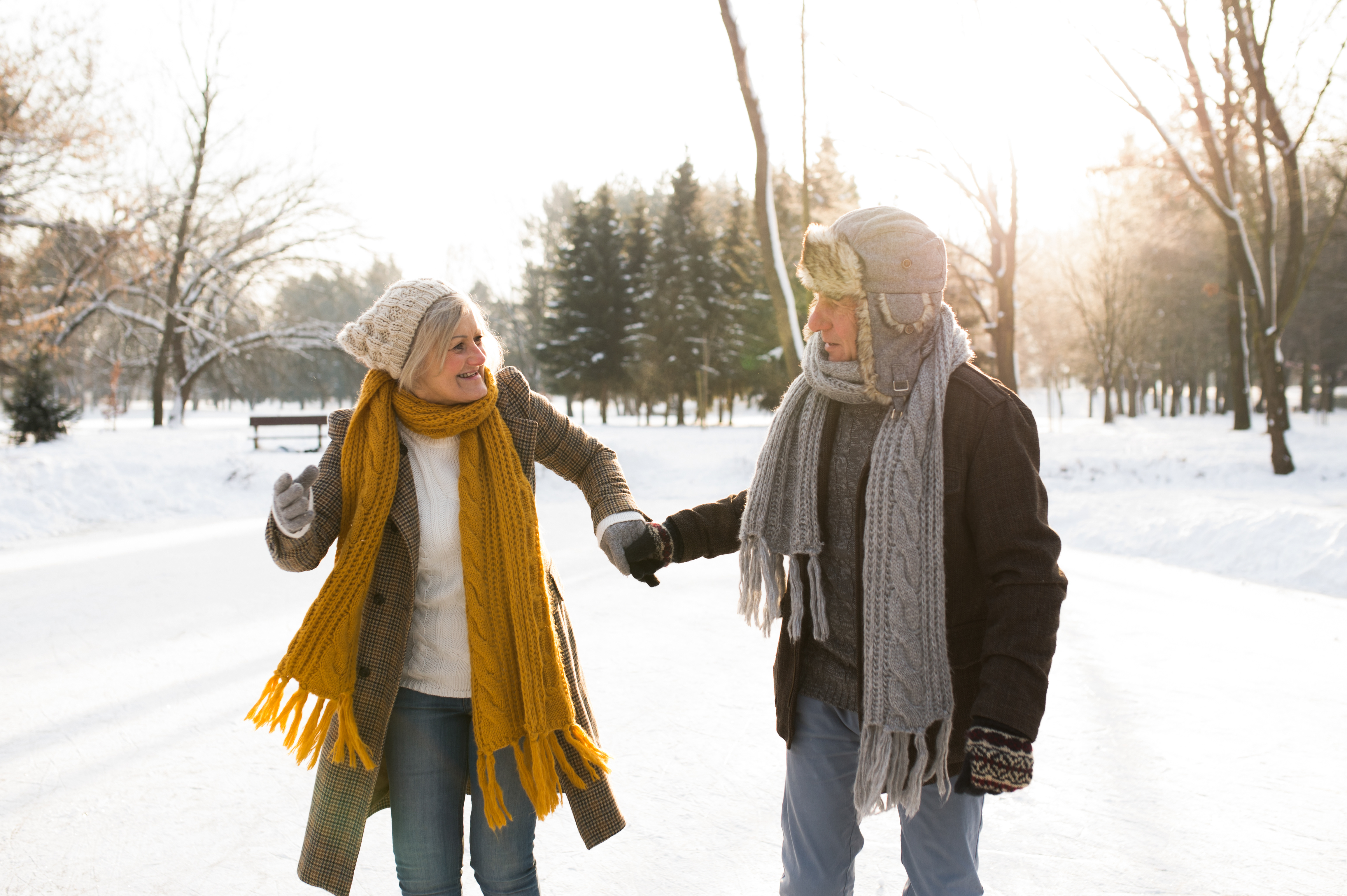 Baby, it's cold outside! But that doesn't mean you need to hang up your walking shoes until springtime. Whatever the weather, it can still be a good time for outdoor exercise. The secret is being prepared. Here's how you can stick with your walking routine when the temperatures drop.
Wear Layers
Staying dry is one of the most important things you can do to keep warm in cold weather. Dressing in layers can help you do this.
Layer 1: This layer should wick sweat from your body and dry quickly. A synthetic fabric like Coolmax or polypropylene will do the trick.
Layer 2: This layer provides insulation. Try a fast-drying synthetic fabric like Polartec, or a wool blend. Avoid cotton; if it gets wet, it will not dry quickly. Depending on how cold it is, you can wear this layer on the top or bottom, or just the top.
Layer 3: This layer protects you from the elements. Waterproof or water-resistant jacket and pants will help keep rain and snow out. Look for jackets and pants with vents that you can open and close to help regulate temperatures.
Don't Forget Your Fingers
…and toes and ears, for that matter. When it's cold out, blood flows to the center of your body to keep your organs warm. Thick socks, gloves, ear bands, and more will help keep your extremities safe and cozy. If you feel numbness or tingling, head indoors to warm up.
Breathe Easy
You can place a bandana or scarf over your mouth to warm the air you breathe. Inhaling through your nose and exhaling through your mouth is another way to warm the air before it reaches your lungs.
Warm Up
It's always important to warm up. But in cold weather, your muscles need longer to adjust. Complete active stretching for a few minutes before heading outside with movements like arm circles, ankle circles, and lunges. Begin your walk with an easy pace for at least 5 minutes.
Stay Hydrated
You may not feel as thirsty in cold weather as you do in warm. But cold weather can also be dehydrating. Drink two glasses of water within 2 hours after you exercise. You may also want to bring warm water to sip in an insulated mug while you're on the go. And don't forget to hydrate the rest of the day. If it's hard to drink cool water when the weather is cold, sip on warm water with lemon instead.
Watch Out for Ice
Make sure your shoes have good traction, just in case the sidewalks are slick. If the road does get icy, use short steps or shuffle for stability — then head indoors for your workout, for safety's sake.
Consider Alternatives
As air temperature falls below 5 degrees Fahrenheit, risk for frostbite increases — even at low wind speeds. But the weather doesn't have to be extreme for you to want a break from the cold. Look for wide-open indoor spaces like a shopping mall, an office complex, or a big-box store where you could do a few climate-controlled laps instead.
PM06841.A