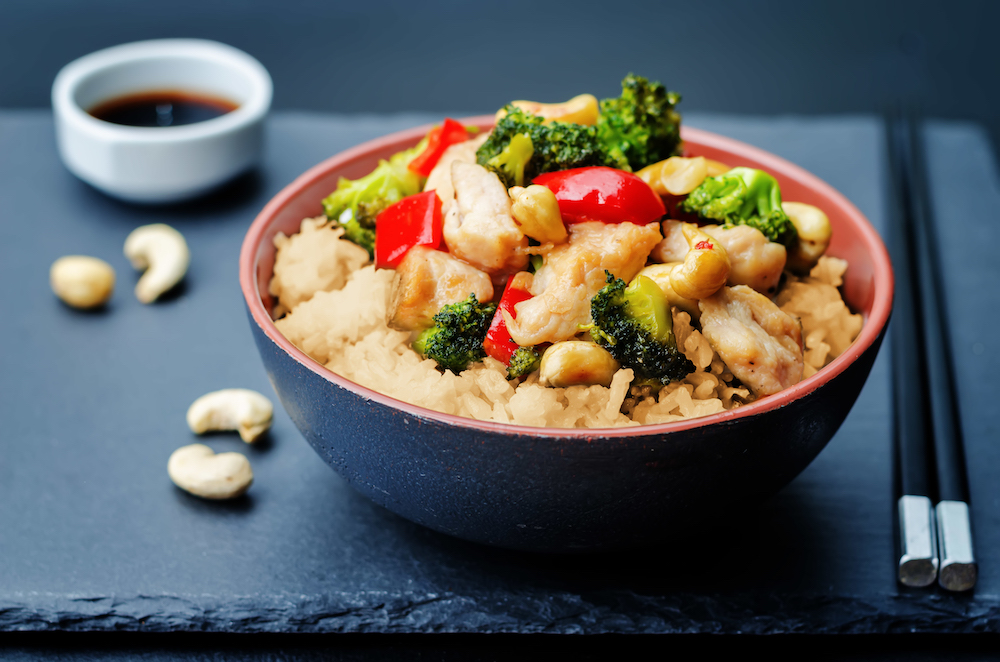 Treat your taste buds to a variety of bright, fresh flavors. This simple stir-fry is a healthy way to satisfy your hunger and get more veggies in your day.
Makes 1 serving.
Prep: 10 min Cook: 20 min
Ingredients:
¼ cup 100% pineapple juice

1 Tbsp low-sodium soy sauce

3 oz uncooked skinless chicken breast, cut into cubes

½ cup sliced red bell pepper

½ cup shredded carrot

½ cup fresh pea pods

½ cup broccoli florets

½ cup cooked brown rice, warmed

2 Tbsp chopped cashews
Instructions:
In large skillet, sauté chicken in pineapple juice and soy sauce for about 6 minutes, until internal temperature reaches 165°F.

Add bell peppers, carrots, pea pods, and broccoli and sauté an additional 6 minutes, until vegetables are crisp-tender.

Serve mixture over warm brown rice and top with cashews.
Nutrition Information Per Serving:
Calories: 410; Total fat: 11g; Saturated fat: 2g; Sodium: 632mg; Cholesterol: 76mg; Total carbs: 53g; Fiber: 8g; Sugars: 16g; Protein: 30g; Potassium: 577 mg
CLC14984.B