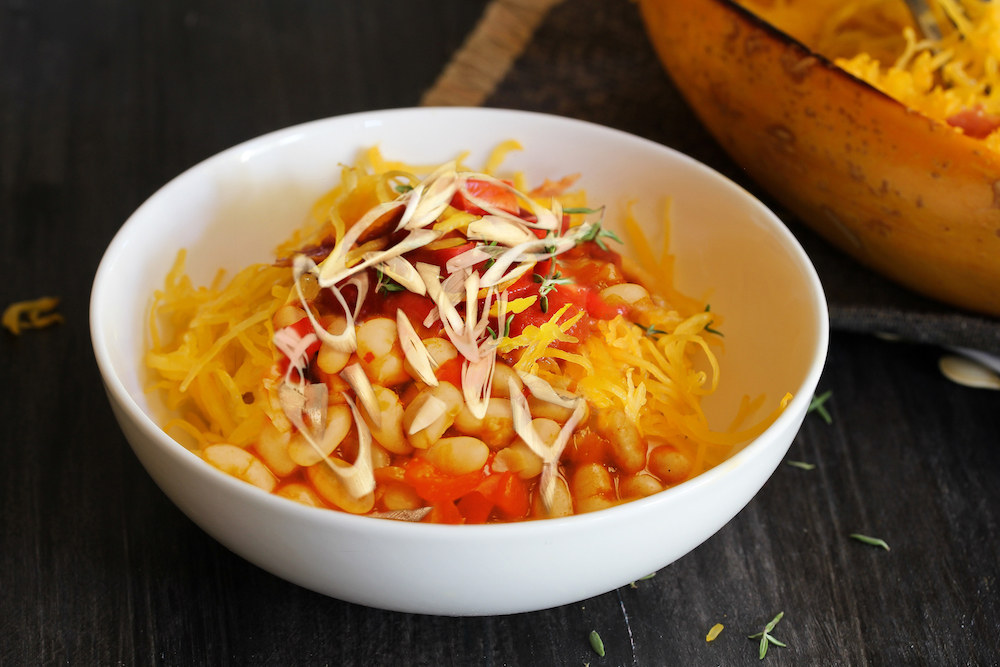 If you're looking for a filling pasta dish, consider swapping out the noodles for some tasty, smooth spaghetti squash. This delicious meal will give you more flavor at a fraction of the calories!
Makes 1 serving.
Prep: 10 min Cook: 30-40 min
Ingredients:
½ spaghetti squash

1 tsp olive oil

1 clove garlic, minced

½ cup canned, low-sodium navy beans, rinsed and drained

1 leek, white part only, thinly sliced

½ cup canned no-salt-added crushed tomatoes

1 Tbsp Italian seasoning

1 Tbsp balsamic vinegar

2 Tbsp grated Parmesan cheese
Instructions:
Remove seeds of spaghetti squash. Put fresh side down on a plate, and microwave for 12-15 minutes or cook in a 350°F oven on cookie sheet for 30 minutes.

Sauté garlic, beans, leek, tomatoes, seasoning, and vinegar in oil for 7-10 minutes over medium heat.

When squash is tender, use a fork to pull out the spaghetti-like strands, and discard the hollowed-out shell.

Top squash strands with bean mixture, sprinkle with Parmesan.
Nutrition Information Per Serving:
Calories: 292; Total fat: 7 g; Saturated fat: 2 g; Sodium: 598 mg; Cholesterol: 4 mg; Total carbs: 52 g; Fiber: 13 g; Sugars: 12 g; Protein: 12 g; Potassium: 973 mg
Depending on your nutritional needs, you can lower the amount of carbs by swapping the beans for ½ cup of sliced mushrooms. This is a naturally vegetarian, gluten-free meal.
CLC14986.B