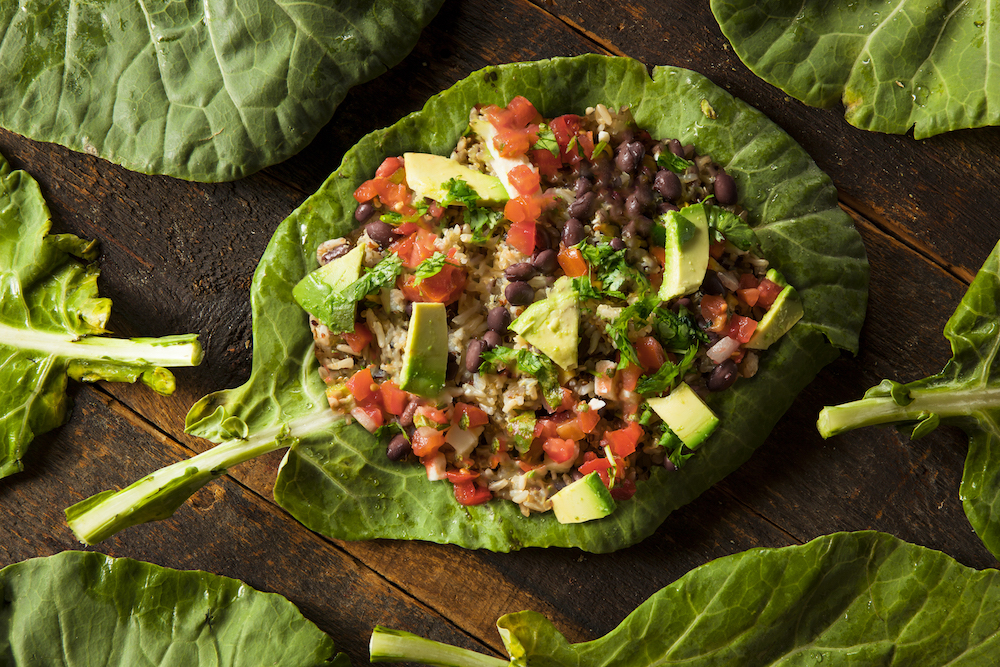 Enjoy all the flavors of a delicious burrito with fewer calories and carbs! This simple recipe is tasty, filling, and totally plant-based.
Makes 1 serving.
Prep: 5 min Cook: 20 min
Ingredients:
2 large collard green leaves

½ cup canned low-sodium vegetarian refried beans, warmed

½ cup cooked brown rice, warmed

2 Tbsp salsa

½ sliced avocado
Instructions:
Wash collard green leaves well, trim off thick stem (will look like a tortilla). With a fork, mash the center vein to make it more pliable.

Put beans, rice, salsa, and avocado in collard greens and roll like a burrito.
Nutrition Information Per Serving:
Calories: 420; Total fat: 17g; Saturated fat: 2g; Sodium: 347 mg; Cholesterol: 0mg; Total carbs: 58g; Fiber: 16g; Sugars: 3g; Protein: 13g; Potassium: 584mg
Depending on your nutritional needs, you can skip the rice to get less carbs. This is a naturally vegan, vegetarian, gluten-free meal.
CLC14982.B