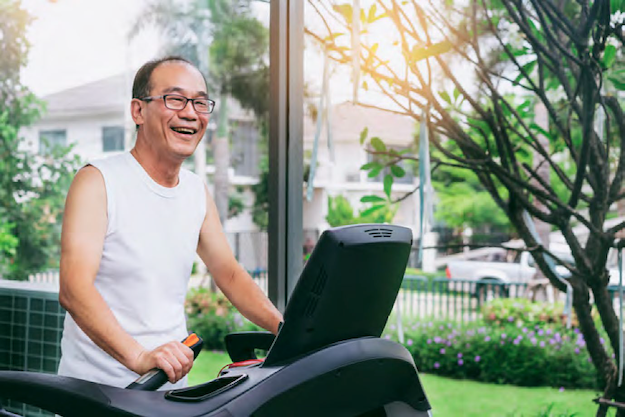 When we think of exercise, it's easy for photo-worthy workouts to get all the glory. What can be more beautiful than a graceful yoga pose on a mountain at sunset? What can be more impressive than a bodybuilder lifting huge weights?
Strength training and flow fitness can be exciting, but they're just part of the complete exercise package. Without cardio, these other workouts only get your body so far.
Aerobic exercise will help you burn calories, shed pounds, keep your heart healthy, and even boost your mood!
Keep cardio interesting with these four different methods. See which one feels best to you:
INTERVALS
Interval training is a great way to keep you on your toes. You'll get used to short bursts of high-speed or high-resistance cardio mixed with slow-down periods in between. It's a great way to push yourself—and avoid getting bored with your routine.
How to do it:
Warm-up 5-8 minutes at an easy pace.

On the machine of your choice, increase the speed and/or the resistance level for one minute to a level that is tiring and gets you out of breath. This part is called the "interval."

Then lower your speed/resistance for the next minute. This part is the "recovery."

Switch back and forth between the interval and the recovery for 10-25 minutes, keeping it consistent.

When you're done, cool down for 5-10 minutes.
HILL CLIMBS
You don't need an actual hill to try hill climbs—just gradually increase the resistance on your exercise bike or elliptical. Or raise the incline on your treadmill. After you reach your peak challenge level, slowly decrease the resistance or incline back to where you started. Pushing your legs against a gradual challenge and then slowly reducing that challenge again will help improve your pacing and build your endurance.
How to do it:
Warm-up for 5-8 minutes at an easy pace.

Start your hill climb. Raise your resistance or incline by 1 level every 30 seconds.

As you continue to increase the resistance 1 notch every 30 seconds, make sure to maintain a consistent stride rate.

Once you get to a level that feels challenging (a "steeper incline" that makes you breathe heavier or work harder), reverse the process and decrease the resistance/incline by 1 level every 30 seconds until you get back to your starting level.

Repeat hills as many times as necessary to reach your set workout time. For example, in a 30-minute workout, the first hill climb may take 11 minutes, the second may take 10 minutes (you weren't able to climb as much due to fatigue), and the third may take 9 minutes.

Then, cool down for 5-10 minutes.
PROGRESSIVE
Start off easy and finish strong! Progressive workouts are a great way to introduce your body to more and more speed and/or resistance. They build your stamina by challenging you to perform even when you're tired.
How to do it:
Start with a good warm-up for 5-8 minutes.

Pick the total duration of your session.

Start slowly, keeping a slow/moderate pace and a light/moderate intensity. From there, choose a time interval (such as 5 minutes), and increase your speed and resistance at every interval (in this case every 5 minutes).

As you progress through the workout, consistently increase your intensity. The goal is to have the final 5 minutes be very challenging for you. Once you finish, cool down for 5-10 minutes.

You can try out different machines, as well as different time intervals. There is no right or wrong structure to this workout. The main goal is to make it a constant increase, finishing at your highest intensity.
TEMPO
Tempo training will improve your overall endurance and strengthen your threshold for fatigue. It helps you exercise for longer and longer periods of time. This cardio style is great for enjoying a consistent pace and getting in a mental "zone."
How to do it:
Warm-up for 5-8 minutes at an easy pace.

Ride a cardio machine at a moderate/intense pace for 12-25 minutes.

You should be at an intensity that allows you to speak in short sentences. If you can only get out a word or two before needing to take a breath, your intensity is too high. If you can talk in longer sentences (7+ words), your intensity is too low.

Remain at the same pace throughout.

Cool down for 5-10 minutes.
All of these types of cardio workouts will help tone your leg muscles and burn calories. But you can pick which ones sound most motivating to you, or which ones are in line with your fitness goals. And if you get bored, add music or reading material to keep your mind busy while your body enjoys a nice challenge!
PM04676.B