More meals with less work. That's the simple strategy of batch cooking. Make a double batch of tonight's meal, and you can refrigerate or freeze the leftovers to enjoy another night. Try these two recipes to get started with batch cooking. And get in the habit of doubling your other favorite recipes when you cook. Many soups, sauces and casseroles freeze well. Just avoid freezing meals with potatoes or milk/cream, which don't freeze well.
Minestrone
Makes 8 servings
Prep: 15 min
Cook: 40 min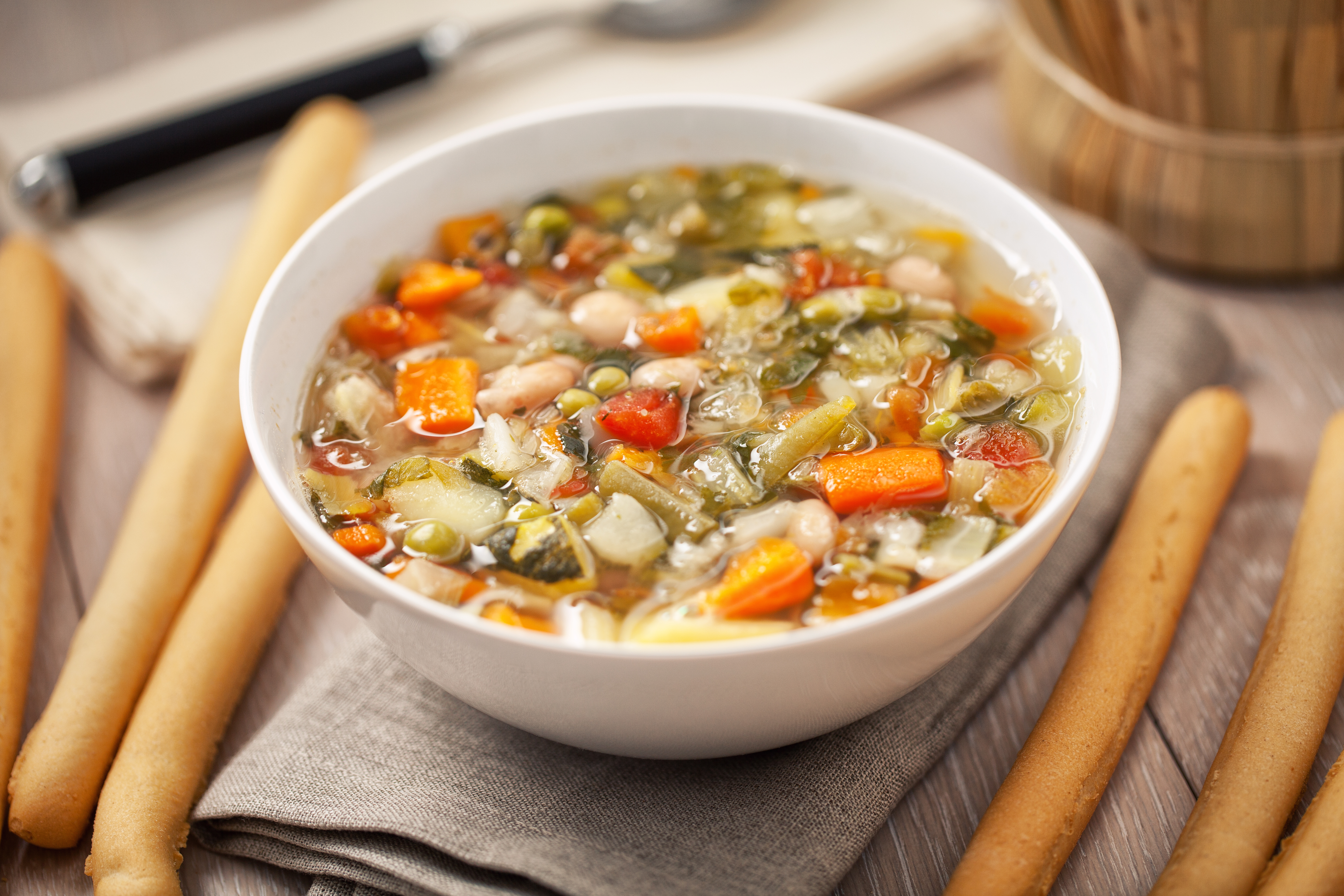 Ingredients
1 Tbsp olive oil
1 cup diced onion
1 cup diced carrot
1 cup diced celery
4 cups cabbage
2 cups zucchini, diced
4 cloves garlic, sliced
1 Tbsp Italian seasoning
1 28-oz can no-salt-added diced tomatoes
2 15-oz cans low-sodium cannellini beans, drained and rinsed
6 cups low-sodium chicken or vegetable broth
2 cups water
Parmesan rind (optional)
½ cup pesto, for serving—you can also freeze pesto in an ice cube tray so it is ready when you need it
Preparation
Heat olive oil in a large pot or Dutch oven over medium heat. Sauté onions, carrot, celery, cabbage and zucchini for several minutes, until vegetables start to soften. Add garlic, Italian seasoning, salt and pepper and cook another 2 minutes. Stir in tomatoes, beans, broth, water and parmesan rind, if using. Raise heat to bring soup to a boil, then lower heat and simmer for half an hour. Serve with a tablespoon of pesto per serving. Freeze leftovers for up to 3 months.


Nutrition Information
Serving size: scant 2 cups
Per serving
Calories: 226; Total fat: 11 g; Saturated fat: 2 g; Sodium: 193 g; Cholesterol: 2 mg; Total carbs: 24 g; Fiber: 8 g; Sugars: 7 g; Protein: 11 g; Potassium: 894 mg
Easy Turkey Bolognese
Makes 8 servings
Prep: 5 min
Cook: 45 min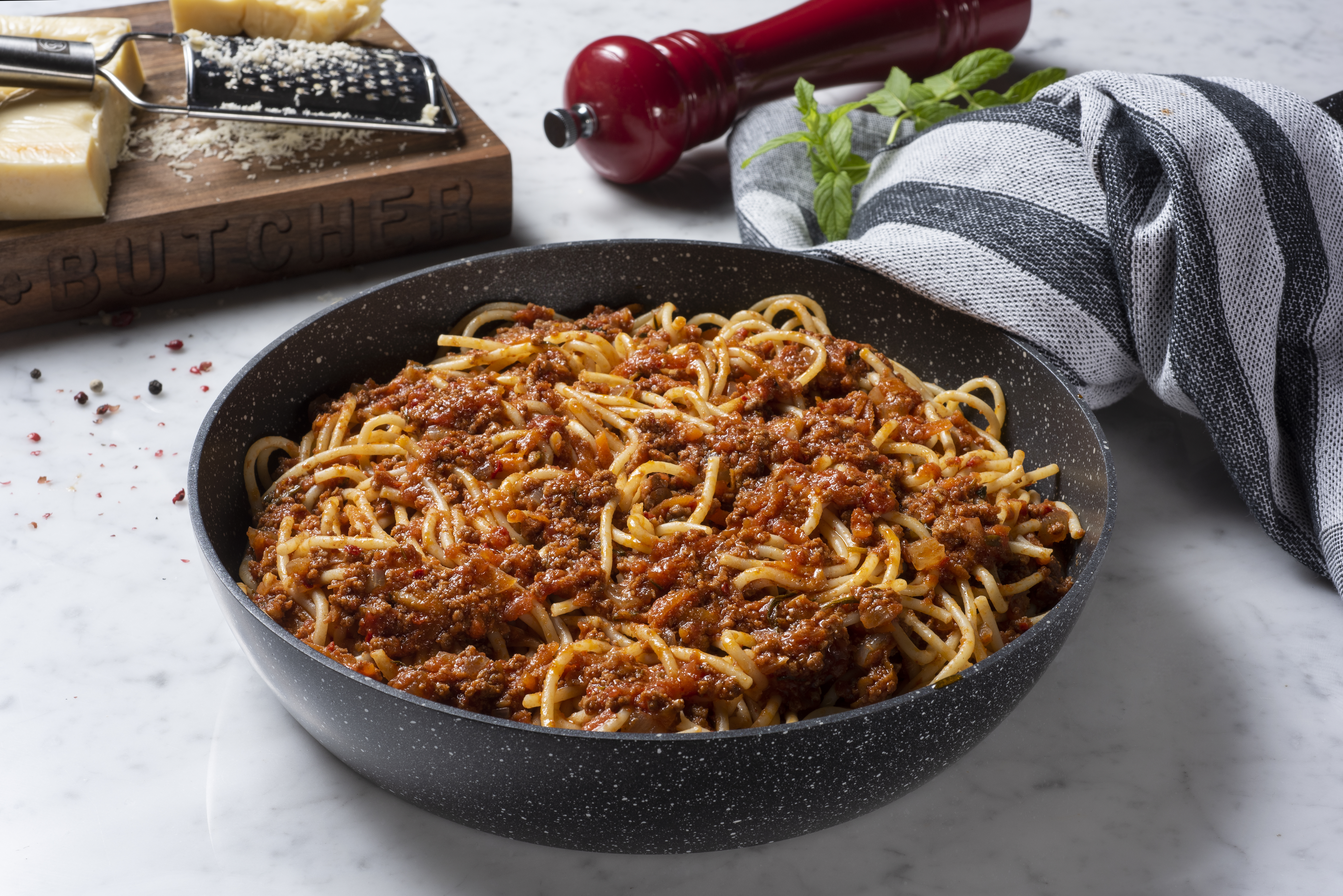 Ingredients
1 large onion
3 celery stalks
3 large carrots
4 cloves garlic
3 Tbsp extra virgin olive oil
2 lb lean ground turkey
1 tsp ground black pepper
½ tsp oregano
2 tsp dried basil, or 2 Tbsp fresh basil
2 24-oz jars no-salt-added marinara sauce
Salt and pepper, to taste
Preparation
Pulse onion, celery, carrots and garlic in a food processor until chopped fine. If you don't have a food processor, chop by hand. Heat oil in a large Dutch oven over medium heat. Sauté onions, carrots, celery and garlic until softened, about 7-10 minutes. Add ground turkey and break up into chunks with a wooden spoon. Cook, stirring occasionally, until the turkey browns. Stir in marinara sauce and let simmer for 20 minutes. Serve sauce with cooked pasta. Cool and freeze or refrigerate the leftovers for later use.
Nutrition Information
Serving Size: approximately 1¼ cup
Per Serving:

Calories: 355; Total fat: 22 g; Saturated fat: 5 g; Sodium: 139 g; Cholesterol: 92 mg; Total carbs: 18 g; Fiber: 4 g; Sugars: 11 g; Protein: 22 g; Potassium: 896 mg