One smart strategy for eating more home-cooked meals is to prep more than one at a time. Another name for this is "batch cooking."
The idea behind batch cooking is simple. Make more servings than you need. Enjoy one meal the night you cook, then refrigerate or freeze the rest. You can eat homemade food later in the week. All you have to do is reheat!
Here are two recipes you can prep once and enjoy for several meals!
Turkey Chili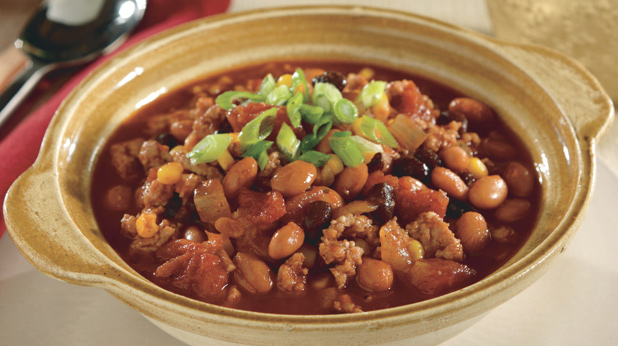 Makes 6 servings
Prep: 10 min Cook: 20 min
Ingredients:
Cooking spray

1½ Tbsp canola or corn oil

1 medium to large onion, chopped

20 oz ground turkey breast

2 large garlic cloves, minced

½ tsp garlic powder

2 tsp chili powder

½ tsp pepper

½ tsp ground cumin

15.5 oz canned, no-salt-added pinto beans, rinsed and drained

15.5 oz canned, no-salt-added black beans, rinsed and drained

14.5 oz canned, no-salt-added diced tomatoes, undrained

1¾ cups fat-free, low-sodium chicken broth

1 cup frozen whole kernel corn

6 oz can, no-salt-added tomato paste

4 medium green onions (green part only), sliced
Instructions:
Lightly spray a Dutch oven with cooking spray. Add the oil and heat over medium-high heat, swirling to coat the bottom. Cook the onion for 3 minutes, or until soft, stirring occasionally.

Reduce the heat to medium. Stir in the turkey. Cook for 5 minutes, or until browned, stirring frequently to break up the turkey.

Stir in the garlic, garlic powder, chili powder, pepper, and cumin. Stir in the remaining ingredients except the green onions. Cook for 5 to 7 minutes, or until heated through, stirring frequently. Just before serving, sprinkle with the green onions.
Nutrition Information
Serving size: 1⅓ cups
Per Serving:
Calories: 313; Total fat: 5 g; Saturated fat: 0 g; Sodium: 497 mg; Cholesterol: 58 mg; Total carbs: 39 g; Fiber: 10 g; Sugars: 14 g; Protein: 33 g; Potassium: 598 mg
Turkey Bacon and Spinach Quiche With Sweet Potato Crust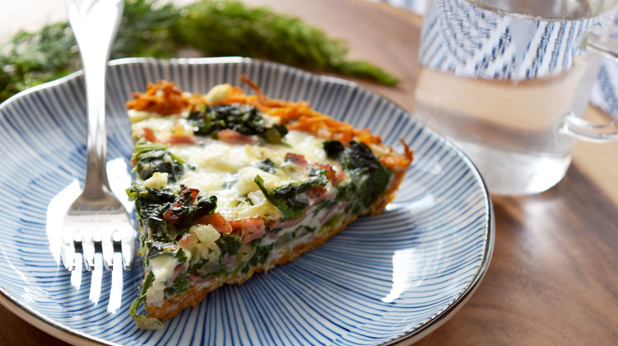 Makes 5 servings
Prep: 20 min Cook: 1 hour
Ingredients:
1 sweet potato, washed

1 tsp canola oil

1 medium yellow onion, finely diced

6 slices uncured, nitrate-free turkey bacon, thinly sliced

1 (10-oz) package frozen, chopped spinach, thawed and patted dry

¾ tsp dried dill

¼ tsp salt

¼ tsp ground black pepper

2 large eggs

4 large egg whites

¼ cup skim milk

1½ Tbsp fat-free feta cheese
Instructions:
Preheat oven to 400°F.

Place a box grater into a medium bowl. Grate the sweet potato until there are 2 cups grated sweet potato. Coat a 9-inch pie plate with cooking spray. Gently press the sweet potato into the bottom of the pie plate and up the sides; the sweet potatoes will be loose but will hold together once cooked. Place in the oven and bake until sweet potato crust is cooked, about 20 minutes. Remove from oven and decrease oven temperature to 350°F.

Meanwhile, in a medium pan, warm oil over medium-high heat. Add diced onion to the pan. Cook until almost translucent, about 6 to 8 minutes. Add turkey bacon, continuing to stir and cook until onions and bacon begin to brown, about 3 to 4 minutes. Stir in spinach, dill, salt, and pepper; cook until water from the spinach is released, about 1 to 2 minutes. Remove from heat. Use a spatula to transfer mixture from pan into the sweet potato pie shell.

In a bowl, add eggs, egg whites, and milk. Using a fork, whisk to combine. Pour eggs over vegetable mixture in the pie shell. Dot the feta cheese over the top of quiche.

Cook quiche in oven until eggs in the center are set, about 35 to 40 minutes. Remove from oven and let cool just a few minutes before slicing. Serve warm.
Nutrition Information:
Serving Size: ⅕ per slice
Per Serving:

Calories: 139; Total fat: 6 g; Saturated fat: 1 g; Sodium: 437 mg; Cholesterol: 88 mg; Total carbs: 12 g; Fiber: 2 g; Sugars: 3 g; Protein: 12 g; Potassium: 255 mg
Content is brought to you by the American Heart Association. Proprietary content and tools licensed by the American Heart Association. The information in the content and tools are not intended as a medical diagnosis or treatment, or as a substitution for regular medical advice from your healthcare provider.
PM04981.B