Enjoy a savory Southern classic with nutritious greens and catfish. Cooks fast and tastes great!
BAKED CAJUN CATFISH AND EASY COLLARD GREENS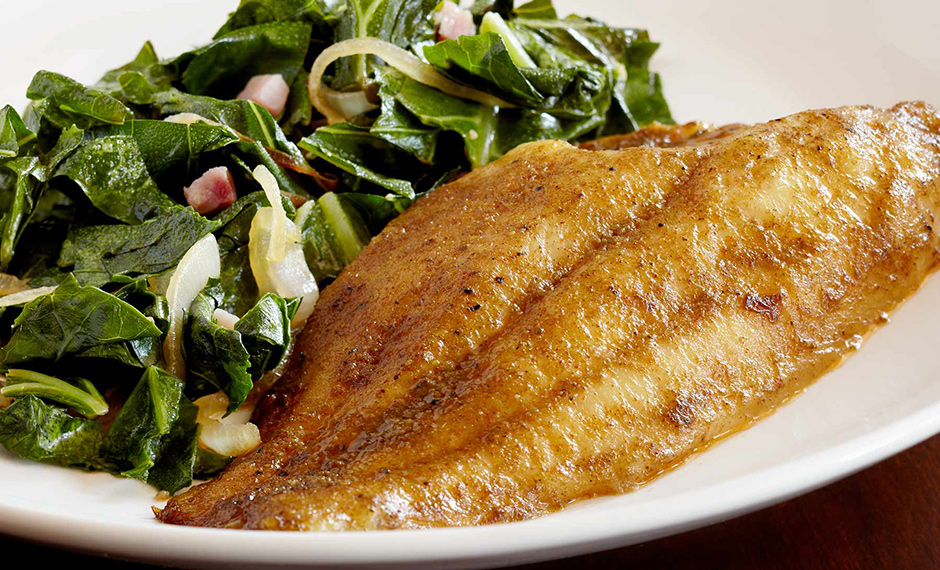 Makes 4 servings
Prep: 20min Cook: 25-30 min
Ingredients for Catfish:
1 Tbsp vegetable oil

You can also swap this with extra virgin olive oil to cut saturated fat from 7 grams to just 3 grams

½ tsp garlic powder

½ tsp onion powder

¼ tsp pepper

½ tsp cayenne pepper (more or less, depending on desired spiciness)

1½ tsp paprika

1 tsp thyme

4 catfish fillets (you can substitute any white fish, such as tilapia or trout)

nonstick cooking spray
Ingredients for Collard Greens:
1 Tbsp vegetable oil

½ small onion, thinly sliced

1 tsp jarred, minced garlic

1 tsp sugar

½ tsp red pepper flakes (add more if you like spicier food)

1 bunch collard greens

2 Tbsp water

1 cooked, diced slice of uncured, nitrate-free Canadian bacon (cooked in microwave)

1 Tbsp cider vinegar
Instructions for Catfish:
In a shallow bowl, combine oil, garlic powder, onion powder, pepper, cayenne, paprika and thyme.

Prepare a 9x13 baking dish with nonstick spray.

Coat fish fillets in seasoning mixture and place in a baking dish, pour any remaining seasoning mixture over the fish.

Bake at 425° F for 15 minutes, until fish flakes with a fork.
Instructions for Collard Greens:
Wash the greens and blot lightly with paper towel.

Remove stems from larger leaves by stripping the leaf off from either side of the stem (it is okay to leave the stems on the tender inner leaves).

Stack 8 leaves together, roll up, and slice into 1-inch sections.

In a large skillet, heat oil on medium heat. Add onion and cook until leaves are a bit see-through (3 minutes, stirring occasionally).

Add garlic and cook 30 seconds more.

Add, sugar, red pepper flakes, greens, vinegar, water, and Canadian bacon.

Cover and cook until tender (20 minutes).
Serve it warm and enjoy!
Nutrition Information Per Serving:
Calories: 203; Total fat: 13g; Saturated fat: 3g; Sodium: 231mg; Cholesterol: 48mg; Total carbs: 5g; Fiber: 3g; Sugars: 1g; Protein: 18g; Potassium: 75mg
Content is brought to you by the American Heart Association. Proprietary content and tools licensed by the American Heart Association. The information in the content and tools are not intended as a medical diagnosis or treatment, or as a substitution for regular medical advice from your healthcare provider.
PM04913.B