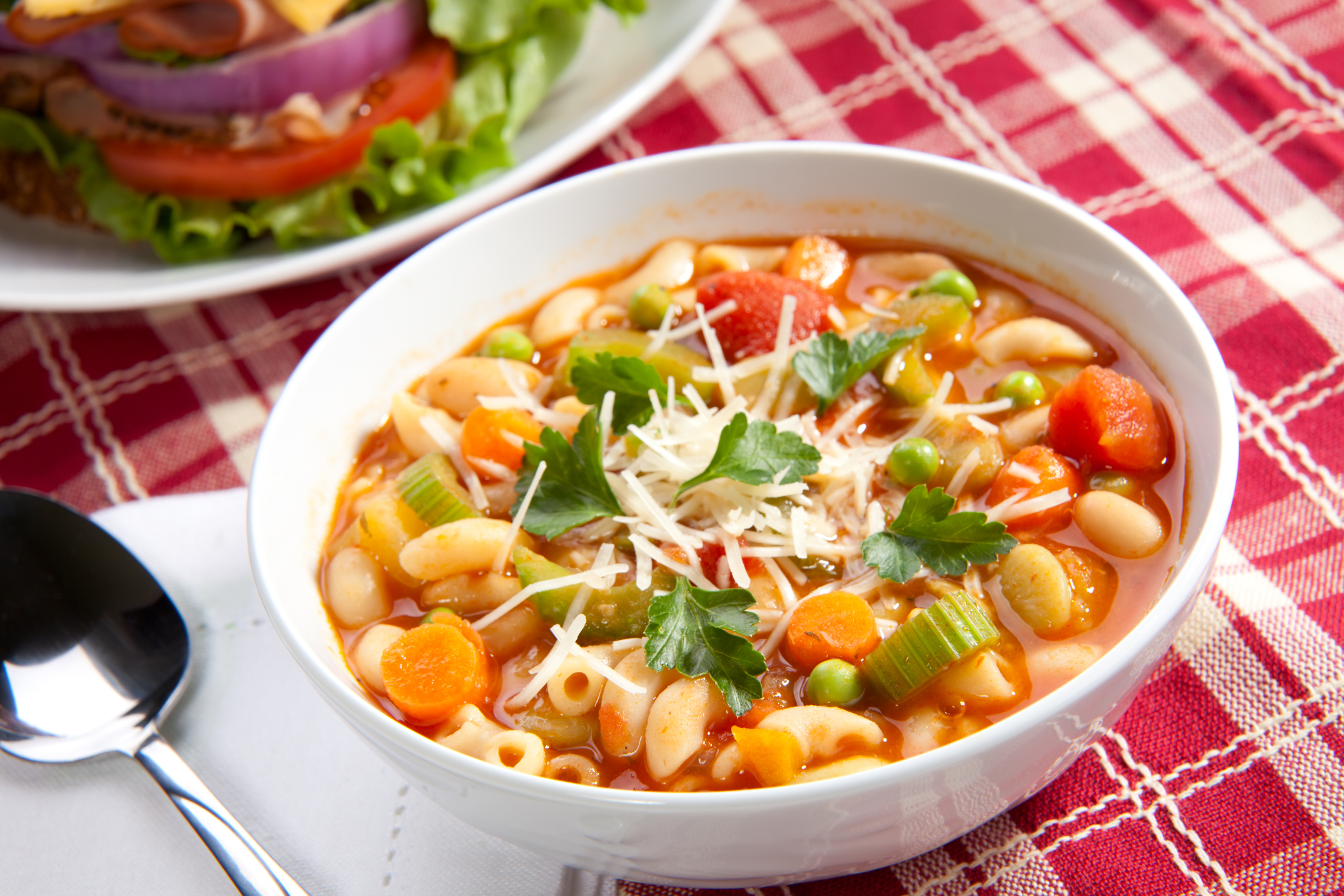 This hearty bean soup is full of flavor and veggies, and it cooks in just 30 minutes. A delicious make-ahead recipe to enjoy all week long.
Italian Bean and Vegetable Soup
Makes 6 servings
Prep: 10 min Cook: 30 min
Ingredients
2 tsp olive oil
1 yellow onion, chopped
1 medium stalk celery, chopped
1 large carrot, sliced into coins
2 garlic cloves, minced
4 cups low-sodium chicken broth
2 (15.5 oz) cans no-salt-added Great Northern beans, drained and rinsed
1 (14.5 oz) can no-salt-added diced tomatoes, undrained
1 tsp dried oregano
½ tsp dried thyme
¼ tsp crushed red pepper flakes
3 cups baby spinach
⅓ cup grated Parmesan cheese
Preparation
In a large pot, heat the oil over medium heat. Swirl to coat the bottom. Cook the onion, celery, carrot and garlic for 4 to 5 minutes or until the vegetables are soft. Stir in the broth, beans, tomatoes with liquid, oregano, thyme and red pepper flakes. Turn up the heat to high and bring to a boil. Stir occasionally. Lower the heat to low and simmer covered for 15 minutes. Stir in the spinach. Simmer covered for 2 to 3 minutes or until the spinach is wilted. When serving, sprinkle the soup with Parmesan cheese.
Nutrition Information
Serving size: 1 cup
Per serving
Calories: 200; Total fat: 5 g; Saturated fat: 2 g; Sodium: 209 mg; Cholesterol: 10 mg; Total carbs: 26 g; Fiber: 8 g; Sugars: 3 g; Protein: 14 g; Potassium: 523 mg