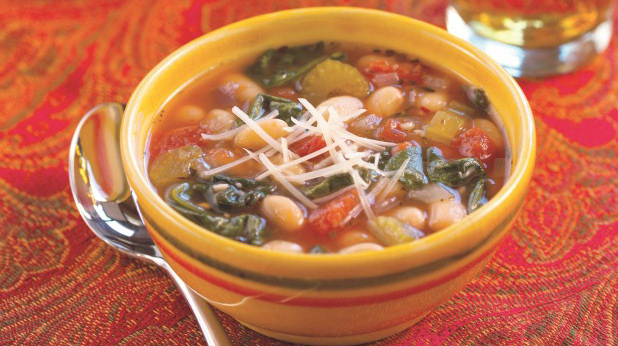 Branch out from the usual chicken noodle standby! This simple, low-calorie recipe gives you tons of healthy nutrients with a mouthwatering kick.
TUSCAN BEAN SOUP
Makes 6 servings, 1 cup per serving
Prep: 5 min Cook: 35 min
Ingredients:
1 tsp olive oil (extra virgin preferred)

½ small red onion (chopped)

1 medium celery (chopped)

1 medium garlic clove (minced)

2 cups fat-free, low-sodium chicken broth

15.5 oz canned, no-salt-added Great Northern beans (rinsed, drained)

14.5 oz canned, no-salt-added, diced tomatoes (undrained)

1 tsp dried oregano (crumbled)

½ tsp dried thyme (crumbled)

¼ tsp crushed red pepper flakes

2 cups spinach

⅓ cup grated Parmesan cheese
Instructions:
In a large saucepan or Dutch oven, heat the oil over medium heat. Swirl to coat the bottom. Cook the onion, celery, and garlic for 4 to 5 minutes, or until the onion and celery are soft.

Stir in the broth, beans, tomatoes with liquid, oregano, thyme, and red pepper flakes. Turn up the heat to medium high and bring to a simmer. Stir occasionally. Lower the heat and simmer, covered, for 20 minutes so the flavors blend.

Stir in the spinach. Simmer, covered, for 2 to 3 minutes, or until the spinach is wilted.

Just before serving, sprinkle the soup with the Parmesan.
Nutrition Per Serving:
Calories: 100; Total fat: 3g; Saturated fat: 1g; Sodium: 282mg; Cholesterol: 6mg; Total carbs: 13g; Fiber: 3g; Sugars: 3g; Protein: 6g; Potassium: 212mg
Content is brought to you by the American Heart Association. Proprietary content and tools licensed by the American Heart Association. The information in the content and tools are not intended as a medical diagnosis or treatment, or as a substitution for regular medical advice from your healthcare provider.
CLC14713.B