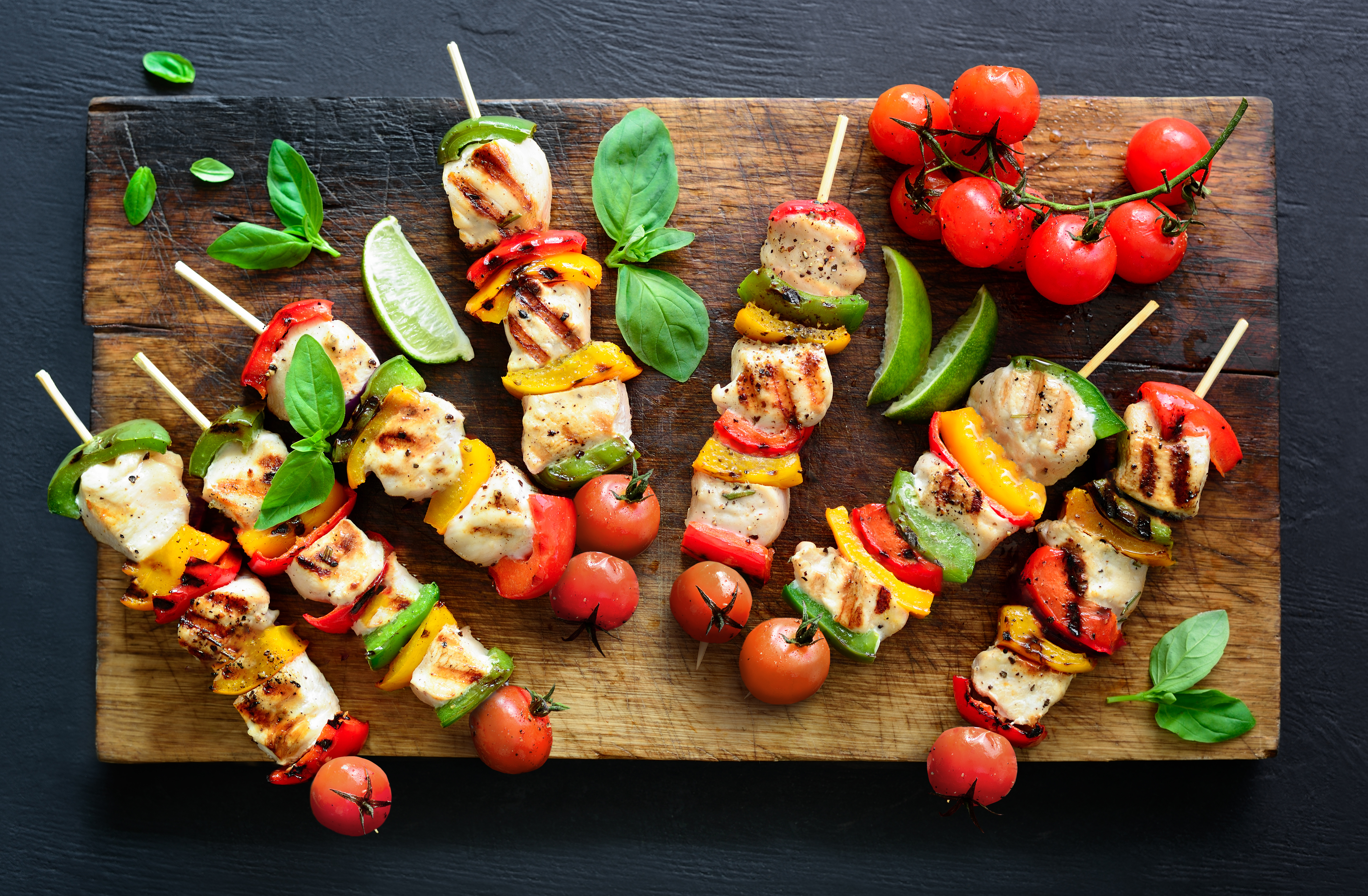 Fire up the grill for some Mediterranean-inspired flavor. These veggie-filled chicken kebabs are marinated in a delicious lemon herb dressing and served with seasoned brown rice.
Makes 4 servings
Prep: 10 min + 30 min marinate time Cook: 15 min
Ingredients
2 tsp lemon zest
2 Tbsp fresh lemon juice
3 cloves garlic, minced
1 Tbsp extra-virgin olive oil
1 tsp dried thyme
1 tsp dried oregano
¼ tsp crushed red pepper flakes
1 lb boneless, skinless chicken breasts, cut into 16 cubes
16 whole button mushrooms, stems removed
1 large green bell pepper, cut into 16 pieces
16 cherry tomatoes
½ cup uncooked instant brown rice
1 cup low-sodium chicken broth
¼ tsp ground cumin
¼ cup sun-dried tomatoes, chopped
Nonstick cooking spray
Preparation
In a medium mixing bowl stir together the lemon zest, lemon juice, garlic, olive oil, thyme, oregano and red pepper flakes. Add the uncooked chicken pieces. Stir to coat. Cover and refrigerate for at least 15 minutes or up to 8 hours. Toss the chicken several times if marinating for more than 30 minutes. Soak eight 8-inch wooden skewers for at least 30 minutes in cold water to keep them from charring or use metal skewers. Preheat grill to medium-high heat. Thread 2 pieces each of the chicken, mushrooms, bell pepper and cherry tomatoes on each skewer. Discard chicken marinade.
In a medium saucepan, bring the broth, ground cumin and sun-dried tomatoes to a boil over high heat. Stir in the rice. Reduce the heat and simmer, covered, for about 10 minutes. While the rice cooks, spray the grill with nonstick cooking spray. Grill the kebabs for 2 to 3 minutes on each side. Cook for a total of 8 to 12 minutes, or until the chicken reaches an internal temperature of 165°F. Remove rice from stove and let stand for about 5 minutes. Fluff with a fork. Serve kebabs with the rice on the side.
Nutrition Information
Serving size: 2 skewers + 1/3 cup rice
Per serving
Calories: 238; Total fat: 6 g; Saturated fat: 1 g; Sodium: 370 mg; Cholesterol: 65 mg; Total carbs: 16 g; Fiber: 3 g; Sugars: 5 g; Protein: 30g ; Potassium: 245 mg