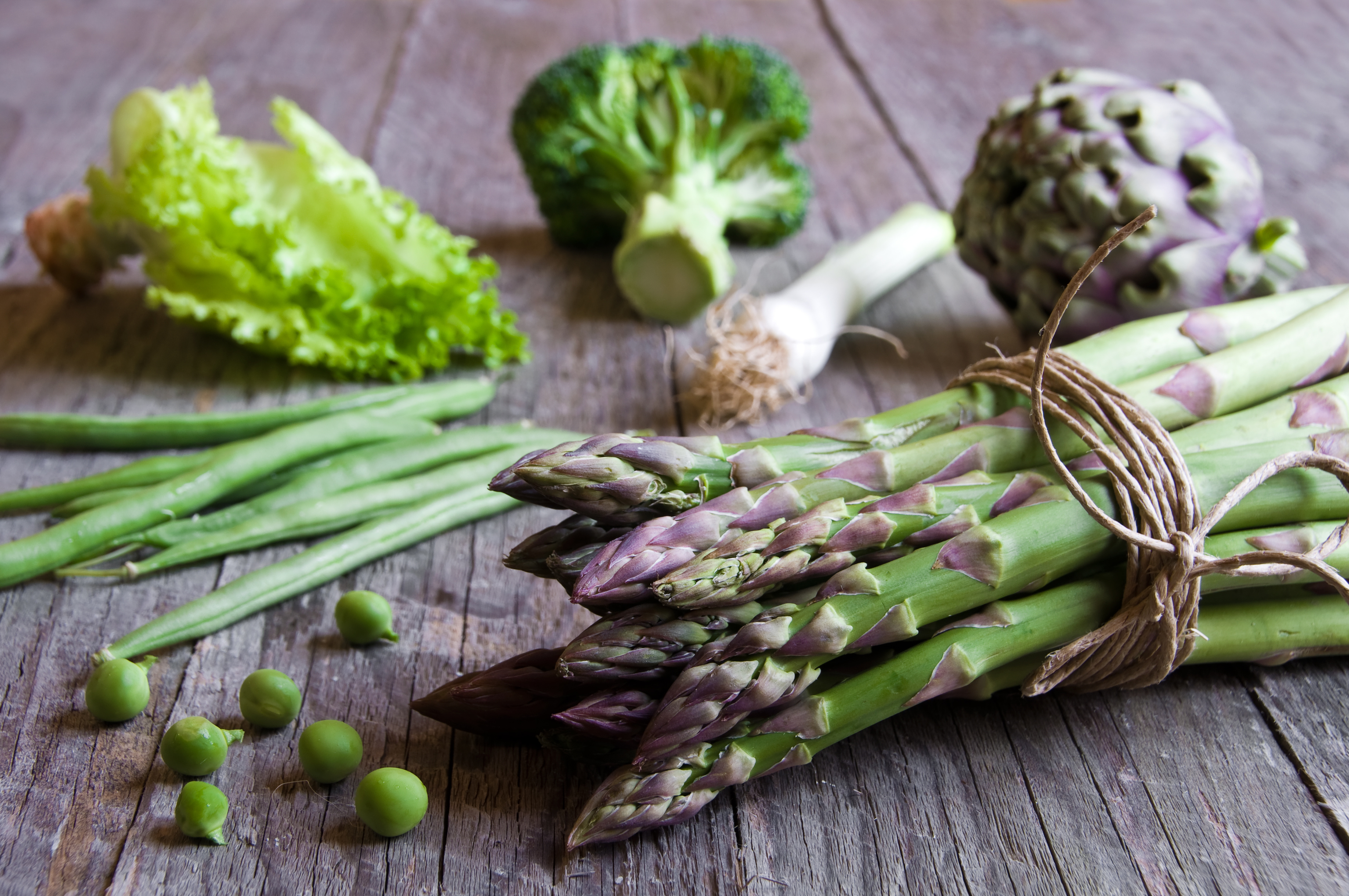 Spring is a time of new beginnings. Let nature's budding bounty inspire you to make a fresh start with healthy eating! Enjoy a rainbow of color and flavor with seasonal produce.
Springtime Produce
Eat with the earth's natural rhythm. There are so many delicious non-starchy veggies that ripen in March, April, and May!
Asparagus

Broccoli

Butter Lettuce

Collard Greens

Fennel

Green Beans

Snow Peas and Snap Peas

Red Leaf Lettuce

Spinach

Vidalia Onions
3 Easy Springtime Veggie Recipes
Make the most out of spring's blossoming delights. Pick up your favorite non-starchy vegetable on sale while it's in season and make a tasty, healthy meal.
GRILLED TEQUILA-LIME CHICKEN WITH GRILLED ASPARAGUS
Makes 4 servings
Prep: 15 min Cook: 20 min + 2-12 hours marinating time
Ingredients
¼ cup tequila (or if no tequila on hand, ¼ cup low sodium chicken broth)

2 tsp lime zest

½ cup fresh lime juice (about 4-6 limes)

2 cloves garlic, minced

1 Tbsp minced canned chipotle pepper + 2 Tbsp adobo sauce

1½ lb boneless, skinless chicken breasts

3 bunches asparagus spears, ends removed

¼ tsp salt

½ tsp pepper (divided)

2 Tbsp canola oil
Instructions
In small bowl, combine tequila, lime zest, lime juice, garlic, chipotle pepper, and adobo sauce. Place chicken in large plastic zip bag, then add the marinade. Seal bag, place in refrigerator, and let marinate anywhere from 2-12 hours. To cook, bring grill to medium-high heat. Coat grates with nonstick cooking spray. Snap bottom inch off each asparagus and discard ends. Add asparagus to large dish, along with ¼ tsp salt, ¼ tsp pepper, and oil. Mix to combine. Remove chicken from marinade, discarding marinade and wiping most of it off the chicken. Season chicken with ¼ tsp pepper. Place on grill; cook until chicken is done, about 8-12 minutes and registering 165º F on a meat thermometer. Transfer to plate and cover with foil. Add asparagus to grill, placing asparagus spears in opposite direction of the grates. Grill until tender, about 7 minutes. Serve asparagus with chicken.
Nutrition Information
Serving size: 1 chicken breast and ½ cup asparagus
Per serving:
Calories: 323; Total fat: 11 g; Saturated fat: 1 g; Sodium: 500 mg; Cholesterol: 98 mg; Total carbs: 8 g; Fiber: 2 g; Sugars: 3 g; Protein: 37 g; Potassium: 320 mg
TURKEY AVOCADO LETTUCE TACOS
Makes 6 servings
Prep: 10 min Cook: 12 min
Ingredients
1 Tbsp olive oil

1 cup chopped yellow onion

1 lb lean ground turkey (94% lean)

1 Tbsp chili powder

1 tsp cumin

½ tsp salt

2 Tbsp tomato paste

½ cup water

1 ripe, fresh avocado, halved, pitted, and diced

1 cup chopped, fresh tomato

½ cup red onion, diced

½ cup fresh cilantro, chopped

1 jalapeño pepper, seeded and minced

12 butter lettuce leaves, washed and trimmed
Instructions
Heat oil over medium heat in large nonstick pan. Add onion, chili powder and cumin; cook, stirring occasionally, until soft. Add turkey; cook, stirring occasionally until cooked through. Add tomato paste and water and simmer until liquid evaporates. Remove from heat. Combine tomato, avocados, lime, onion, cilantro and jalapeño in small bowl. Fill lettuce leaves with warm turkey mixture and avocado salsa, dividing evenly. Serve with fresh lime wedges if desired.
Nutrition Information
Serving size: 2 tacos
Per serving:
Calories: 160; Total fat: 8 g; Saturated fat: 2 g; Sodium: 314 mg; Cholesterol: 53 mg; Total carbs: 10 g; Fiber: 4 g; Sugars: 2 g; Protein: 17 g; Potassium: 342 mg
AVOCADO SHRIMP SPINACH AND MANGO SALAD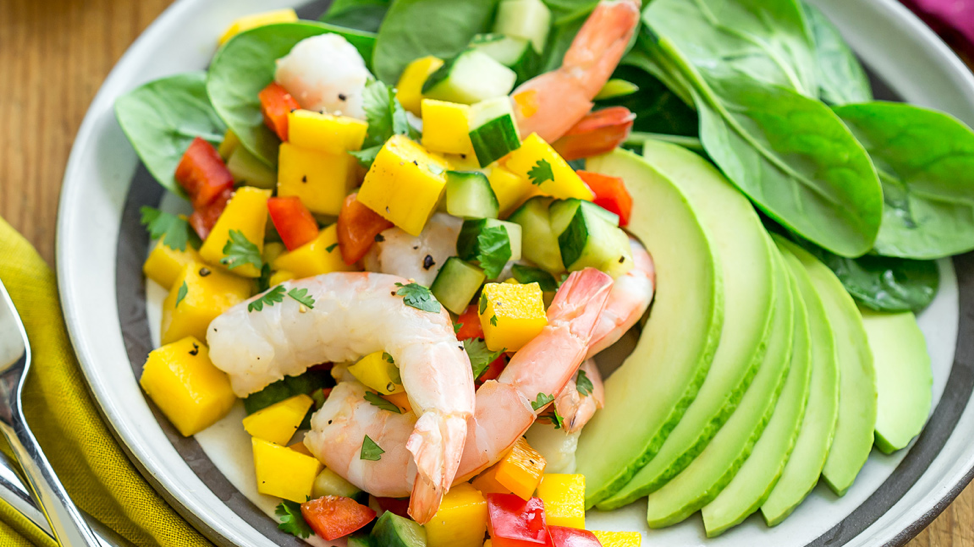 Makes 6 servings
Prep: 20 min Cook: 0 min
Ingredients
½ lb medium shrimp, deveined, peeled, and cooked

2 ripe, fresh avocados, halved, pitted, peeled, sliced, and divided

¼ cup salsa verde, homemade or store-bought

2 Tbsp water

2 Tbsp fresh lime juice

1 Tbsp honey

¼ tsp ground cayenne pepper

1 cup diced cucumber

1 cup chopped mango

¾ cup diced sweet pepper

½ cup chopped cilantro leaves

1 bag (10 oz) baby spinach leaves
Instructions
Place one half of one avocado, water, salsa verde, lime juice, and honey in blender. With blender on puree setting, blend until smooth. In large bowl, combine shrimp, cucumber, mango, red bell pepper, and cilantro. Divide spinach and remaining avocado onto six plates, top with shrimp mixture, and drizzle with dressing. Serve and enjoy!
Nutrition Information
Serving size: 1 ½ cups salad with shrimp
Per serving:
Calories: 180; Total fat: 10 g; Saturated fat: 1 g; Sodium: 175 mg; Cholesterol: 74 mg; Total carbs: 17 g; Fiber: 7 g; Sugars: 8 g; Protein: 11 g; Potassium: 751 mg
Note: Swapping out ingredients will change the nutrition information per serving.
Proprietary recipes and tools licensed by the American Heart Association. The information in the content and tools are not intended as a medical diagnosis or treatment, or as a substitution for regular medical advice from your healthcare provider.
CLC14585.B