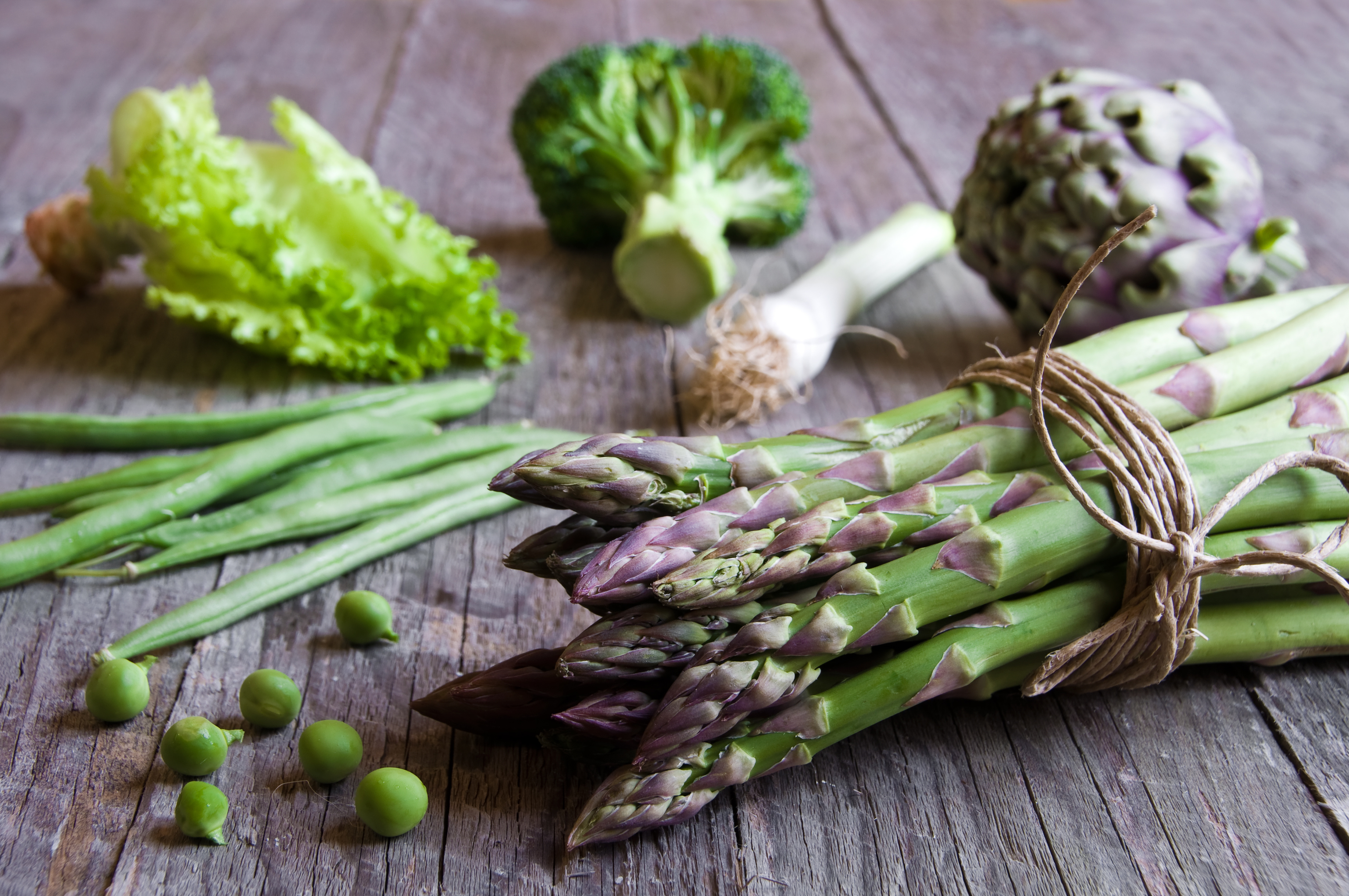 For those of us in northern climates, spring marks a refreshing return to greenery—in our fields, as well as our yards. That's a welcome change after a winter of root vegetables. Seasonal produce includes many beautiful greens, including:
Artichokes

Asparagus

Herbs

Peas—shelling, sugar snap and snow

Ramps/wild garlic

Spinach and other tender leafy greens like arugula

Lettuce
 Celebrate these spring greens by trying a new recipe!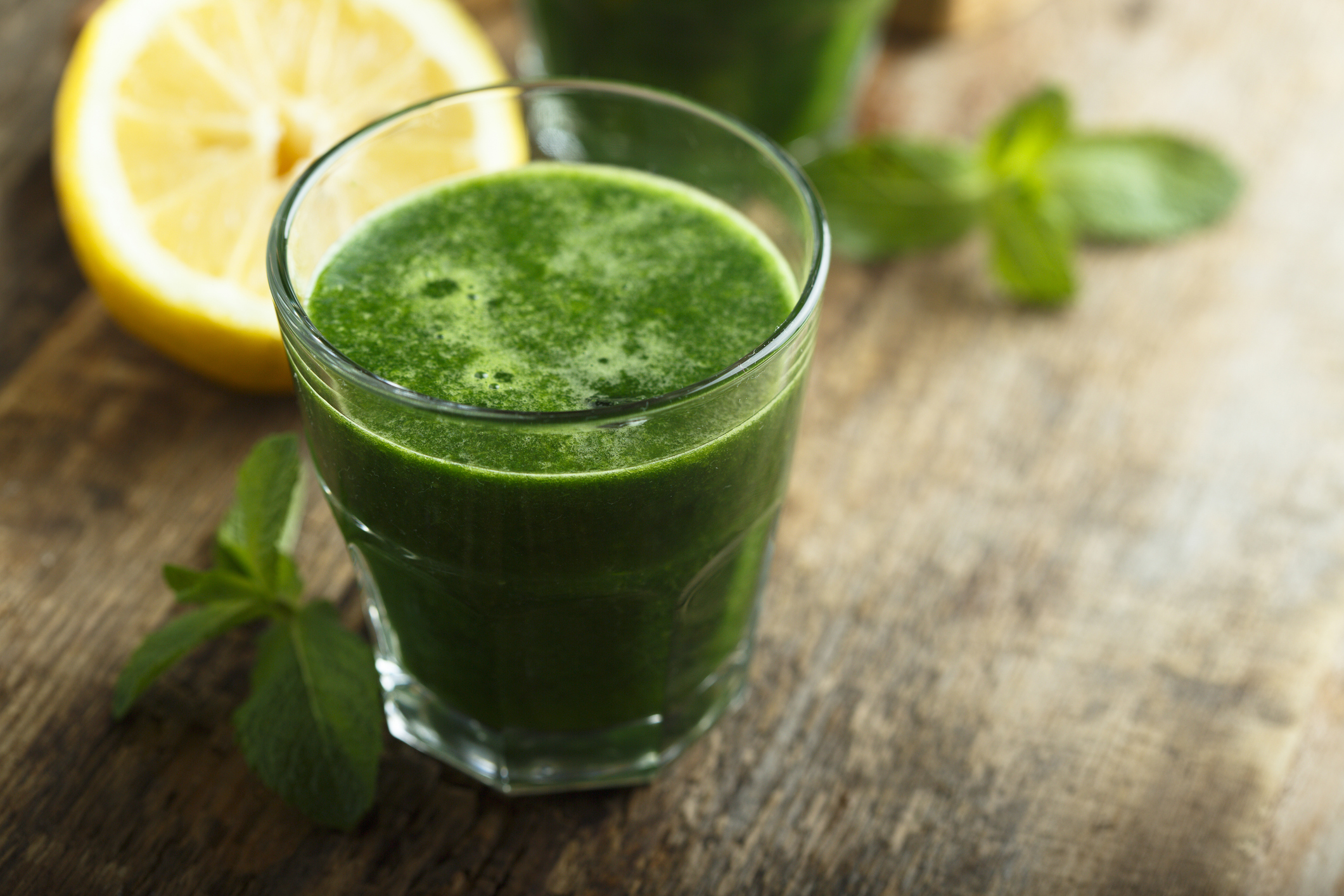 Green Smoothie
Makes 1 serving
Prep: 0 min Cook: 1 min 
   
Ingredients
1 cup baby kale
1 cup frozen pineapple
½ banana
¼ cup mint 
1/3 cup plain nonfat Greek yogurt or non-dairy yogurt 
½ cup unsweetened almond milk
½ lime, juice and zest 
   
Preparation
Place all ingredients in a blender and blend until completely smooth.  
  
Nutrition Information
Serving size: 1 smoothie
Per serving 
Calories: 262; Total fat: 3 g; Saturated fat: 0 g; Sodium: 187 g; Cholesterol: 8 mg; Total carbs: 51 g; Fiber: 9 g; Sugars: 30 g; Protein: 13 g; Potassium: 791 mg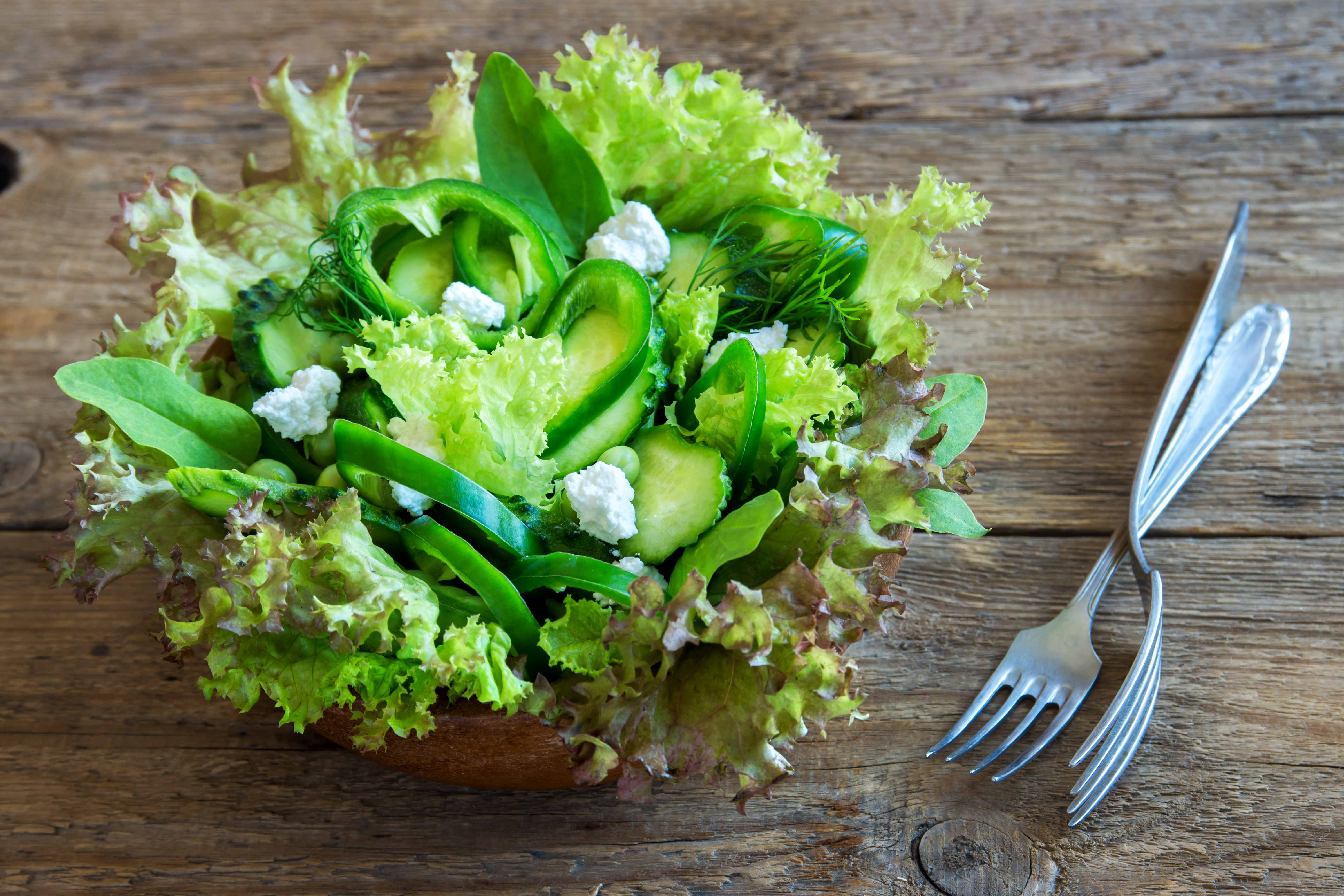 Spinach Salad with Peas and Feta
Makes 4 servings 
Prep: 0 min Cook: 5 min
Ingredients
Salad 
8 cups baby spinach
1 cup shelled peas (or use thawed frozen peas)
½ cup crumbled feta
Dressing
¼ cup lemon juice
¼ cup olive oil
½ tsp honey
1 Tbsp minced shallot
Salt and pepper, to taste
 
Preparation
Assemble salad in a salad bowl. Whisk together dressing ingredients in a small bowl or shake in a jar with a tight-fitting lid. Toss salad with dressing and serve immediately.  
Nutrition Information
Serving size: Around 2 cups
Per serving 
Calories: 203; Total fat: 19 g; Saturated fat: 5 g; Sodium: 262 g; Cholesterol: 17 mg; Total carbs: 6 g; Fiber: 2 g; Sugars: 2 g; Protein: 5 g; Potassium: 399 mg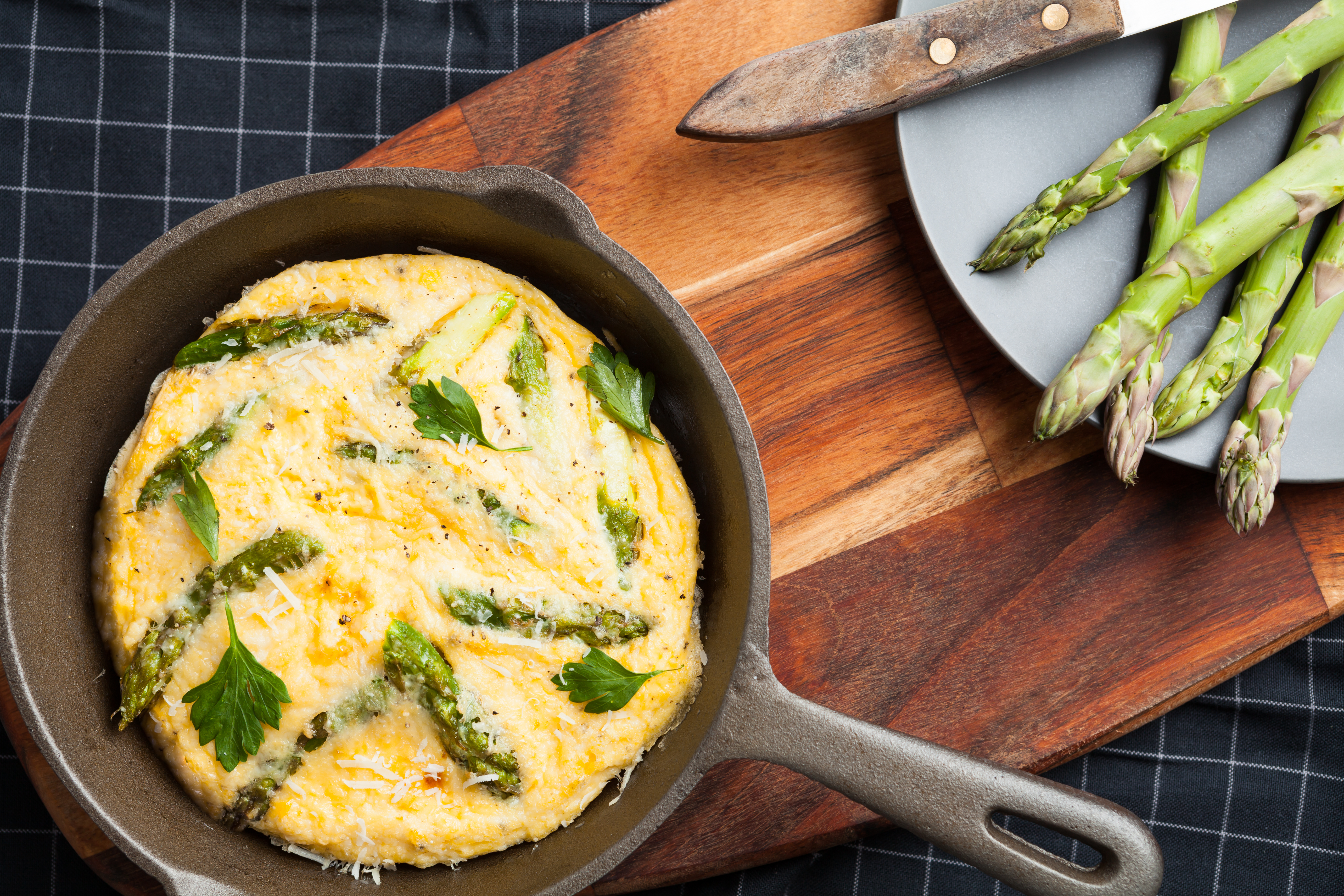 Asparagus Frittata
Makes 4 servings 
Prep: 10 min  
Cook: 15 min 
 
Ingredients
8 eggs
¼ cup milk
½ cup grated Pecorino Romano
1 Tbsp tarragon, finely chopped
Salt and pepper, to taste
1 Tbsp olive oil
¼ cup chopped scallions
1 pound asparagus, woody ends snapped off, trimmed into 1-inch pieces
2 cloves garlic, grated on a Microplane
  
Preparation 
Preheat the oven to 400°F.
In a medium bowl, beat eggs, milk, cheese, tarragon, salt and pepper. Set aside.
In a large oven-safe skillet, heat olive oil over medium heat. Add scallions and asparagus and cook for 5 minutes, until asparagus is bright green and starting to get tender. Add garlic and cook for another 30 seconds. 
Reduce heat to medium-low. Pour egg mixture over the vegetables and cook for a few minutes until it starts to set. Place pan in oven and cook until eggs are fully set, about 8 minutes.
Nutrition Information 
Serving size:  ¼ frittata
Per serving 
Calories: 252; Total fat: 18 g; Saturated fat: 6 g; Sodium: 290 g; Cholesterol: 340 mg; Total carbs: 5 g; Fiber: 2 g; Sugars: 3 g; Protein: 17 g; Potassium: 354 mg