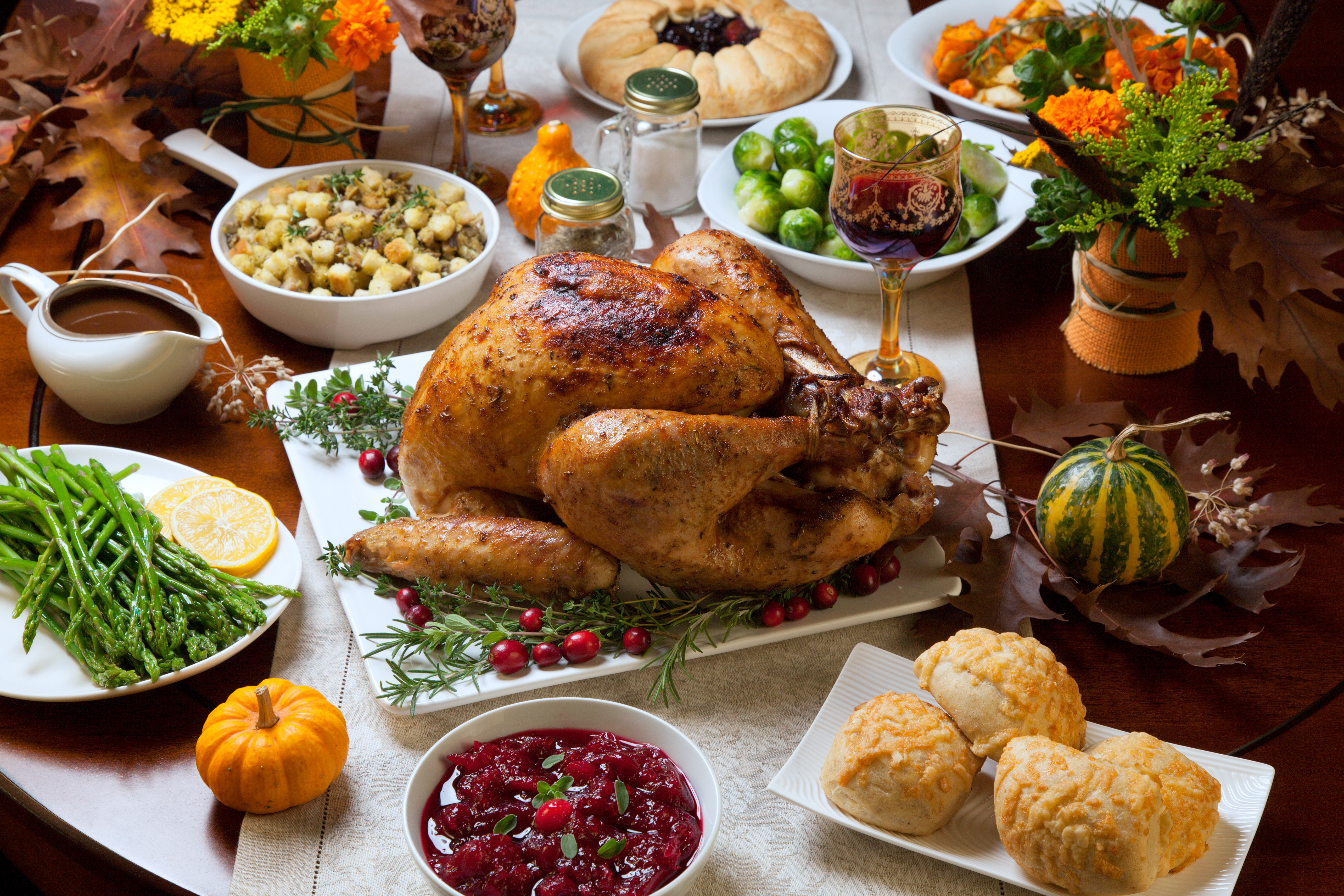 Lounging in your sweatpants? Sitting on the couch to watch football or a movie? Gorging on a big feast of salty dishes and sweet treats? Sounds kind of nice!
Thanksgiving is often seen as a holiday to indulge. But when you're trying to make healthy changes, a day of extreme indulgence can derail you from your goals.
Thanksgiving doesn't have to be all-or-nothing. You can have your cake (or pumpkin pie) and eat it, too! Here are a few expert tips to make Thanksgiving just a little better for you and your health goals.
Before Dinner
Start the day with movement. Go for a walk, hit the gym, exercise at home, or even sign up for the local turkey trot. Remember, some movement is better than no movement.

Be sure to eat breakfast. Stay in your rhythm of eating balanced meals and snacks every 3 to 4 hours.

Take the edge off hunger by having a protein + produce snack before the big meal. This will help keep you satisfied and avoid overeating at dinner.

Be mindful of any nibbling. Serve up your appetizers on a plate and take the time to sit and eat them, free of distraction. If you're hosting, keep fresh produce washed and cut up that's ready to snack on if you feel the need to munch.

If you're going to someone else's house, consider bringing a healthy dish to share.

If you're cooking for others:

Change up your favorite recipes to save calories from fat, carbs, and sugar. Look for easy ways to add fresh veggies to your dishes so you can boost nutrients such as fiber, vitamins, and minerals.

Use low-sodium chicken broth to baste the turkey and make gravy.

Reduce oil and butter wherever you can.

Replace sour cream with plain Greek yogurt for your creamy dips, mashed potatoes, and casseroles.

Choose brown rice, pick whole grain bread over refined bread, and add extra celery, mushrooms, and onions to your stuffing. Enjoy seasonal fruits such as pears or apples in your salad.

Serve a vegetable tray, fresh fruit, or a salad for a light and fiber-rich, low-calorie starter.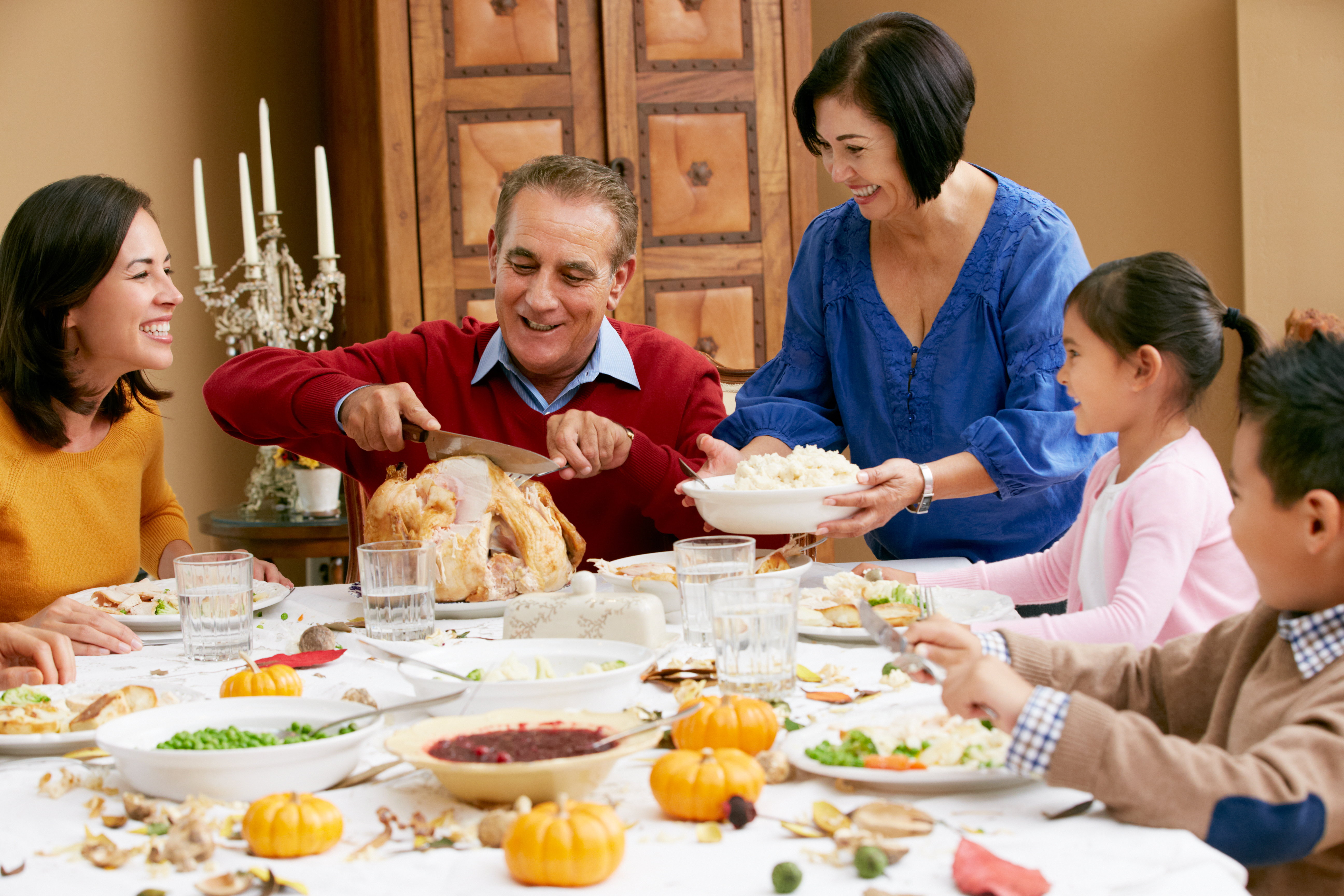 The Feast
Check out the buffet table before filling your plate. Choose to eat balanced portions of the foods you love. Don't spend your calories on foods that you can have all year long.

Create a balanced plate of 50% non-starchy vegetables, 25% lean protein, and 25% whole grains or starchy veggies.

If you can, try to eat at a table with loved ones. You're more likely to eat at a healthy, slower pace if you eat at the table rather than in front of the TV.

If there's a buffet set up, aim to sit as far away from the buffet as possible. Studies have shown the farther you are from the food, the less likely you are to get up for more or have cravings to do so.

Slow your pace of eating. Allow your brain to catch up to your belly (it takes about 20 minutes to realize when you're full) before making the decision to go back for more.

Create a "speed bump." Halfway through the meal, stop and assess your hunger. Make conversation, stretch, or take a few deep breaths. Then decide how much more you plan to eat to feel satisfied but not stuffed.

Choose no- or low-cal beverages. Quench your thirst with water.

If you're drinking alcohol, have water between your drinks. It will help you slow your pace, stay hydrated, and curb calories.
After Your Meal
When you've finished eating, move away from the food table. Focus on company and conversation, not the food.

Be mindful of your dessert choice and portion. For instance, if you have a ⅙ slice from an 8-inch pecan pie, it will bring in about 530 calories. But the same size slice of pumpkin pie only has 280 calories!

Use the Three-Bite Rule. The first bite of dessert is the most delicious, the second is great, and the third is good. Anything after that and you're chasing a memory. Enjoy the food you love without feeling overly full or regretful. Savor the taste in moderation, with three tasty bites.

Keep moving and burn some of those calories! Wash dishes, offer to help serve others, go for a family walk around the neighborhood, or play an active game on your feet with loved ones!

Send leftovers with guests. Buy disposable food containers to make it easy to pack up extras and avoid excess nibbling all weekend long.
Happy Thanksgiving! We wish you a joyful, healthy holiday.
CLC14489.C