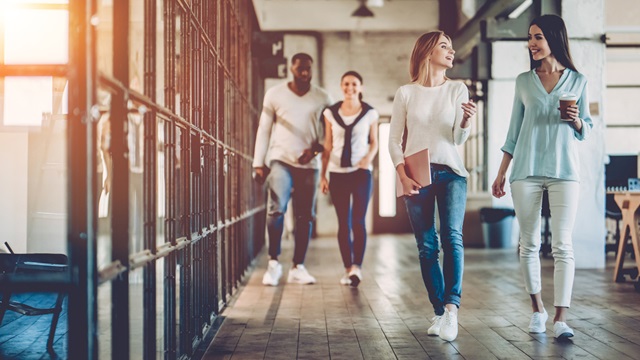 If you work a desk job, it can be easy to spend most of your day sitting. Unfortunately, that's not great for your health. Sitting too much is linked to issues such as heart disease, cancer and back pain. But there are lots of ways to bring more movement into your workday, even in an office.
Move More While You Work
Try a standing desk: Workstations that can be raised up or down let you alternate sitting and standing. This lowers the risk of both too much sitting and too much standing.
To stay active while sitting, you can try an under-desk stepper or elliptical. This machine keeps your legs active, strengthening your leg muscles.
If you're using a standing desk, you can try an under-desk treadmill, which will help you get more steps and burn more calories throughout your day.
Take walking meetings when you can.
Neck

rolls

: Relax your shoulders and drop your right ear to your right shoulder.

Drop your chin to your chest,

then roll your left ear to your left shoulder.

R

epeat

in

the other direction.

Shoulder

shrugs

:

Bring your shoulders up to your ears,

then

drop

them back down.

Repeat several times.

Hip

flexions

:

W

ith

knees bent, raise one foot off the ground and hold for as long as you can, then release and switch sides.

Oblique twist

:

While sitting in a swivel chair,

hold onto your desk.

Swivel the chair

as far as you can

to the right

,

stretching your obliques,

and then to the left.

Repeat 10 times on each side.

Glute

squeezes:

Squeeze your glutes as tight as you can and hold for 10 seconds.

Release.

Repeat 10 times.

Leg

extensions:

Sitting upright,

extend your right leg straight in front of you

and hold for 10 seconds. Bend your knee.

Repeat on the other side.

Repeat 10 times.

Calf raises

: At a standing desk, lift your heels,

rising up

onto your toes.

Drop your heels back down. Repeat

10 times.
Get More Active on Breaks
Get up every 30-50 minutes: Set a timer to remind yourself to take breaks. Use those breaks to stand up, stretch or walk around.

Drink lots of water: Get up and walk to the water cooler to fill your glass.

Instead of using the restroom or break room closest to your desk, use one further away or on a different floor to get more steps.

Suggest walking meetings or take phone calls while walking if you don't need to be looking at a screen.

Use your lunch break to take a walk, run or do another workout.