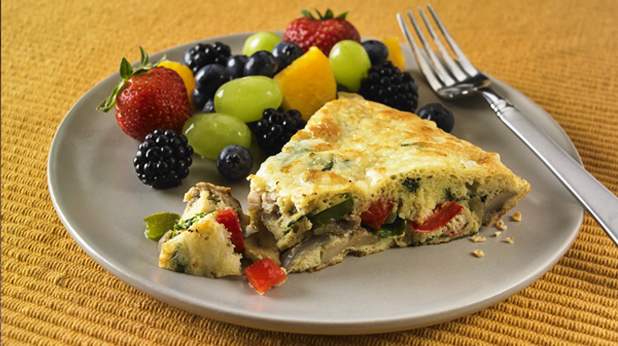 This Simple Cooking with Heart, Mediterranean recipe is a versatile, flavorful and heart-healthy meal for any time of day.
Ingredients
6
Servings
For the Cheese and Vegetable Frittata:
6 large eggs
2 Tbsp whole-wheat flour
1 tsp baking powder
1/4 tsp black pepper
1 medium onion (about 1 cup), cut into 1/2 inch pieces
1 cup fresh or frozen spinach, cut into 1/2-inch pieces
1 cup red and/or green bell pepper, cut into 1/2-inch pieces
1 cup fresh mushrooms OR
1 cup canned mushrooms
1 clove garlic (finely chopped)
2 Tbsp fresh basil leaves (finely chopped)
1/3 cup part-skim mozzarella cheese (shredded)
Cooking spray
For the Fruit Salad:
2 peeled oranges, cut in half, then into 6-8 pieces, depending on their size
1 cup fresh green, red or purple grapes (use varieties without seeds), left whole
1 cup fresh or frozen strawberries, if fresh remove green top, sliced in half or quarters depending on their size
1 cup fresh or frozen mixed berries (blueberries, blackberries and/or raspberries)
2 tsp balsamic or white wine vinegar OR fresh or bottled lime or lemon juice OR pineapple and/or orange juice
2 tsp olive oil
2 Tbsp mint or basil leaves, left whole, removed from stems
For the Cheese and Vegetable Frittata:
1. Preheat oven (regular or toaster oven) to broil setting.
2. In a large bowl, whisk eggs together until foamy, stir in the whole wheat flour, black pepper, and baking powder.
3. Using a heavy skillet with an ovenproof handle, coat the skillet with cooking spray and heat on medium.
4. Add the onion and cook until it starts to get soft, then add the spinach, bell pepper and mushrooms and cook for 2-3 minutes more.
5. Add the garlic and basil and cook for 1 minute. Stir to avoid burning these.
6. Add the egg mixture into the pan and stir to mix the vegetables with the eggs.
7. Cook for 5-6 minutes or until the egg mixture has set on the bottom and begins to set on top.
8. Add the shredded cheese and using the back of the spoon, push lightly under the eggs, so it won't burn in the oven.
9. Place pan into the oven and broil for 3-4 minutes until golden and fluffy.
10. Remove from pan, cut into 6 servings and serve.
For the Fruit Salad:
1. In a large bowl combine all fruit salad ingredients.
2. In a small covered jar shake the vinegar or juice with the olive oil to mix.
3. Add dressing to the fruit and toss to coat. If using frozen fruit toss very gently to avoid breaking them up too much.
4. Garnish with the fresh herbs, if available.
5. Serve with the frittata.
6. (See Cooking Tips for additional ingredient suggestions)
Recipe copyright © 2016 American Heart Association. This recipe is brought to you by the American Heart Association's Simple Cooking with Heart ® Program. For more simple, quick and affordable recipes, visit heart.org/simplecooking.
Calories 194
Total Fat 7.8 g
Saturated Fat 2.5 g
Cholesterol 190 mg
Sodium 186 mg
Total Carbohydrate 23 g
Dietary Fiber 4 g
Protein 10 g
Quick Tips

Tip: You can also add broccoli, eggplant or zucchini, cut into ½ inch pieces to the vegetables you put in the frittata. Your children can help set out the ingredients, and depending on their age, help crack and whisk the eggs, cut the vegetables and shred the cheese.

Tip: You can use fresh or frozen thawed mango, fresh or canned in its own juice pineapple, fresh or frozen peaches, nectarines or melons, depending on what is season or more easily available. When using canned fruit, choose fruit that's packed in water, its own juice or light syrup (drain and rinse)

Tip: For extra spice, you can offer people paprika or dried red chili powder to add to their fruit salad. This can make the salad pretty spicy over time, so it's best to add right before eating and that way leftovers don't get too hot. This is particularly good with citrus fruits (oranges, grapefruit), mango and pineapple.

Tip: If you want to make this a gluten-free dish, simply eliminate the whole wheat flour.
Proprietary content and tools licensed from the American Heart Association. The information in the content and tools is not intended as medical diagnosis or treatment, or as a substitute for professional medical advice from your healthcare provider. Powered by American Heart Association®