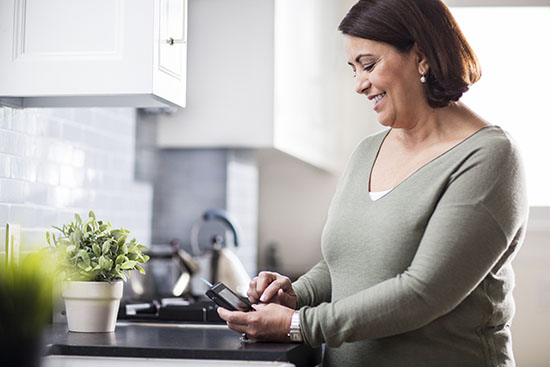 Paired Checking is checking your blood sugar before and after a meal and/or activity. It shows the cause and effect relationship between blood sugar levels and factors such as food and exercise.
Before you start, think about what you want to learn about your blood sugar? Here are some ideas:
How does packing my lunch instead of eating out affect my blood sugar?

How does one specific food affect my blood sugar?

How does a morning or evening workout affect my blood sugar?

I have a big presentation tomorrow. What effect will this have on my blood sugar?

What affects my fasting blood sugar?
What's next? Let's take numbers 1 and 2 as an example. Check your blood sugar before you eat and then check again two hours after the first bite. (Always checking as close to two hours as possible will help you get the best results.) Take a look and note how your blood sugar varies. The next day, try a different food. Repeat the same pattern of checking. You will be able to see the cause and effect on your numbers. How did your blood sugar change? This process will help you identify how specific foods affect your blood sugar. We suggest repeating for seven days to identify a trend or pattern.
Target Ranges
The American Diabetes Association (ADA) recommends the following blood sugar ranges:
Pre-Meal Range: 80-130 mg/dL

Range Two Hours After Beginning of a Meal: 80-180 mg/dL
Talk with your physician to learn more about your individual blood sugar goals.
CLC13786.A