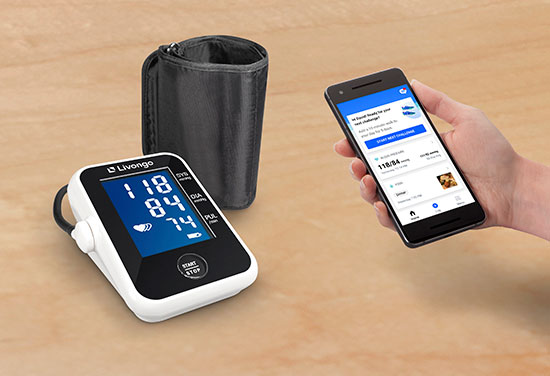 To connect your blood pressure monitor with your Livongo app, follow these 5 steps:
Make sure Bluetooth is enabled on your mobile phone. To turn on Bluetooth, go to Settings on your phone.

Open the Livongo app on your mobile phone and log in. (If you don't have the Livongo app, download it now from Google Play.)

Tap the "Get Started" link on the home screen of the app to access the Livongo for Hypertension Program.

When the app prompts you, press and hold the START button on the blood pressure monitor until "Pr" is displayed, then release the button.

While "Pr" is displayed, the monitor is discoverable by Bluetooth.
While "Set" is shown, the monitor is pairing with your mobile device.

The monitor will display "End" to indicate the pairing process is complete.
Your blood pressure monitor is now connected and ready to be used. You should see a message in the Livongo app confirming that your monitor is connected.
CLC13703.A