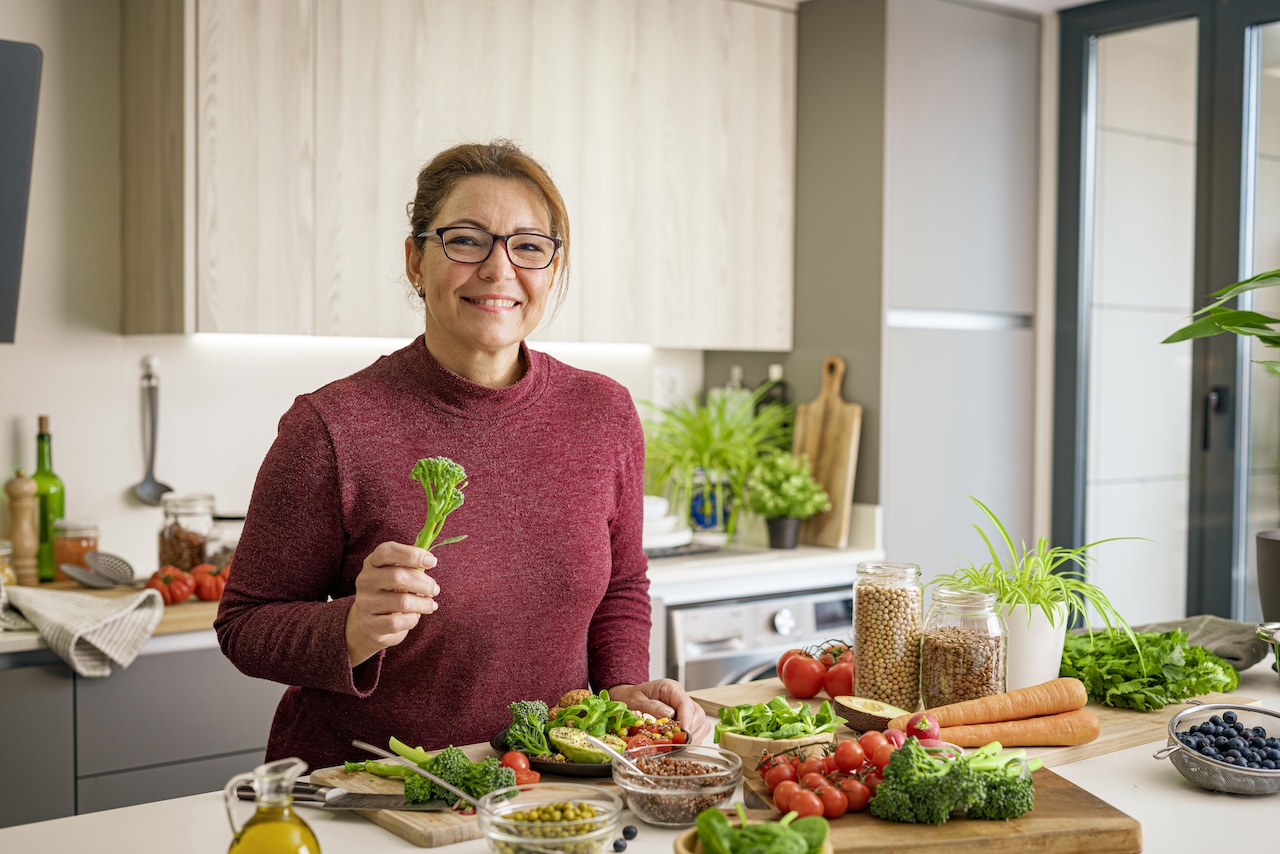 "Eating healthier" can feel difficult. We might think of it as following strict diets or not eating what we like. But eating healthy is actually a lot more delicious than it might sound.
We tend to believe healthy foods are flavorless and bland. However, many nutritious foods naturally have more delicious flavor than highly processed options. For example, blueberries, almonds and yogurt are all healthy flavorful snacks.
What is eating healthy?
It is eating well-balanced meals that give our body the necessary nutrients: carbohydrates, proteins and fats. These three basic nutrients power our body to work at its best.
We all have different nutritional needs. So, eating healthy will be different for everyone, but the goal is the same. Our daily meals and snacks should be well-balanced with carbohydrates, lean proteins, healthy fats and non-starchy veggies.
It might feel like a lot of work to eat healthier, but it's much easier than you think. Take it one healthy meal at a time. This helpful model, Your Balanced Plate, offers simple examples of well-balanced meals. Then check out this Healthy Eating Guide for more tips. This guide can help with creating meals that work best for you.
Along with tasting good, eating healthy every day has many benefits.
What are the benefits?
It gives us energy. Food is fuel. By giving our body the best fuel, we get more energy for the day. More energy can help with concentration, mood and basic brain functions. It can even help with our mental well-being.
For energy, eat:
Eggs

Fish

Chicken or turkey

Beans (pinto, kidney, black)

Tofu

Reduced fat cheeses

Lean beef or pork

Nuts and seeds
It boosts our immune system. A strong immune system has a better chance of fighting off bacteria and viruses.
For boosting the immune system, eat:
Vegetables (red peppers, carrots, radishes)

Citrus fruits (oranges, clementines, grapefruit)

Leafy greens (spinach, kale, broccoli)

Spices (garlic, ginger, turmeric)

Nuts (almonds, walnuts, pistachios)
It helps our digestive system function. A healthy gut or gastrointestinal tract assists our immune system. Our gut absorbs nutrients and gets rid of toxins.
For better gut health, eat:
Yogurt

Bananas

Pears

Sourdough bread

Asparagus

Kimchi

Tempeh
It can help us look our best. Healthy foods can provide the nutrients that support smooth skin and shiny hair.
For better skin and hair, eat:
Fish (salmon, trout, mackerel)

Shellfish (oysters, clams, mussels)

Eggs

Avocados

Sweet potatoes

Sunflower seeds

Tomatoes
It strengthens our bones and teeth. Our bones provide support and balance that allow us to move. Healthy teeth allow us to consume food easier and get our needed nutrients.
For strong bones and teeth, eat:
Low-fat milk and cheeses

Dark leafy greens (Swiss chard, kale, collard greens)

Egg whites

Soya beans

Dried fruit (figs, apricots, raisins)

Almond butter
It can help us live longer. The nutrients that healthy foods provide can prevent future chronic conditions. Eating healthy could lower the risk of diabetes, heart disease, high blood pressure and some cancers. And if you are trying to reach or maintain a healthy weight, eating healthier is your greatest ally.
What about snacks and treats?
No treat is off-limits. Healthy eating can include a nice treat once in a while. The key is to think of highly processed foods like ice cream and cheeseburgers as a "once-in-a-while food," not an "every day food."
Also, there are many healthy snack options that taste as good or better than highly processed foods. For example, red peppers with guacamole, apple slices with almond butter or dark chocolate with almonds. For more options, this list can help: 6 Easy Healthy, Snack Recipes.
When planning your healthy meals, remember we all have different nutritional needs and food likes and dislikes. Feel free to mix and match when building your balanced plate and use the Healthy Eating Guide as often as you need.